Toronto: Promoting Falun Gong at Two Community Events
September 25, 2017 | By a practitioner in Toronto, Canada
(Minghui.org) Falun Gong practitioners participated in two events on September 17 to promote the spiritual practice. One event was the Garlic Festival in Wychwood Barn Park and the other was the British Car Show in Oakville City.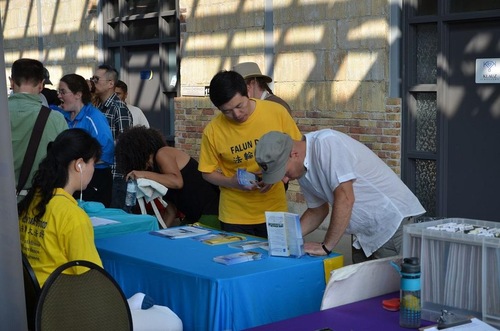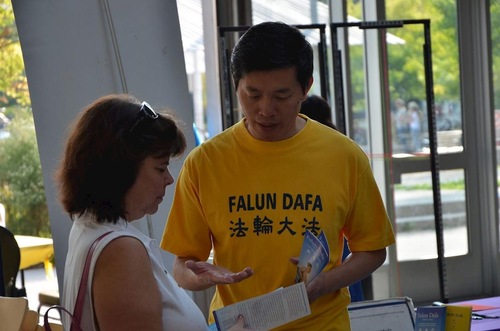 Many people at the Garlic Festival wrote down their contact information to be notified for the next Falun Gong exercise class.
Organizers estimated that more than 5000 visitors attended the Garlic Festival this year. Many came to the Falun Gong (also known as Falun Dafa) booth to learn more about the practice. They took flyers and wrote down their contact information to be notified for the next free exercise class.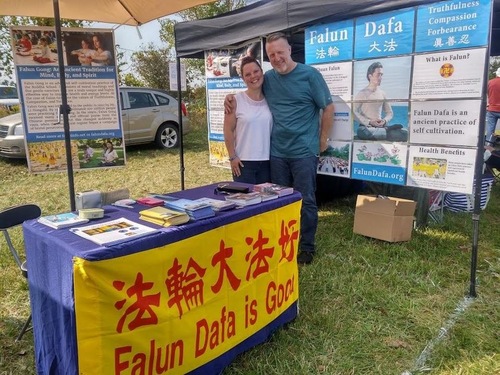 At the British Car Show, Adam and Kathy's booth was right next to Falun Gong. After hearing about Falun Gong's healing power and its worthwhile principles, the couple invited the practitioners to hang the main Falun Gong banner on their tent. "Hang it high so more people can see Falun Gong!" said Adam.
"You know what? This is the most important day in my life, because you told me about Falun Gong!" said Deborah Morris, a local government clerk. She talked to the practitioners for a long time and learned about the public introduction of Falun Gong, the thousands of proclamations honoring Falun Gong from all over the world, and the 18-year-long persecution in China.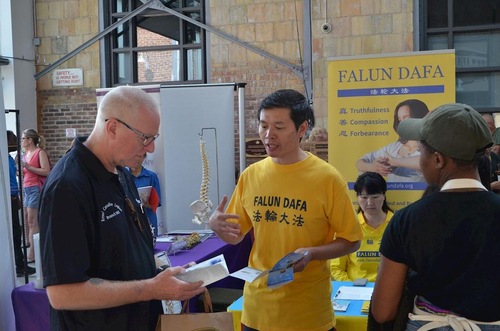 David, who lives near Chinatown in Toronto, has learned a lot about Falun Gong from practitioners who volunteer in Chinatown to tell passersby and tourists the facts about the persecution and ask them to help bring it to an end. "I know the Chinese Communist Party is very bad. It is persecuting Falun Gong," David said at the Garlic Festival.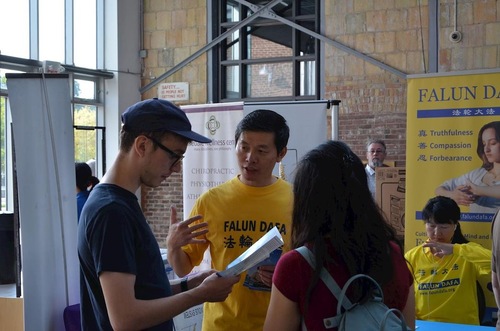 Angelo wanted to attend one of the free 9-day Falun Gong classes.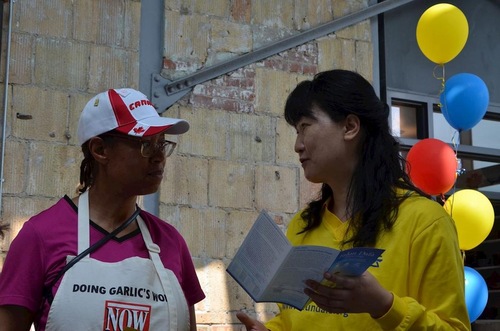 Bernadette, one of the organizers of the Garlic Festival, wanted to learn the exercises after hearing a practitioner explain how beneficial they are.