Yanqi Woman Sentenced to Prison for Fourth Time, Appeals Verdict
September 24, 2017 | By a Minghui correspondent in Xinjiang Province, China
(Minghui.org) On August 23, 2017, a 63-year-old woman from Yanqi County, Xinjiang Province, was sentenced to four years of imprisonment by the Jiayuguan District Court in Gansu Province. This is her fourth imprisonment and she has appealed the verdict.
Falun Gong practitioner Ms. Shen Jinyu, a Xinjiang native, was arrested on September 18, 2016 after she distributed Falun Gong informational materials in Gansu Province in July. She was charged with "using a cult to undermine law enforcement," a pretext often used by the Chinese communist regime to frame and imprison Falun Gong practitioners.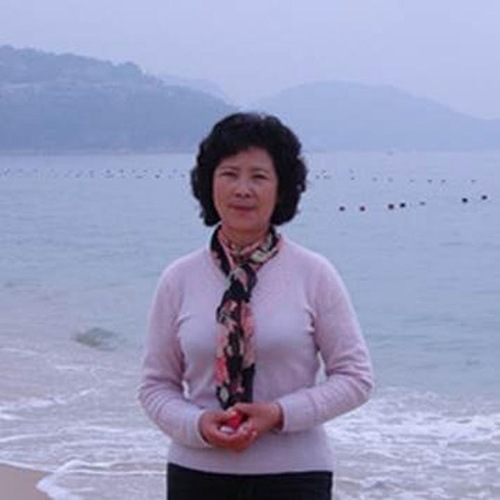 Ms. Shen Jinyu
Ms. Shen's trial
On June 6, 2017, the day of her trial at the Jiayuguan District Court, over 30 family members arrived for the hearing. Court personnel would allow only two relatives to attend the trial even though the courtroom accommodated 100 people. As there were less than 20 people in the room, the judge called for a dozen more police to sit in.
Ms. Shen was brought into the room in handcuffs. Her lawyer from Beijing requested that the cuffs be removed but the police refused. Furious, the lawyer objected loudly to the judge and threatened that he would refuse to appear in court if the cuffs were not removed. The judge acceded to the request.
During the trial, Ms. Shen pleaded not guilty to the charges and told everyone present why she refused to stop practicing Falun Gong.
Ms. Shen said that before practicing Falun Gong, she had many illnesses including uterine fibroids. In 1998, the condition had become cancerous and caused her to become extremely weak due to long-term bleeding.
When the doctors could not treat her, she started practicing Falun Gong and followed the principles of Truthfulness, Compassion, and Forbearance to be a good person and cultivate her inner self. Shortly after, all her illnesses were cured. Falun Gong gave her a second life.
Ms. Shen's lawyer defended her by arguing that there is no law in China that criminalizes Falun Gong and Ms. Shen was merely exercising her constitutional rights of freedom of belief and freedom of the press. He added that the distribution of Falun Gong materials did not cause harm to anyone or society at large, much less undermine law enforcement.
Her lawyer next brought up the evidence produced by the prosecutor:
The first piece of evidence showed that Ms. Shen taught her niece who has uterine cancer to practice Falun Gong as it can heal illness and keep one fit. However, it was said that Ms. Shen trained her niece to become a Falun Gong practitioner.
Ms. Shen went to Jiayuguan City on July 5 and 20, 2016, to distribute Falun Gong informational materials. However, her actions did not have a significant impact in Gansu Province, nor did they have any impact in Jiayuguan City. The lawyer then challenged the prosecutor to read the informational materials aloud for everyone to hear. However, the prosecutor didn't do so.
Finally, the lawyer said that Ms. Shen's action did not cause anyone to lose their life or property, nor did she disrupt public order. She was of no harm to society and should be released immediately as it is not a crime to practice Falun Gong.
Ms. Shen's Past Persecution
This is not the first time Ms. Shen has been persecuted for practicing Falun Gong. Since the time the persecution began on July 20, 1999, Ms. Shen has been given prison terms totaling six years and three months.
Ms. Shen was first arrested in July 21, 2000, by the staff of the 610 Office in Yanqi City. She was detained for over ten months at the Yanqi Detention Center before being sentenced to one year of imprisonment and three years' probation.
In July 2005, Ms. Shen was arrested again by the same staff of the 610 Office and her house was ransacked. She was later sentenced to three years of imprisonment.
Ms. Shen was reported to the police and was arrested on July 21, 2010, when she told people the facts of Falun Gong. She was sentenced to one year and nine months of imprisonment by the Urumqi District Court.
Her most recent arrest happened in 2016 where she was detained at the Jiayuguan Detention Center and suffered from extremely high blood pressure. When her family requested for her to be released on medical parole, the procuratorate rejected the application.
Parties involved in Ms. Shen's case:Cao Hualin, 610 Office: +86-937-6316637, +86-937-6316283, +86-937-6315054Cheng Zhiyi, 610 Office: +86-13519485816Wang Min, prosecutor: +86-18993789668, +86-937-6302074Du Jianli, judge: +86-937-6301540Yang Weijun, head of court: +86-937-6218909
(Contact information for other responsible parties is available in the original Chinese article.)