Introducing Falun Gong in Ghent, Belgium
September 23, 2017 | By a Falun Gong practitioner in Belgium
(Minghui.org) Falun Gong practitioners took part in 'de cultuurmarkt', a major cultural event meant to inform people interested in culture to learn about the cultural events of this season (theatre, puppet theatre, chamber music, library, yoga, etc) in Ghent, Belgium on September 16, 2017. The festival attracts many people to the Kouter, a historic square in downtown Ghent. Ghent itself is an ancient and beautiful port city, a cultural hub of Belgium. Visitors to 'de cultuurmarkt' this year had the opportunity to learn about Falun Gong, a traditional cultivation practice from China.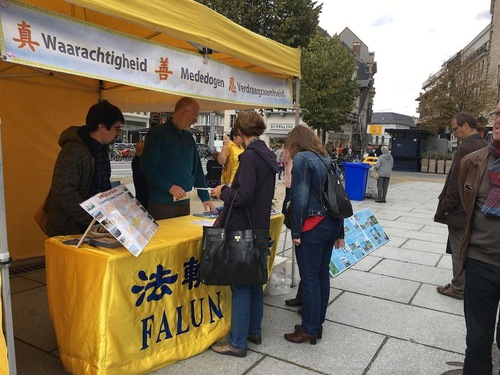 Practitioners introduce Falun Gong to the public in Ghent.
A man asked a practitioner, "I have been to China twice, but I don't understand why the Chinese government doesn't accept Falun Gong. Could you tell me?"
The practitioner answered by speaking about the Chinese Communist Party's (CCP) promotion of atheism, the subsequent persecution of innocent Chinese citizens with a spiritual belief, and its slanderous propaganda against Falun Gong, especially the Self-Immolation Hoax. She also explained that Falun Gong teaches Truthfulness, Compassion and Forbearance, and improves people's health and moral standards. The man was happy to have his questions answered. Before leaving , he asked, "So why do you practice Falun Gong in Belgium?" The practitioner told him, "To become a better person!"
A woman named Marie said, "I feel truly fortunate to see the Falun Gong exercises!" Pointing at a child doing the exercises, Marie said, "Look at her! Isn't it great?" A practitioner told Marie that the little girl's parents had been persecuted in China for practicing Falun Gong. They eventually escaped China, and overcame a lot of difficulties before they made it to Belgium. Marie was very sympathetic of their experience, and very moved by their strong faith in their belief. She stood there for over ten minutes watching the girl doing the exercises. Touched by Falun Gong practitioners' positive attitude, Marie said, "Though I live far from the group exercise site, I'm sure I would like to go there to learn Falun Gong! I have never had such a special feeling in my life!"
Another woman watched a young practitioner doing the exercises. Visibly moved, she told another practitioner in tears, "It really touched my heart. Falun Gong is so great! I feel that all my stress has disappeared!"
Jan, a local resident, talked with a practitioner for a long while to learn more about the practice. The next day, he went to the group exercise site in Citadelpark to learn the exercises.