Austria: Introducing Falun Gong at Graz Sport Fest
September 23, 2017 | By a Falun Gong Practitioner in Austria
(Minghui.org) Falun Gong practitioners in Austria introduced the traditional cultivation practice to the public at Graz Sport Fest on September 10, 2017. More than 70 organizations and groups participated in the colorful sports event. Many visitors were fascinated by the Falun Gong exercise demonstration and wanted to learn the practice.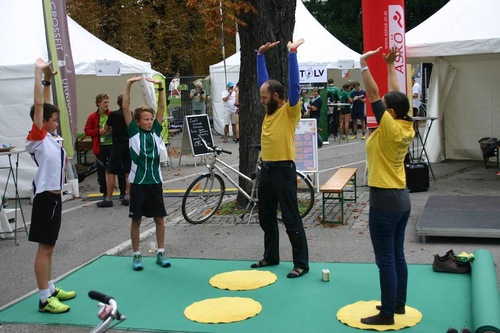 Learning Falun Gong during the event.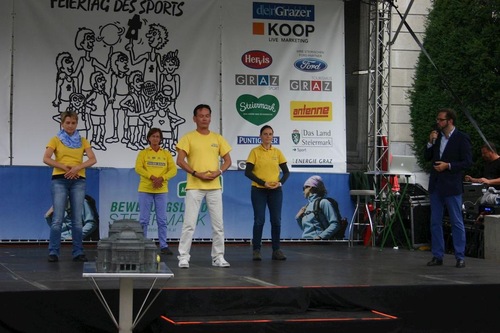 Falun Gong exercise demonstration on stage at Graz Sport Fest.
A man who worked as a scientist talked to Falun Gong practitioners to find out detailed information. He said, "I can tell you are giving the world the best thing!"
An elementary school teacher learned the Falun Gong exercises from the practitioners. She said she planned to teach her students the exercises.
A lady told practitioner Maria that she had tried many sports, but still felt tired and stressed. She had been looking for a practice that could make her calm and full of energy. Maria introduced the characteristics of Falun Gong to her, and she decided to go to a Falun Gong group exercise site to learn the practice.
Practitioners took this opportunity to tell people about the persecution of Falun Gong by the Chinese Communist Party. Those who heard about the persecution condemned it and expressed their hopes that it would end soon.