Falun Dafa Experience Sharing Conference Held in the Capital of Turkey
September 10, 2017 | By a Falun Gong practitioner in Turkey
(Minghui.org) The Fourth Middle East Falun Dafa Cultivation Experience Sharing Conference and related activities were held in Ankara, Turkey, over the last four days of August. Falun Gong practitioners from Turkey and several other Middle Eastern countries participated.
Raising Awareness about Falun Gong
To inform people about Falun Gong and to raise awareness of the Chinese Communist Party's (CCP) persecution, practitioners held several events the first three days.
They set up an information booth in the busiest shopping center in Ankara to introduce Falun Gong to the public on August 28 and distributed 1500 flyers.
The group did the exercises together in Ahlatlibel Piknik Park on September 29. That evening, they held a candlelight vigil to commemorate the practitioners tortured to death in the persecution in China.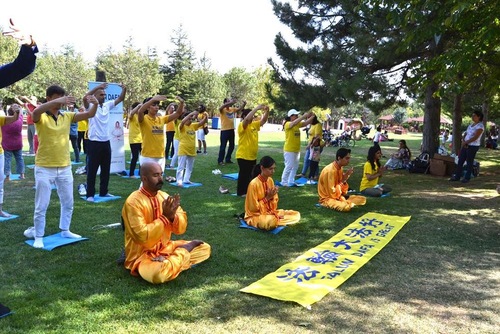 Falun Gong practitioners do the exercises together in Ahlatlibel Piknik Park.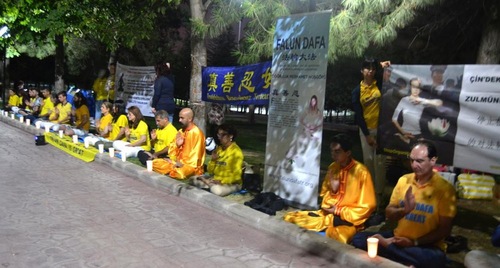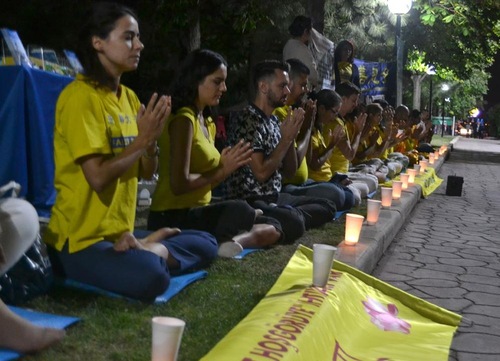 Candlelight vigil commemorating the practitioners who have died as a result of the persecution of Falun Gong in China
The practitioners demonstrated the Falun Gong exercises in Taurus shopping center on August 30 and distributed origami lotus flowers. Many shoppers learned about Falun Gong and expressed a desire to learn it.

Melek shows her origami lotus flower.
Melek, a young girl who started to learn the exercises at the shopping center, said, "I feel energy and I feel comfortable." Her mother, who is from Iraq, said that she liked Falun Gong and would learn more about it online at home.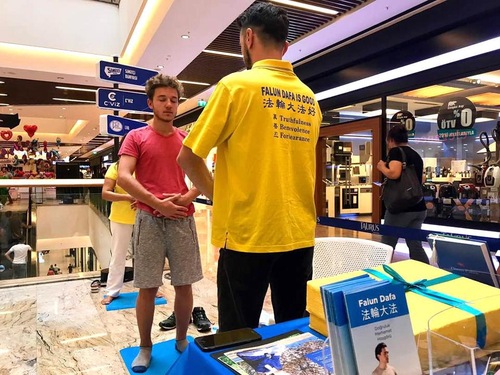 Sefa Yilmaz (left) learns how to do one of the Falun Gong exercises.
A young man named Sefa Yilmaz said, "I noticed that everyone doing the exercises was smiling, and I felt the energy." So he stopped and began to learn how to do the exercises himself. He smiled afterward, saying, "I feel good now. My stomach pain is gone."
About 50 people learned the Falun Gong exercises over the three days.
The Conference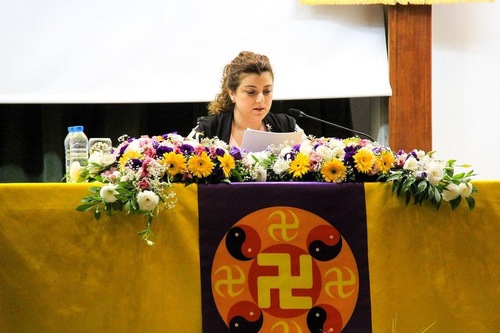 Practitioner Demet speaks at the conference.
The conference was held on August 31.Practitioner Demet from Turkey said, "I was responsible for securing a venue for the conference. I was fearful and worried, but I overcame all the difficulties and submitted the application."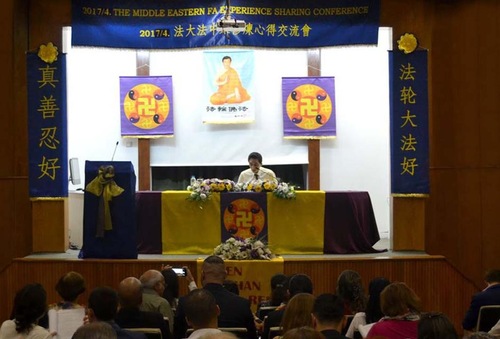 A practitioner speaks at the conference.
One practitioner said, "We need to eliminate our false selves, because they are the root cause of selfishness. We can then return to our true selves."