Chicago: Practitioners Learn from Each Other at Mid-USA Experience-Sharing Conference
August 08, 2017 | By Minghui correspondent Su Qing
(Minghui.org) The 2017 Falun Dafa Cultivation Experience Sharing Conference for Mid-USA took place in Chicago on August 6, 2017. Eighteen practitioners shared their stories, ranging from applying the principles of Truthfulness-Compassion-Forbearance in daily life, to working together with other practitioners to oppose the persecution in China.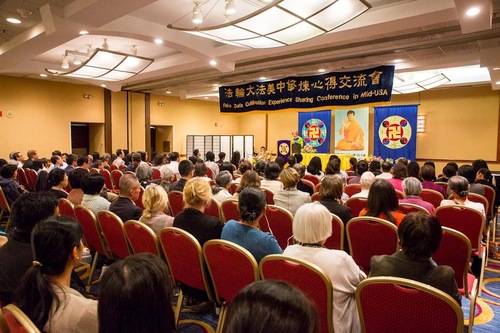 Experience-sharing conference was held in Chicago on August 6, 2017.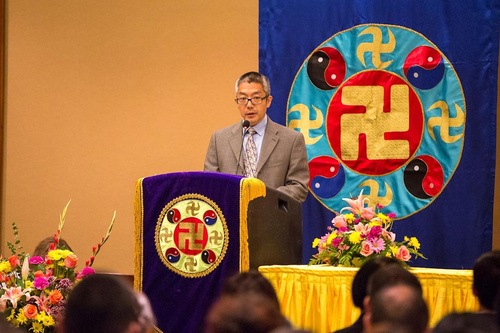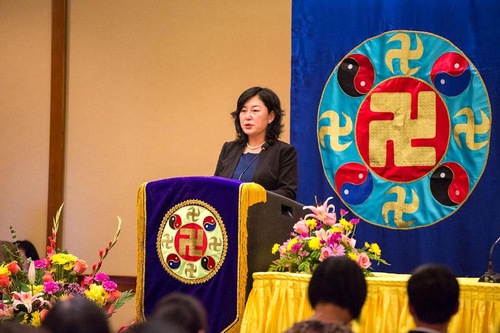 Eighteen practitioners shared their experiences at the conference.
Improving Mind Nature
Mr. Feng, a professor from Illinois, said he had conflicts with another practitioner when Chicago was hosting Shen Yun performances. He recalled, "Usually I could control my temper, but on that day I yelled at that practitioner." He later realized he was wrong, that there were better ways of handling the issue, and that the other practitioners had good intentions. "When looking within, I realized my ego made me unwilling to accept criticism, plus I did not have compassion," he said. He then thanked Master Li for helping him eliminate the attachment.
Mr. Zhang from Kentucky is also a professor. He shared, "When my city was hosting the Shen Yun performance, I did not like some practitioners, because the way they did things annoyed me." He thus tried to avoid them and did not work together with them. Later when reviewing Shen Yun performance in his region with other practitioners, he realized what he had done was not right. He said, "I had lots of problems, such as having a strong character, and I did not follow instructions well. In fact, if I had taken on more tasks, that would help other practitioners a lot."
Collaboration with Other Practitioners
Ms. Zhao in Minnesota has been practicing Falun Gong for more than ten years. She recalled, "I used to be a coordinator for a long time. But after moving to another city, I became a regular practitioner." She later became a coordinator again, because of changes in projects and local practitioners. After these experiences, she realized the most important thing is to follow Falun Dafa principles and work well with other practitioners.
Ms. Song from Michigan agreed. There was some miscommunication when she was working with a project coordinator. She said, "In the beginning, I was very upset. Later, I realized it was a warning for me to look within and improve myself." She thought it over and came to understand that she expected good words from others, who said she was attached to fame. With that, her mind calmed down and she was able to work together well with other practitioners.
A practitioner from Missouri had been contacting government officials for years telling them about the suppression in China. Prior to the July rally in Washington DC, she contacted the offices of federal representatives, but it did not go as well as she expected. She and other practitioners subsequently started group Fa study every week and learned from each other. Later, three federal representatives wrote supportive letters, and another representative sent a Foreign Policy Legislative Assistant (LA) to speak at the event. At the end of the speech, the assistant spoke aloud in Chinese, "Falun Dafa is good" and "Stop the persecution." The practitioner was very touched by the team effort.
Gratitude Towards Falun Gong
Many speakers shared how much they had benefited from Falun Gong, both physically and spiritually, as well as the their gratitude towards its founder Mr. Li Hongzhi.
Margaret has practiced Falun Gong for 17 years. She said, "I used to be very nervous and lacked confidence. Falun Gong helped me a lot and brought me happiness as well as a clear mind." She said that by following the principles of Truthfulness-Compassion-Forbearance she was able to overcome difficulty in her life and worked well with others to promote Shen Yun.
Ms. Wu from West Virginia had suffered from numerous illnesses in the past, including hyperthyroidism and leiomyoma. She said, "Because of hyperthyroidism, I had to take medicine since age 16, for 8 years." She was also sometimes depressed, and always looked forward to a better life. "The practice of Falun Gong changed everything. My life is more productive and I am happier than ever. The positive energy I gained from Falun Gong also helped people around me and brought happiness to them. Thank you, Master!"