Worms, Germany: Raising Awareness of the Persecution of Falun Gong in China
August 07, 2017 | By a Falun Gong practitioner in Germany
(Minghui.org) People in the southwestern German town of Worms recently had the opportunity to learn more about the peaceful spiritual practice of Falun Gong and the persecution it faces in China. On July 8, practitioners from the surrounding region set up a booth in a busy central pedestrian zone.
The following are some experiences and impressions:
Before the booth was even completely set up, a middle-aged man approached and said he wanted to sign the petition because he admires people who are committed to taking action for a good cause. He also mentioned that he would conduct further research on the Internet and wanted to share information about organ harvesting in China on his Facebook page.
Many passersby signed the petition and wished practitioners much success in their efforts to counter the persecution. One gentlemen mentioned, "It is good that you take action. One has to support this."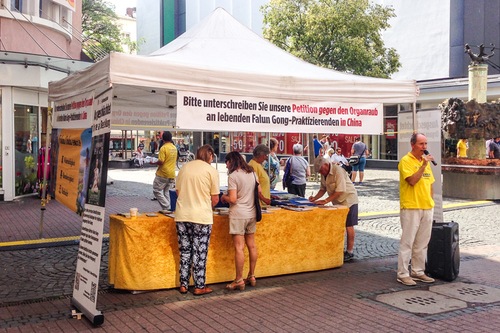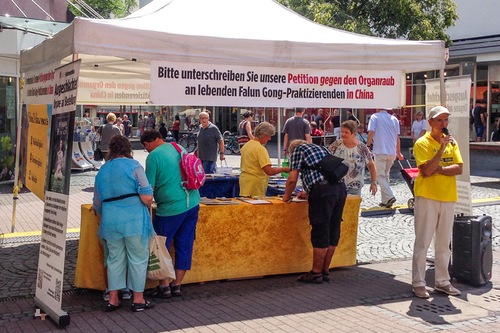 Many who learned about the persecution took the opportunity to sign a petition against the state-sanctioned killing of practitioners for their organs in China.
One woman stood in front of the information booth for quite some time. She then approached with her daughter and told the practitioners that she was sickened to learn of the Chinese regime's harvesting of organs from living Falun Gong practitioners. Both mother and daughter signed the petition.
Another lady told a practitioner that her son had a Chinese girlfriend and that she knew what was happening in China, including how people are tortured and otherwise mistreated. She mentioned that she had once gone to Gunther von Hagen's body exhibition, having been told that the bodies were donated. When she learned that they were mostly from China and were likely not donated, she was appalled and said, "Had I known this, I would never have gone to this exhibition." She signed the petition and wanted to inform her son and his girlfriend about the organ harvesting crimes.
An elderly gentleman who came to the booth signed the petition and wanted to know where he could learn Falun Gong. A practitioner wrote down his contact information and told him that he will get in touch with him. He also took a Minghui booklet because he had given away the one he had taken the previous year.
Several others were also interested in learning Falun Gong and left their contact information.
One couple signed the petition and took flyers, which they wanted to give to their son. A family of four also signed. A teenager came to the booth, signed the petition, and took information materials for his parents. Several young people signed without hesitation.
Practitioners informed media outlets in the cities they visited in advance of their activities, which led more people to come to the booth. One woman said that when she heard of the Dafa activity, she immediately made up her mind to stop by.
A Chinese woman came by with her German friend and took all the Chinese information available at the booth. However, they did not want to sign the petition, fearing it could be held against them by the Chinese authorities. Nevertheless, both thanked the practitioners for their efforts.
One woman approached the booth visibly angry and said it was appalling that people were being killed for their organs. She said, "Organ donation is okay, but something like this is not. That makes me so angry!"
Later in the afternoon, a reporter from a newspaper in Worms arrived and interviewed the group. He said his supervisor had sent him, wanting to learn more about the organ harvesting atrocities taking place in China.