New York: Experience Sharing Conference for Young Practitioners Held in Manhattan
August 27, 2017 | By a Falun Gong practitioner in New York
(Minghui.org) The Falun Dafa Cultivation Experience Sharing Conference for Young Practitioners was held in Manhattan, New York on August 19. Twenty-two practitioners shared their experiences of looking within, improving themselves, letting go of attachments, and raising awareness about the persecution in China.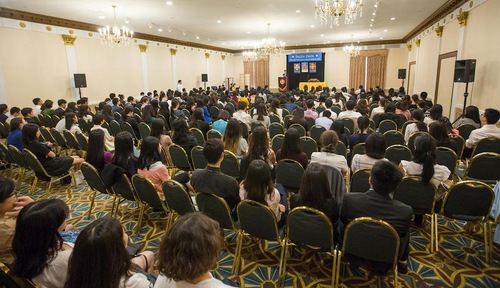 Falun Dafa Cultivation Experience Sharing Conference for Young Practitioners held in Manhattan, New York on August 19, 2017.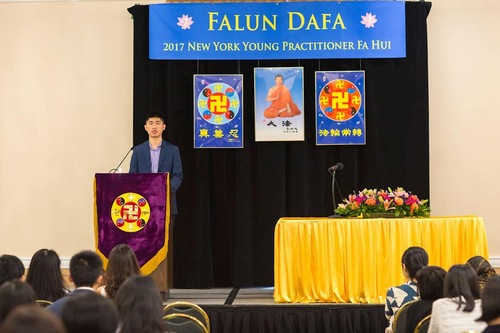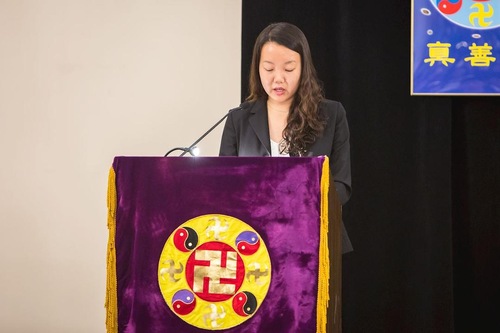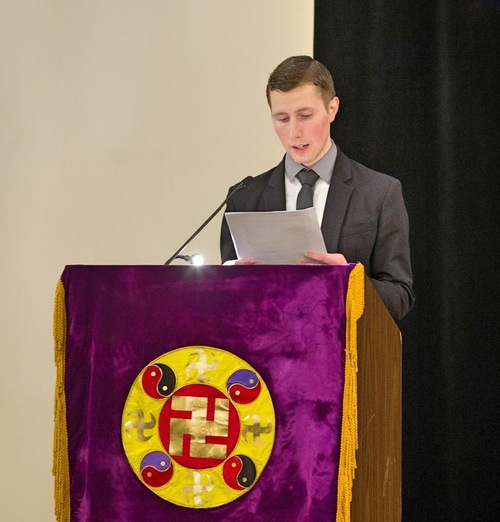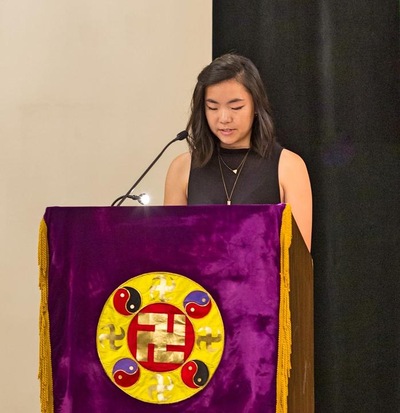 Young practitioners share their experiences on stage.
Resuming Cultivation
One young girl started practicing Falun Gong when she was six years old. Due to the pressures of academics and the persecution, she gradually paid less attention to the practice. However, various everyday pursuits and types of entertainment made her feel empty and pessimistic.
She participated in a group Fa study one day, and the experiences shared by her fellow practitioners encouraged her to become more diligent in her cultivation. She also resumed her efforts to help people learn about the persecution in China.
She had various complaints in her work. After looking within and letting go of her attachments, she felt more at ease in her work and enjoyed more harmonious relationships with her colleagues.
She moved to a noisy and crowded Chinese community. She initially did not like it as she was used to living in a comfortable home. However, she was aware that enduring hardship was an opportunity for her to improve her xinxing, and found that she was able to help more people learn about the practice at the same time.
Raising Awareness Face to Face
A young man who came to the US a few years ago talked about how he did not dare to talk with people about Falun Gong face to face at first. Instead, he held a display board with information about Falun Gong and the persecution at various local tourist sites, so that Chinese tourists might learn the truth that way.
Realizing he needed to do more, he made efforts to learn a few sentences he could say, and now even talks to his teachers and classmates about Falun Gong. He also talks with tourists about the persecution of Falun Gong in China.
Looking Within When Facing Conflicts With Her Husband
A female practitioner had various conflicts after she got married. Cultivation taught her to think it over and look within. She decided she should think of her husband's needs before her own. Seeing this, her husband, also a practitioner, began to look within too.
The couple became more harmonious. After a while a baby came, and she found that taking care of the baby helped her let go of her selfishness and impatience. She is now better at putting others' interests before her own.
Firmly Believing in Master and the Fa
A woman shared how she developed sudden back pain one day. She attempted to alleviate the pain with the usual methods but in vain. She started to study the Fa more intensively, but still the pain remained.
Realizing that she had some doubts and hesitation, she became determined to strengthen her belief in Master and the Fa. She continued studying the Fa, sending righteous thoughts and raising awareness about the persecution in China. The pain disappeared four months later.
Letting Go of Attachments
A young man followed his mother to practice Falun Gong since he was young. He and his mother talked to many people about Falun Gong and offered free teaching at their home. Over the past several years, more than 1000 people went to his home to learn Falun Gong.
While growing up, he became attached to fame, personal interest and sentiment, just like his classmates. Recently he came to understand more about the significance of cultivation, and he became more determined in believing in Master and the Fa. He paid more attention to personal cultivation and letting go of attachments.
Young practitioners who participated at the conference told us that they were encouraged after hearing the experience sharing from their peers. One said, "We should not overlook cultivation or our missions just because we're young."