2,754 Falun Gong Practitioners in China Arrested and Harassed for Their Faith in May 2017
August 22, 2017 | By a Minghui correspondent
(Minghui.org) According to information compiled by Minghui.org, 2,754 Falun Gong practitioners were either arrested or harassed in May 2017 as part of the Chinese Communist Party's persecution of the spiritual discipline.
Of the 812 practitioners arrested, 382 had their homes ransacked, and 356 have returned home. The 1,942 cases of harassment included police ransacking practitioners' homes, confiscating personal property, attempted arrests, and frequent visits and verbal and physical threats.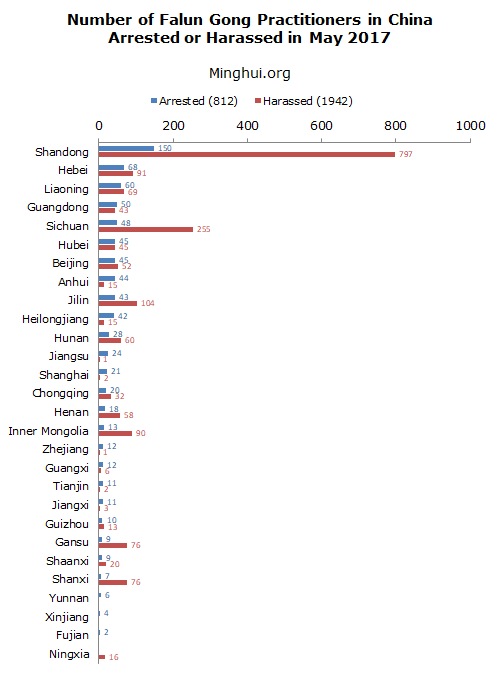 As a result of the intensifying "knocking on doors" campaign, there has been a significant increase in the number of harassment cases since April (1,157). The campaign is one of the many ways the authorities persecute practitioners who refuse to give up their practice. The authorities often visit practitioners for no reason or in the name of verifying personal identification. They would question the practitioners on whether they are still practicing or if they had filed a criminal complaint against former Chinese leader Jiang Zemin, who launched the persecution in 1999. The practitioners were warned not to openly express their belief.
During the campaign, the police extorted a total of 803,800 yuan (~$119,445 USD) from 41 practitioners. The amount is almost 4.5 times that of April (181,420 yuan, or ~$26,680 USD). The money came mostly from cash confiscated during home raids or bail money arbitrarily set by the police and the courts that was never returned. Other forms of punishment included illegally suspending practitioners' pensions and wages.
The arrests and harassment took place in 28 provinces and centrally-controlled municipalities. The greatest numbers of arrests were recorded in the provinces of Shandong (150) and Hebei (68). Shandong Province also recorded the most incidents of harassment (797), followed by Sichuan Province (255).
The following cases are representative of the arrests and harassment that took place in May.
10-Year-Old Threatened
The authorities kept pressuring a ten-year-old girl to talk her father into giving up Falun Gong. Her father, Mr. Liang Jianjun, a high school teacher in Lechang City, Guangdong Province, was arrested on May 25th and held in Lechang Detention Center.
Domestic security officers had Mr. Liang's relatives and supervisors frequently pressure his wife and daughter to talk him out of practicing. His wife has hired a lawyer to represent him.
Police Brutality
Police in Shanghai arrested Mr. Feng Xinglei and ransacked his home on May 23rd. When he was put in Jing'an District Detention Center that night, he went on a hunger strike to protest the persecution. Five days later, he was taken to a hospital and force-fed through his nose. After he returned to the detention center, the authorities put Mr. Feng in a straitjacket because he refused to wear a prisoner's uniform.
Officials in Chengdu, Sichuan Province kidnapped Ms. Zhang Xiuqin on May 2nd while she was telling people about the persecution. They beat her in their office before taking her to Tangyuan Town Police Station. The police whipped her with plastic tubing until she passed out. She was covered in bruises when she was sent home.
Beijing police arrested Ms. Zhang Xiufen on May 1 and physically tortured her until she became disabled. She was taken to Fengtai District Detention Center and hospitalized because of her dire health condition.
Police in Rongcheng County, Hebei Province arrested two practitioners on May 17th while they were distributing Falun Gong literature. Liu Xiaozhuo was sent home the same day due to severe hypertension. The police frequently slapped Ms. Wang Yanwen's face during the interrogation because she refused to cooperate. She was sent home two days later.
Two practitioners in Chengdu, Sichuan Province were arrested on May 19 while they were shopping. Officers handcuffed Du Rong and Ms. Zhou Ming behind their backs and beat them during the interrogation at Liuhe Police Station. Ms. Zhou's shoulder was injured; she also temporarily lost her hearing and became extremely dizzy. Du was transferred to Chengdu Detention Center the next day, while Ms. Zhou was transferred to her local police station. She was released after the police raided her house.
Canadian citizen Ms. Sun Qian was arrested in Beijing on February 19th and held in Beijing First Detention Center. Four guards pushed her down and pepper sprayed her. She was handcuffed and shackled around the clock. She wasn't allowed to change her clothes for 60 days. At night, the guards interrupted her sleep every 30 minutes.
Related reports:Falun Gong Practitioners in Vancouver Call for Sun Qian's ReleaseCanadian Citizen Working in China to Face Indictment for Her Faith
Arrests in Retaliation for Filing Lawsuits Against Jiang Zemin
Police in Daqing, Heilongjiang Province broke into Ms. Zun Yumei's home on May 18th and arrested her and her husband (not a practitioner). During the interrogation at Linyuan Police Station Ms. Sun was asked about her lawsuit against Jiang Zemin.
The police forced Ms. Sun and her husband to sign the deposition and took them to a detention center. The authorities at the detention center refused to take Ms. Sun due to her health condition. Insisting on incarcerating Ms. Sun, the police chief forced her to have a medical examination and sent her to the detention center again. Ms. Sun and her husband were released only after the detention center denied the chief's request.
Related report:Daqing Practitioner Arrested by Police but Refused by Detention Center
Ms. Tang Yun from Zhangye City, Gansu Province, was detained ten days in December 2015 after she filed a lawsuit against Jiang in June. She has since been harassed frequently by the police. Two officers came to her work in 2016, pretending to make a purchase, and left without saying anything. Another time a team of officers and a local official came to her work. They told Ms. Tang that they were just browsing.
One day in March 2017, five officers came to her work. Again on May 8th, two officials and a police officer went to Ms. Tang's workplace with a video camera on. They talked to her manager and her. When questioned about the videotaping, they claimed that they were working and left.
Ongoing "Knocking on Doors" Campaign
From May 3 to 6 this year, police in Jinchang City, Gansu Province harassed five practitioners at their homes. They checked every room as they recorded everything on video. The practitioners include Wang Wengui, Ms. Sun Ailing, Ms. Liu Guiju, Ms. Yang Xiufang and Ms. Ma Yongyan.
Ms. Ma's workplace, Jinchuan Group International Resources, deducted 2,000 yuan (~$300 USD) from her pay as a punishment for sending information about the persecution she suffered on Minghui.org.
Mr. Wang Junjie's father died on May 22 after years of harassment by police in Jilin City, Jilin Province.
Ten police officers broke into Mr. Tang Shuming and Ms. Yang Guizhi's home in Jing County, Hebei Province on May 19, accusing them of posting Falun Gong fliers in public. Officers took away their personal identification cards, raided the house, and confiscated a computer, printer, Falun Gong books, and other items. The next day, a local official asked the couple to report to the Ertun Town Police Station. The couple were forced to leave home to avoid future persecution.
The police in Beisu Town, Hebei Province, raided Ms. Zhu Suying's house on May 9th and confiscated her Falun Gong books and photos. Ms. Zhu escaped before the police could arrest her. The police tried to arrest her son instead. He defended himself with a saw, and the officers left. The police came back two weeks later on May 23 and arrested her son.