Belgium: Falun Gong Participates in Nova Mondo Market Festival in Eeklo
August 20, 2017 | By Rong Fa, Minghui correspondent in Belgium
(Minghui.org) Summer is the festival season in Belgium, with all kinds of fairs and cultural events. Falun Gong practitioners participated in the Nova Mondo Market Festival in Eeklo on August 13, where they introduced this traditional Chinese cultivation practice.
Nova Mondo included many activities, with music, dancing, children's activities, as well as food and crafts from Asia, Africa and the Indian Subcontinent.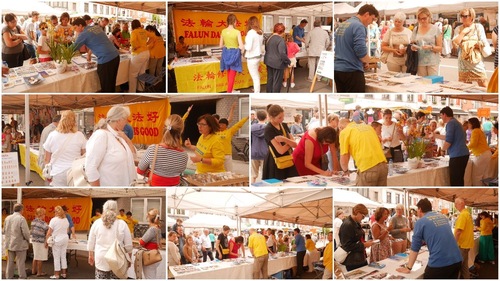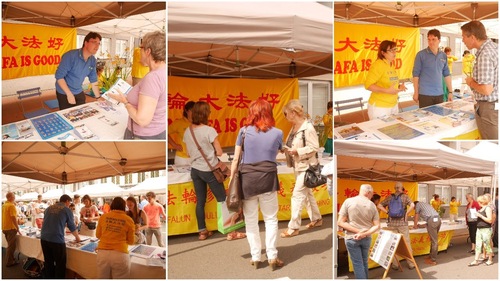 Visitors to the Nova Mondo Festival were interested in learning more about Falun Gong.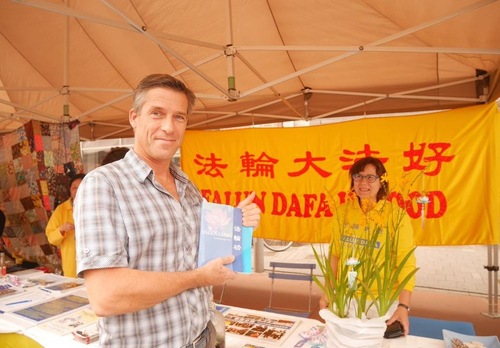 Mr. Jo Vanwontergem was happy to discover Falun Gong at the festival.
Mr. Jo Vanwontergem, a local resident, was very interested in ancient Chinese cultivation practice and bought two books Zhuan Falun and Falun Gong. He planned to study the practice with his wife.
Ms. Ingrid Spittael had studied Falun Gong for a while. After seeing the Falun Gong booth at the Nova Monda festival, she and a friend decided to join a nearby group exercise site.
A woman who worked nearby said she came to the festival because of a sudden impulse. When she came upon the Falun Gong booth, she realized that this was what she was looking for.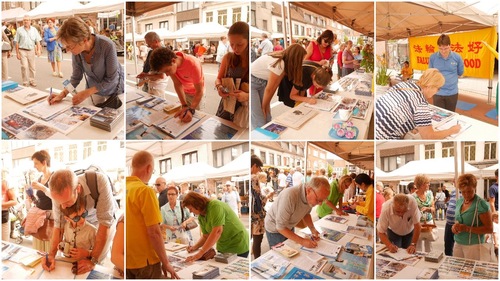 Festival visitors sign a petition condemning the persecution of Falun Gong in China.
"Based on what I've learned today, this practice must be good and the persecution is evil. Your efforts will bring a better and purer result. I want to sign the petition," said an elderly woman to a practitioner.