British Columbia, Canada: A Sea of Yellow at Penticton Peach Festival
August 20, 2017 | By a Falun Dafa practitioner in Vancouver
(Minghui.org) Falun Dafa practitioners participated in the annual Penticton Peach Festival parade on August 12, 2017. The group received warm applause and cheers, and the waist drum performance was praised as "a sea of yellow" by the city mayor.
The Falun Dafa group won the first place parade award for non-profit organizations. The mayor also proclaimed the month of May as "Falun Dafa Month".
Penticton is a small city in the Okanagan Valley of British Columbia. It is known for beautiful scenery, fruit and wine.
The Penticton Peach Festival is an annual tradition dating back to 1947 celebrating the bounty of the local peach harvest.
This year is the festival's 70th anniversary and Canada's 150th birthday.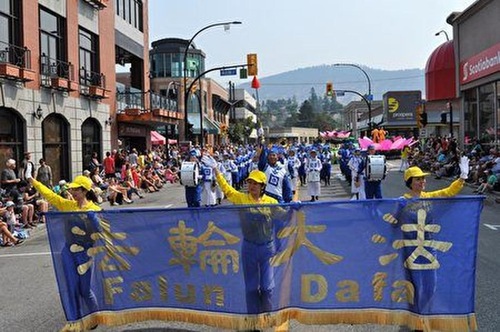 Falun Dafa at the annual Penticton peach festival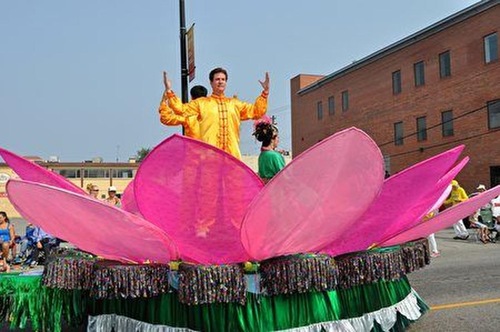 Falun Dafa exercise demonstration on a decorated float in the parade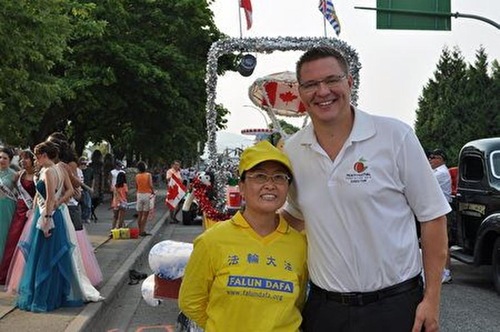 Mayor Andrew Jakubeit and a Falun Dafa practitioner after the parade
The Peach Festival is a five day celebration with fun for the whole family. Activities include a kids' day, an air show, concerts and more.
The parade on August 12 featured a large Falun Dafa contingent with the Tian Guo Marching Band, a lotus flower themed float and a group of waist drummers.
The Mayor of Penticton, Mr. Andrew Jakubeit, praised the waist drum performance as an energetic "sea of yellow".
He said people were happy to see this Chinese traditional cultivation group in the parade and was proud to have regular Falun Dafa practice and instruction in the city. "This is a city where people of different nationalities and beliefs can live peacefully with each other."