Denmark: Promoting Falun Dafa in Three Cities
August 20, 2017 | By Shu Huidan, Minghui correspondent in Denmark
(Minghui.org) Activities were held in three cities around Denmark over the last couple of weeks to promote the peaceful spiritual practice of Falun Dafa and to raise awareness of organ harvesting atrocities and the persecution in China.
Odense
In the city of Odense, hometown of famous writer Hans Christian Andersen, the Falun Dafa activity was held in Kongens Have, a beautiful park located near the railway station in the center of the city.
On August 10, practitioners set up banners reading "Falun Dafa" and "Truthfulness Compassion Forbearance" and demonstrated their peaceful exercises in the park. (Falun Dafa is also called Falun Gong.)
Several student groups were also holding activities in the park that day, and some of them came to try out Falun Gong, too.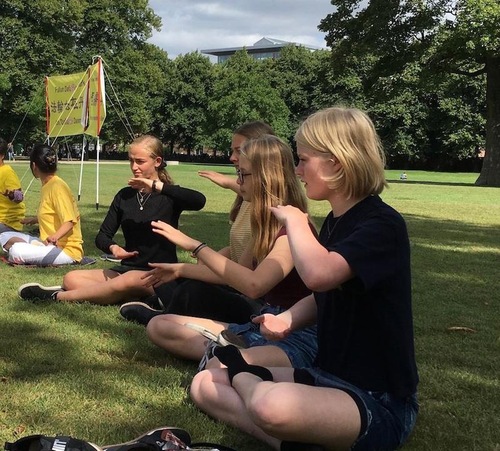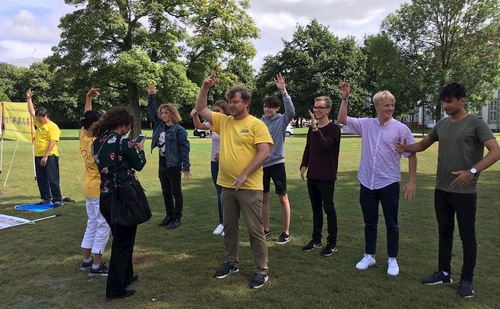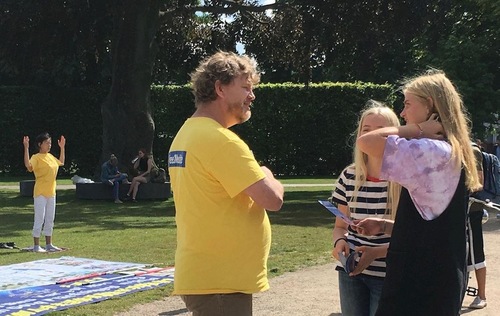 High school students learning the Falun Dafa exercises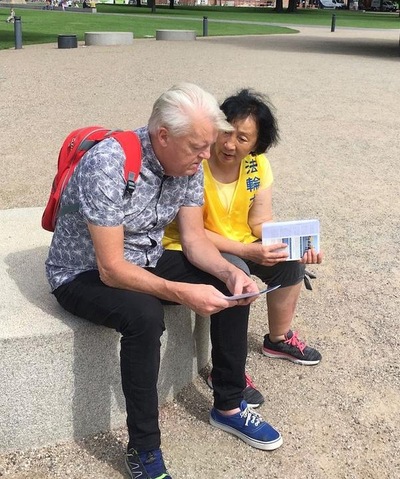 A man asks a practitioner to sit with him and tell him more about the practice and its health benefits.
Passersby also learned about illicit organ harvesting targeting prisoners of conscience in China and were shocked. Many signed a petition condemning the atrocities and demanding an immediate stop to the persecution of Falun Dafa.
Vejle
Practitioners held a similar event in a commercial area of the city of Vejle on August 11. Many of the residents in this small city have not heard of Falun Dafa or the persecution in China. However, people needed little explanation to understand the evils of the persecution and were eager to sign the petition condemning state-sanctioned forced organ harvesting in China.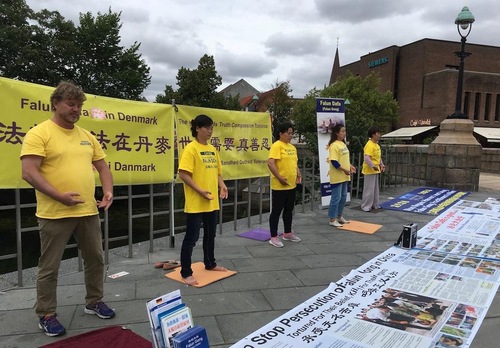 Falun Dafa exercise demonstration in Vejle, Denmark.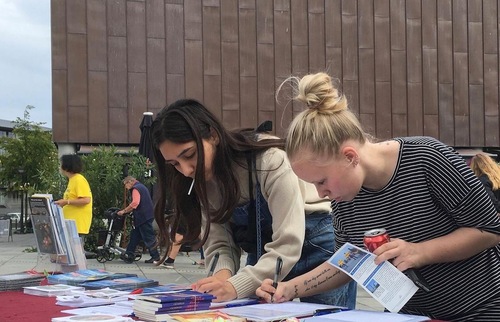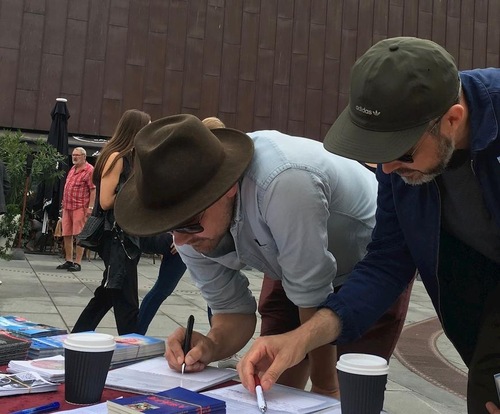 People sign petition condemning the persecution of Falun Gong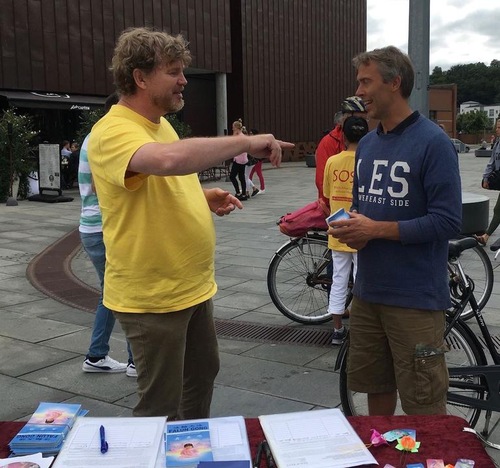 "I want to read the Falun Gong book again"
A man riding a bike stopped to talk to the practitioners. He and his wife had worked in China for one year and had first hand experience of how the Chinese people lack freedom of speech and how news is aggressively censored in China.
He had read some books about Falun Dafa and knew the practice was very good, but he didn't understand why the communist party wanted to persecute such a group of honest people.
The practitioners explained the situation in China and the man signed the petition, saying he wanted to read Falun Gong books again.
Aarhus
Practitioners went to Aarhus, the second largest city in Denmark, on August 12. Five residents learned the exercises in the morning. They heard of the activity from friends or from a health expo in another city.
They commented that the exercises made them feel "comfortable and a strong energy field," leaving them "relaxed and content."