Seattle, Washington: Falun Dafa Group Takes Grand Prize at 2017 Magnolia Summerfest
August 11, 2017 | By a practitioner in Seattle
(Minghui.org) Falun Dafa practitioners took home the grand prize from the Seafair Parade on August 5 during the Magnolia Summerfest this past weekend. Summerfest is a popular annual event in Magnolia, the second largest neighborhood in Seattle. The weekend of festivities includes music, art exhibitions, and food.
Falun Dafa practitioners entered the Seafair Parade with a beautiful float, an exercise demonstration, and a lively group of waist drummers. They were a hit with spectators along the length of the parade route, with many people asking for information about Falun Dafa.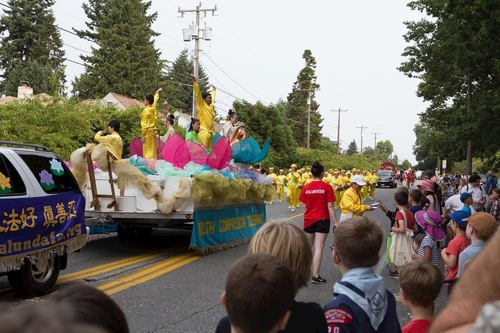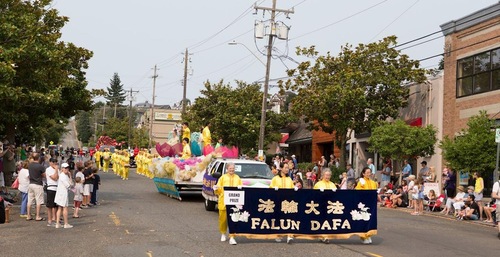 Falun Dafa practitioners' float and waist drum performance at the Seafair Parade in Magnolia, Seattle on August 5, 2017.
When practitioners passed the reviewing stage, the MC said that it was a great honor to have Falun Dafa practitioners in the Seafair Parade and announced that they'd won the grand prize. "Falun Dafa, also known as Falun Gong, is a self-improvement system based on the principles of Truthfulness-Compassion-Tolerance. It is practiced by over 100 million people around the world," announced the MC.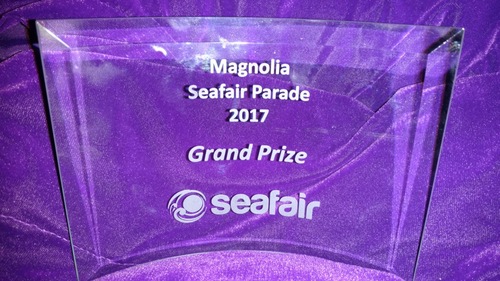 Practitioners received the grand prize for their contribution to the 2017 Seafair Parade.
Doug, chair of the 2017 Magnolia Summerfest, brought the prize to the practitioners and thanked them for their participation. "I know you are doing great," he said. "And be sure to come again next year!"
In addition to the parade, the practitioners' booth also drew attention during the festivities on August 5 and 6. Many people said that they were impressed by the parade and would be interested in learning the excises. A young Chinese girl was fascinated by the hand-made paper lotus flowers in the booth. Lotus flowers in China typically represent peace, purity, and happiness. A practitioner handed the girl a lotus flower and talked to her parents about Falun Dafa.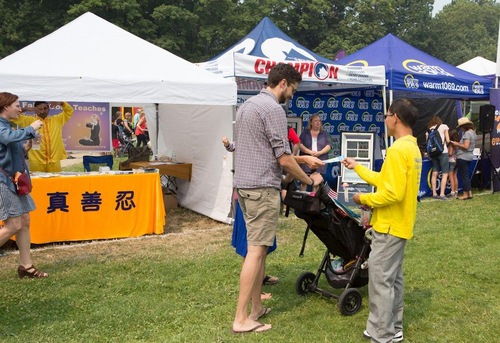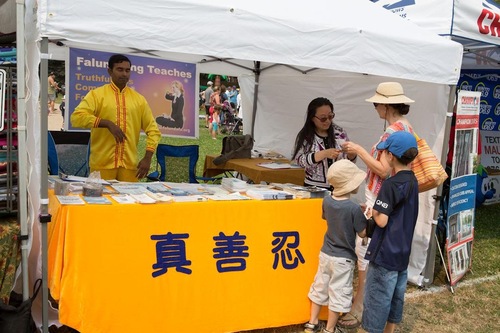 People stop by the practitioners' booth to learn more about Falun Dafa.
A middle-aged businessman stopped by and said that he had lots of Chinese friends, many of whom had been mistreated during previous political campaigns. After signing a petition calling to end the suppression in China, he encouraged practitioners to continue their efforts to raise awareness of the atrocities taking place there. "I know some Chinese who came to the US recently and they are still brainwashed by the Chinese Communist Party," he said.
A local resident was shocked to hear about the mistreatment that practitioners have received in China for their belief. In tears, she said,"It's too bad that so many innocent people are suffering so much for their belief. I think the world needs to know this."