Raising Awareness in Auckland, New Zealand
July 08, 2017 | By a Falun Gong practitioner in New Zealand
(Minghui.org) It's winter in the southern hemisphere, and Falun Gong practitioners in Aukland, New Zealand, spent a cold and rainy Saturday, June 24, 2017, holding activities to tell people about Falun Gong, also known as Falun Dafa, and raise awareness of the persecution of this spiritual discipline in its home country of China.
On the steps of Aotea Square in the central business district, they sat in silent meditation as bundled up passersby hurried by during the noon hour. The practitioners' blue coats and yellow jackets added a feeling of warmth to the cold winter day.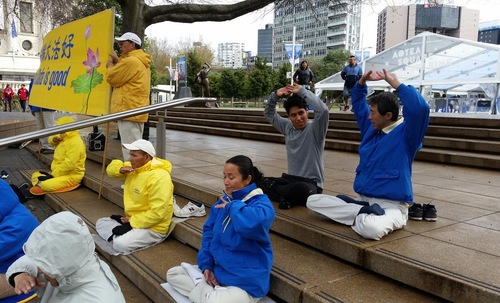 Eric, a young Maori man, learning to do the sitting meditation
Their peaceful music and demonstrations of the gentle exercises drew people's attention. Some showed great interest and started to learn the exercises right away.
Auckland Native Supports Falun Gong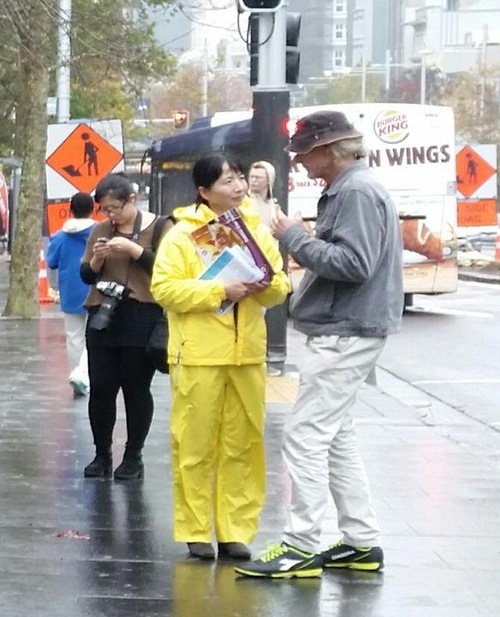 Mike supports Falun Gong and believes that the demise of the CCP is imminent.
Mike, an Auckland native, is an enthusiastic admirer of Chinese traditional culture and has been to China five times in the past 3 years. He's visited its famous mountains and big rivers and temples in Beijing. He said Chinese culture has become a part of his life.
Mike came across Falun Gong practitioners in front of the Chinese Consulate. He commended them as the most peaceful protest group he had ever seen. He condemned the Chinese Communist Party's (CCP) killing of Falun Gong practitioners to harvest their organs for profit. "It's inhuman," he said. "The CCP attempts to suppress its people and keep them separated from the international community." He said the CCP's days were numbered.
Falun Dafa's Truthfulness-Compassion-Forbearance Is Wonderful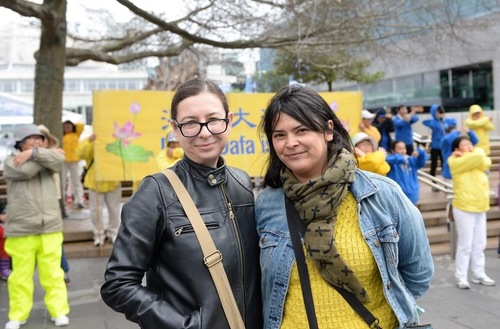 Aggy (left) and friend Sophia (right)
Sophia, who works with Lifewise, an NZ charity organization, was sympathetic to the Falun Gong practitioners being persecuted in China. She said that it was terrible that people with different beliefs were treated differently. She commented on Falun Dafa's principles of Truthfulness-Compassion-Forbearance. "They are amazing," she said.
Sophia's friend Aggy said that she had seen Falun Gong activities many times and that every time she saw the practitioners demonstrate the exercises, she was impressed by the beautiful, peaceful, and serene movements. "When I passed by," she said, "I felt that I calmed down, too. I wanted to follow along with them!"
Aggy agreed that Falun Dafa's principles were wonderful. "They enable one to elevate, maintain positive energy, and strengthen one's sense of responsibility. That is very important, really fantastic!"
When she learned that Falun Gong practitioners are being persecuted in China, she was shocked. "It makes me sad to know that there are people who are willing to buy illegally harvested organs. It's inhumane."
"Falun Gong Practitioners Will Be Free One Day"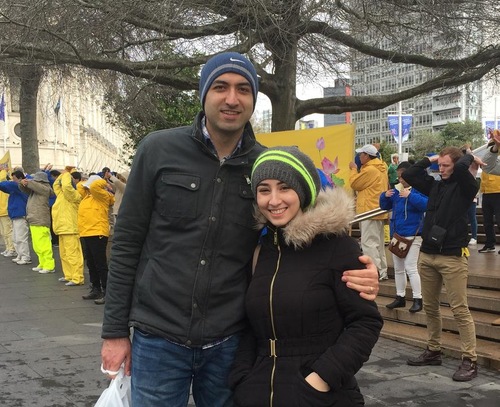 Mr. Kheiri and Violet were appalled to learn about forced organ harvesting.
Mr. Kheiri and Violet from Iran stopped by to find out more. Violet was appalled to learn that people were killed for their organs in China. Mr. Kheiri said it was sad. "The Chinese people are smart and diligent," he said. "They (Falun Gong practitioners) will be free one day."
Mr. Li, an IT expert from Gansu Province, China, said that the persecution of Falun Gong practitioners reminded him of the Nazis rounding up the Jews. He said, "I wouldn't have wanted to be a German in the 1940s, with my children asking me what I was doing when our Jewish neighbors were being taken away. I wouldn't have wanted to have to pretend to be a fool when I knew they were being taken away to be persecuted. I won't betray my conscience."
Mr. Li said he would try his best to help let others know the facts about the persecution of Falun Gong practitioners.