Introducing Falun Gong in Minneapolis
July 30, 2017 | By a Falun Gong practitioner in Minneapolis, Minnesota
(Minghui.org) Falun Gong practitioners introduced Falun Gong (also called Falun Dafa), a traditional cultivation practice, during the 6th annual Open Streets event in Minneapolis, the largest city in Minnesota, on July 23, 2017.
Open Streets Minneapolis encourages healthy and active lifestyles by bringing together community groups and local businesses and temporarily closing major streets to car traffic to allow people to walk, bike, skate, and play in the streets.
Many people from different ethnic backgrounds had a chance to learn about Falun Gong, and some learned the exercises.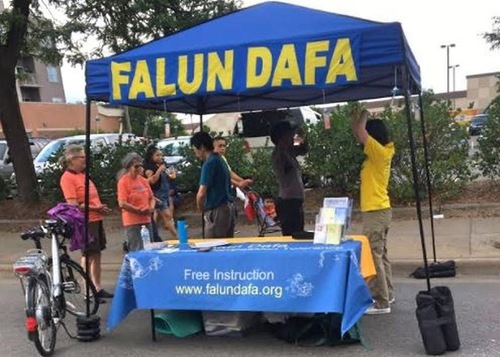 Residents of Minneapolis learn the Falun Gong exercises.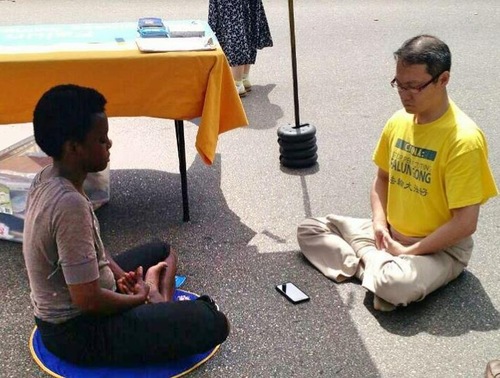 Potia learns to meditate from a Falun Gong practitioner.
Potia, who said she was often nervous and hurt for no reason, wanted to try the Falun Gong exercises. After learning the third exercise, she felt much more relaxed. She then wanted to try the fifth exercise, the meditation. She was able to meditate for 30 minutes after learning the basic movements. She looked calm and tranquil afterward and thanked the practitioner . She said she would like to go to a local group exercise site and learn more.
Practitioners also told people about the Chinese Communist Party's (CCP) persecution of Falun Gong in China, especially the state-sanctioned organ harvesting from living practitioners. Visitors condemned the CCP and expressed their gratitude for learning about it so that they wouldn't go to China for a transplant and unknowingly participate in the persecution.
A non-profit organ donation and transplant organization happened to have a booth right next to Falun Gong's. Its representative learned about the CCP's forced organ harvesting from Falun Gong practitioners. He asked for contact information and expressed his intention to help spread the word about the CCP's organ harvesting atrocities.