Auckland, NZ: Human Rights Lawyer Calls for an End to the Persecution in China
July 30, 2017 | By a Falun Gong practitioner in New Zealand
(Minghui.org) New Zealand practitioners gathered on Aotea Square in Auckland on July 20 and again on Central Square in Hamilton on July 21 to raise awareness of the 18-year-long persecution in China.
Using posters and reenacting forced organ harvesting, they explained how practitioners are mistreated for their beliefs.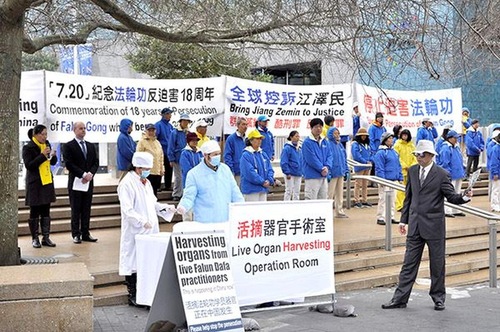 Falun Gong practitioners in Auckland on July 20, 2017
Human Rights Lawyer: Your Efforts Will Make a Difference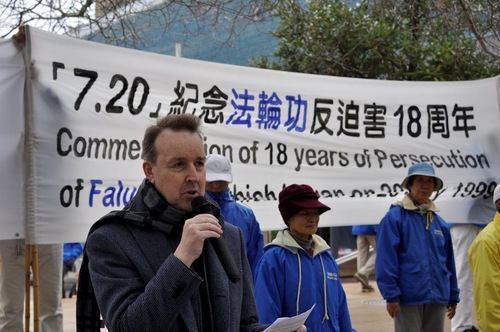 Human rights lawyer Kerry Gore said legislation is needed in New Zealand to help Falun Gong practitioners.
Renowned human rights lawyer Kerry Gore said the persecution in China has drawn international attention. One example he commented on was H.Res. 343, which was passed by the United States House of Representatives in June 2016.
"Resolution 343," said Gore, "called for an immediate end to the atrocity, as well as to the suppression of Falun Gong in China. It encourages the U.S. medical community to help raise awareness of unethical organ transplant practices in China. It also calls on China to allow an independent investigation into organ transplant abuses."
Gore hoped similar legislation could be introduced by the New Zealand government. He thanked Auckland City Councilor Cathy Casey for bringing this to the attention of the city council and the mayor's office.
"Please help Falun Gong practitioners, because your efforts will make a difference. And everyone in New Zealand needs to know about this important issue," Gore said at the rally.
Amato Akarana, a local Maori chief, also came to the event. He fully supported Falun Gong and wished the very best to all practitioners, hoping the suppression in China will end soon.
Scholar: Sent to Forced Labor and Brainwashed for Her Belief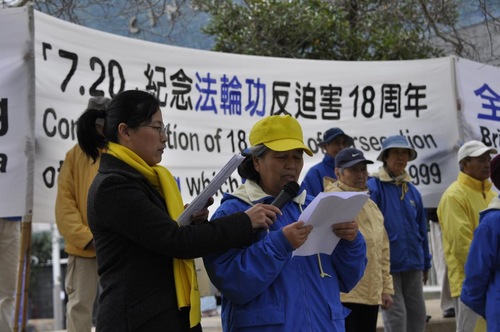 Ms. Wang Jiuchun, former associate professor at Tsinghua University, was sent to a forced labor camp for 15 months for practicing Falun Gong.
The persecution negatively affects people from all walks of life. "In the renowned Tsinghua University, hundreds of the people used to participate in the morning exercises every day, ranging from students to staff members to professors," said Ms. Wang Jiuchun, 70, former Associate Professor at Tsinghua University.
It took a long time for Ms. Wang to find Falun Gong. "Because of asthma and other health issues, I tried all types of qigong and meditation systems, but none of them really worked for me." The practice of Falun Gong gave her energy and good health. "I also became more productive in the classroom and in my research," she recalled.
After the persecution started in July 1999, Ms. Wang experienced the darkest days in her life. She was arrested, detained, and sent to a forced labor camp, where she had to do slave labor for 15 months.
One police officer said to her, "There are too many smart people at Tsinghua University. We need to do something with their brains." As a result, practitioners at the college were subjected to intense brainwashing. "I was sent to a brainwashing center six times and heavily pressured to give up my belief." In addition, she was given nerve-damaging medications against her will.
"Those days were indeed hard for me. But deep in my heart, I knew Falun Dafa (that is, Falun Gong) was the best – nothing could change that," said Ms. Wang. She came to Hamilton, New Zealand, in 2012. Now she often goes to tourist sites and public events to tell people about the persecution of Falun Gong in China.
At least five practitioners at Tshinghua lost their lives during the persecution. Nearly 100 professors, staff members, and students were fired or expelled because of their belief. "We have to help get their voices heard," said Ms. Wang.
Imprisoned for Telling Others about the Persecution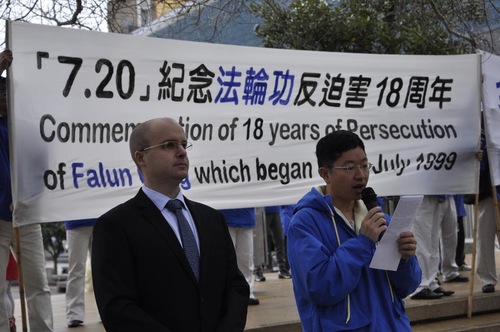 John Chen was imprisoned for 11 years for speaking out against the communist party's hate propaganda defaming Falun Gong.
After former communist leader Jiang Zemin banned Falun Gong in July 1999, he gave orders not only to detain and torture practitioners but also to generate hate propaganda to discredit them. And anyone who challenged the slanderous propaganda was to be dealt with severely.
That is what happened to John Chen. After the staged self-immolation incident in January 2001 was identified as a hoax, Chen told others about it and explained why one should not blindly believe the propaganda. As a result, he was arrested and detained. "I was sentenced to 7 years of imprisonment. The prison guards beat me, tortured me, and deprived me of sleep," said Chen.
He was also put in solitary confinement, subjected to brainwashing, and given unnecessary medication against his will.
After coming to New Zealand, Chen submitted a criminal complaint against Jiang for persecuting Falun Gong to the Chinese government. Over 200,000 such complaints from all over the world have been submitted to the Chinese justice system.
"This is one of the saddest things I have ever heard of"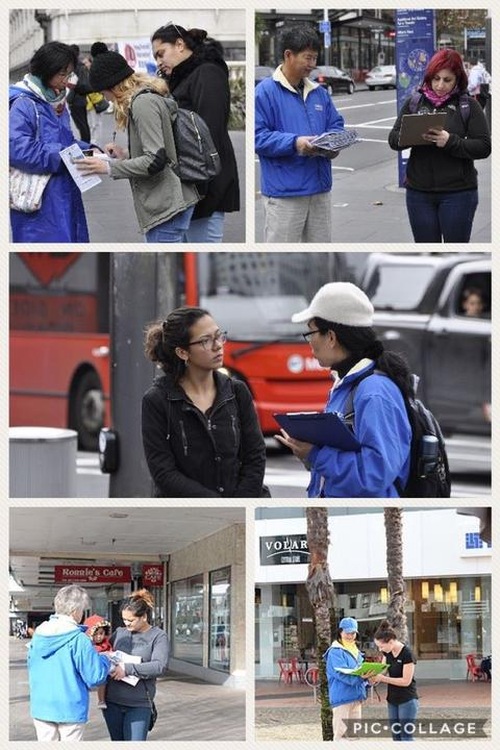 Passersby stop to hear about Falun Gong and sign petitions to help practitioners.
Heather Hales, a Maori who lives in Hamilton, stayed for a long time talking with practitioners. "I can tell that you have both a wonderful exercise and a beautiful mind," she said to one practitioner.
She called the forced organ harvesting in China "a horrifying crime." "I think people in this society need to open their eyes and see what is happening. We must do something to help," she commented.
Vincent Gordon, a student at Auckland University of Technology, is majoring in the teaching of Japanese and English. He said the persecution of Falun Gong in China is a genocide.
"So many innocent people are still being killed and tortured, with their families broken. This is one of the saddest things I have ever heard of," he said.
He said that, because we are now living in a global society, "we have to publicize it, because if it is not fair for some of us to suffer while the rest do nothing. Plus, traditional Chinese culture is an asset for all of mankind. We cannot let the communists destroy it."
Gordon said he would talk with the university administration to get permission to post information on the campus about the forced organ harvesting.
"I hope you will succeed," he said, "and I do believe you will. We just need to wake people up so that they know what is going on."