Europeans Support Falun Gong's 18 Years of Resistance to Persecution
July 29, 2017 | By Minghui correspondents in Ireland, U.K., France, Netherlands, and Poland
(Minghui.org) July 20, 2017, marked the 18th year of the persecution of Falun Gong (also known as Falun Dafa) by the Chinese Communist Party (CCP) as well as Falun Gong's peaceful resistance to end such abuses.
Falun Gong practitioners in the Republic of Ireland, the U.K., France, the Netherlands, and Poland held activities on July 22 to call for public support to help end the persecution in China.
Republic of Ireland
Practitioners in Dublin held a rally on Grafton Street followed by a parade through the business district. They re-enacted methods of torture the CCP uses on practitioners in China and called for Jiang Zemin, the former head of the CCP, to be brought to justice for initiating the persecution.
Many people signed the petition calling for an end to the CCP's state-sanctioned organ harvesting from living Falun Gong practitioners. Some Chinese people took this opportunity to quit the CCP's affiliated organizations they had once joined.
Passersby read display boards.
Eight members of the Irish Parliament wrote letters in support of Falun Gong practitioners for this event. Richard Boyd Barrett TD (Irish Member of Parliament) wrote, "Anyone who supports human rights should condemn the CCP's persecution of Falun Gong, especially organ harvesting from living practitioners." He wants the Irish government to voice stronger opposition to the persecution on the international stage. He praised all practitioners and their supporters for their efforts to end the persecution.
Darragh O'Brien TD wrote that he had raised the issue of the persecution with the Irish Foreign Affairs Minister and said that the Republic of Ireland, the European Union, and international society should work together to end the CCP's human rights' abuses, especially forced organ harvesting.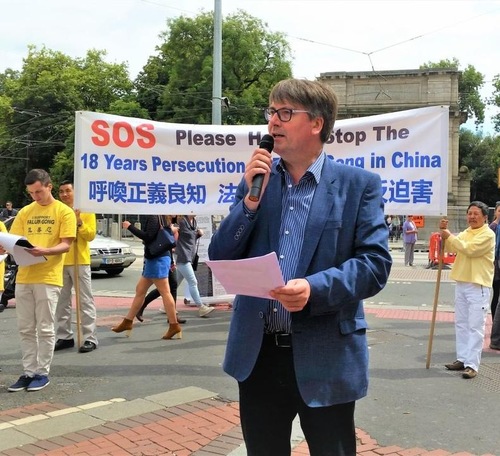 Dr. Declan Lyons speaks at the rally.
Renowned psychiatrist Dr. Declan Lyons was one of the speakers at the rally. He said that Falun Gong practitioners often disappeared from Chinese labor camps, mental hospitals, and detention centers and that they were subjected to forced labor, brainwashing and torture.
Dr. Lyons pointed out that the most heinous evil aspect of the persecution was using Falun Gong practitioners' organs to meet the demand from patients who come from outside of China. It is estimated that between 60,000 and 100,000 organ transplant surgeries are carried out every year in Chinese hospitals, far exceeding the number of organs available from death row inmates and donors. Dr. Lyons called for this crime to be condemned: "With our united voices, we can become examples for those being persecuted."
U.K.
Following a rally and parade on July 22, practitioners held a candlelight vigil on Trafalgar Square in London on the evening of July 23, mourning their fellow practitioners who have died as a result of persecution and calling for a stop to these atrocities.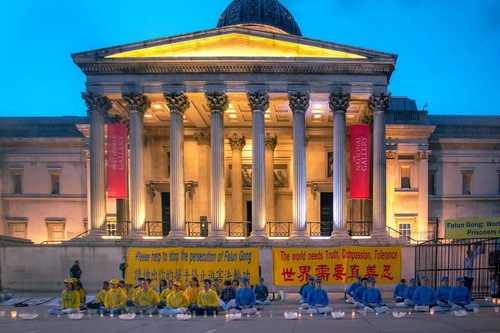 Candlelight vigil on Trafalgar Square in London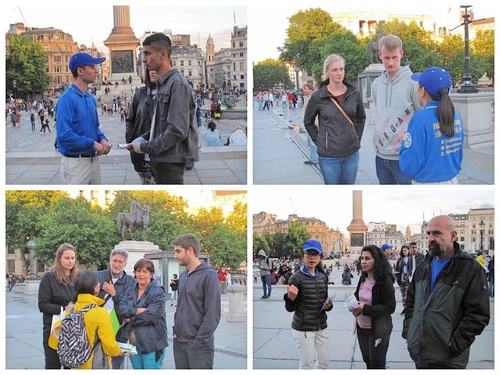 Practitioners talk to passersby about Falun Gong.
With white lotus flowers and twinkling candles, practitioners in yellow T-shirts meditated in the solemn vigil. A torture re-enactment next to them featured a scarred and handcuffed practitioner. The sharp contrast was a reminder of just how absurd the persecution really is.
Many people stopped to find out more about the persecution. A couple of passersby sat on the ground next to practitioners to show their support.
France
Practitioners in France introduced Falun Gong in Saint Malo on July 22 and told people about the CCP's persecution. Many tourists visit this beautiful port city on the English Channel. Local residents and tourists alike condemned the forced organ harvesting and signed a petition calling for its end.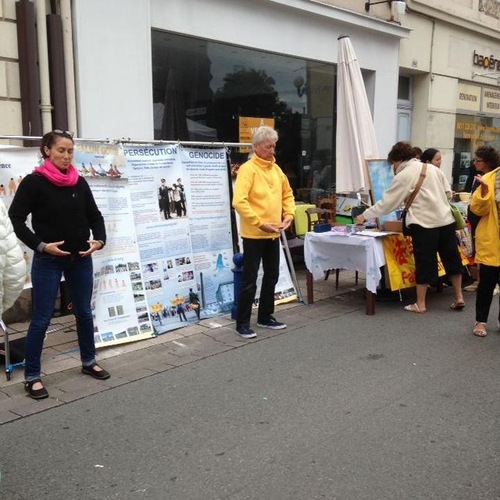 Falun Gong exercise demonstration
The following are some comments people wrote on the petition form:
"Organ harvesting is unforgivably wicked. Signing the petition is our obligation."
"Such a terrible thing is happening in our time!"
"It's horrible that a government kills its own people!"
"What you are doing is great! Keep it up and spread the news as widely as possible. People need to know this information, especially about not going to China for organ transplants. Fortunately there are people like you who tell us. Thank you!"
Many people became interested in learning Falun Gong, and asked for information on the exercise sites in Saint Malo, Paris, Lyon, Nantes, and elsewhere.
Netherlands
Practitioners in the Netherlands held a peaceful protest in front of the Chinese consulate in the Hague on July 20. They distributed flyers to passersby and collected signatures on a petition calling for an end to the CCP forced organ harvesting.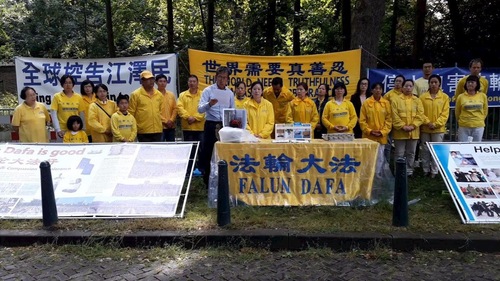 Protest in front of the Chinese consulate in the Hague
Their exercise demonstration attracted a lot of attention. Passersby asked about Falun Gong and wanted to know why the CCP is persecuting the practice. They listened to explanations and looked at the photo display about the persecution. Many then signed the petition. Some shed tears of sympathy.
Several people asked where they could learn the exercises. A couple of tourists from India watched the exercises for a long time. They said repeatedly, "It's great! I have to learn it!"
Chinese tourists also talked to practitioners to find out more and took some materials to read. A couple of Chinese students took this opportunity to quit all of the Communist organizations that they had ever joined. One of them said, "The CCP has caused 80 million deaths in its political movements and has harvested organs from people against their will. I will certainly quit it! Thank you for helping me!"
Poland
Practitioners in Poland held a silent protest in front of the Chinese cmbassy in Warsaw on July 23. Their banners read: "Falun Dafa Is Good," "Truthfulness-Compassion-Forbearance," "Stop the Persecution of Falun Gong," "The CCP's Organ Harvesting Is Unpardonable," and, "Bring Jiang to Justice."
A man and his four children insisted on giving their bottles of water to Falun Gong practitioners. He said, "I have seen you many times. You are nice people. It's so hot today. You need some water. Our entire family wishes you good luck!"
Practitioners in front of the Chinese embassy in Warsaw
A Polish policeman told a practitioner that he really wanted to learn Falun Gong. He said, "I've seen you protest for so many years, rain or shine. I have read the information on your display boards. I'm sure it's a great practice. I want to learn it!"
Practitioners held more activities in Warsaw Old Town in the afternoon. Many people took pictures of their display boards, and there was a line of people queuing up to sign the petition to condemn forced organ harvesting.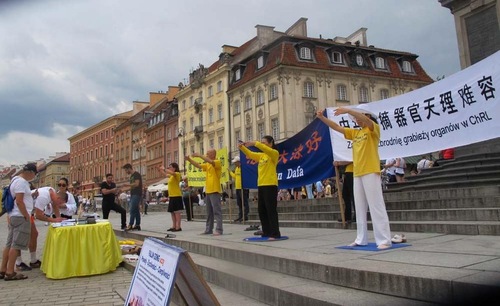 Exercise demonstration in Warsaw Old Town
A practitioner approached a group of Chinese tourists and told them about Falun Gong, information that they would be difficult to come across in China. Some of them expressed thanks.
One Chinese tourist said, "Jiang Zemin is the one who persecuted Falun Gong. You should want to get rid of him. The CCP would be better off without him."
A practitioner replied, "Jiang wouldn't have been able to persecute Falun Gong without the help of the Party. The CCP has spawned more corrupt officials than any other government in history. The CCP is, by nature, evil. It harvests Falun Gong practitioners' organs and sells them. It's a fatal illusion to believe in the CCP. Quit the communist organizations to be safe!"
The Chinese man agreed and repeatedly thanked the practitioner.
Related articles in Chinese:
http://www.minghui.org/mh/articles/2017/7/26/爱尔兰法轮功学员在都柏林举行反迫害集会(图)-351696.html
http://www.minghui.org/mh/articles/2017/7/26/英国法轮功学员在鸽子广场呼吁制止迫害(图)-351671.html
http://www.minghui.org/mh/articles/2017/7/26/在法国圣马罗市传播法轮功真相(图)-351697.html
http://www.minghui.org/mh/articles/2017/7/26/荷兰法轮功学员七·二零呼吁制止中共迫害(图)-351698.html