Rally in St. Louis Receives Support from Congressional Representatives
July 26, 2017 | By Falun Dafa practitioner in St. Louis
(Minghui.org) In conjunction with worldwide activities marking the 18th year since the Chinese Communist Party (CCP) launched its violent campaign against practitioners of Falun Gong, also known as Falun Dafa, on July 20, 1999, practitioners in St. Louis held a rally on July 22, 2017 to raise awareness of and call for an end to the persecution.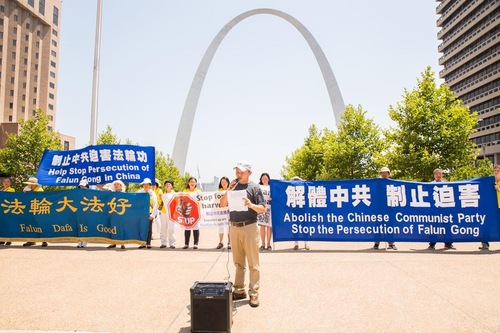 Rally at the Gateway Arch in St. Louis, Missouri
Support from Congressional Representatives in Missouri
Four legislators sent letters to the practitioners to commend their peaceful efforts and express their continued support.
Congressman Blaine Luetkemeyer wrote in his letter, "Instead of responding to violence with violence, however, the Falun Gong community in China has responded only with peace."
Congresswoman Vicky Hartzler wrote, "Last Congress, the House of Representatives took action and passed a resolution calling on the Chinese government to end its horrifying practice of forced organ harvesting and immediately release all Falun Gong practitioners and other prisoners of conscience. While this is a step in the right direction, our work is far from over. It is absolutely imperative that these egregious violations of human decency come to an end and that all religious minorities in China are free from all persecution."
Practitioners Recount Own Ordeals in China
Three practitioners spoke at the rally and told of the persecution they had endured for upholding their faith while they were in China.
Mr. Geng Sa remarked that the Chinese Academy of Sciences refused to grant him a doctorate because he remained steadfast in his belief in Falun Dafa. He and his wife were later arrested for mailing letters to tell people about the persecution. His wife was tortured to death while in detention. He was force-fed and had most of his teeth knocked out by guards when they used screwdrivers to force his mouth open.
Mr. Zhang Guoliang lost his high-paying job as a pilot for China Southern Airlines. He was arrested four times and incarcerated in prison, forced labor camp and brainwashing center for a total of six years. After he was released, he was under long term police surveillance for refusing to give up his belief in Falun Dafa.
Mr. Chen Zhiqiang lost his job at a bank and was arrested in March 2001 for hanging up banners bearing messages about Falun Dafa. He was beaten and seriously injured at the police station. He was later sent to a forced labor camp for a year, where he was subjected to brainwashing and sleep deprivation and denied family visits. After he was released, he continued to be harassed by police, and his family lived in fear every day.
These practitioners' experiences are only the tip of iceberg of the brutal persecution in China, where tens of thousands of practitioners still live under pressure and threats to their personal safety at all times.
Eighteen Years of Unremitting Effort to Seek Justice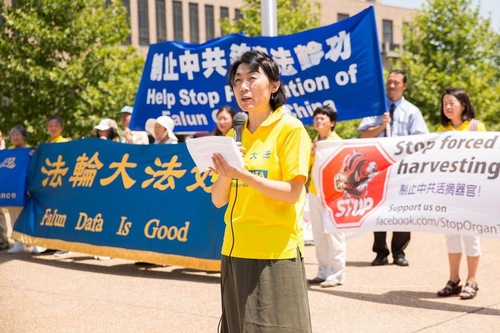 Ms. Tian Kairong has made tireless efforts to help end the persecution.
Ms. Tian Kairong came to the U.S. in the early 1990s and began practicing Falun Dafa in 1998. She has made trips to Washington, D.C. every July over the past 18 years to talk to members of Congress about Falun Dafa. Many of them expressed their support and condemned the persecution.
Six members of Congress from Missouri were among those who cosponsored House Resolution 343, which condemns the state-sanctioned killing of Falun Gong practitioners for their organs in China. Legislators representing Ms. Tian's area of residence informed their constituencies of the persecution of Falun Dafa and China's forced organ harvesting in their weekly briefings.
Missouri's largest newspaper, the St. Louis Post, also recently published a letter to the editor from Ms. Tian, who spoke of her 18-year effort to raise awareness and thanked the community for their support.