U.S. Lawmakers Voice Support for Falun Gong on 18th Anniversary of the Persecution
(Minghui.org) At the 18th anniversary of Falun Gong's peaceful resistance against the persecution in China, 17 U.S. Senators and Representatives sent letters to Falun Gong practitioners, expressing support for practitioners' efforts and condemning the persecution.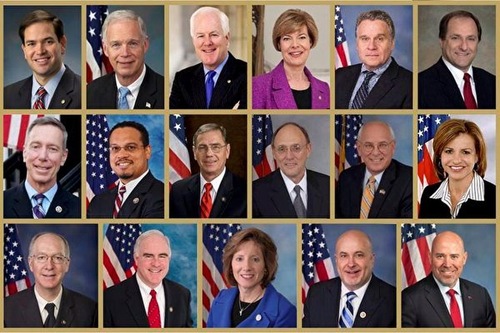 US lawmakers who sent support letters for the July 20 Rally at the Capitol.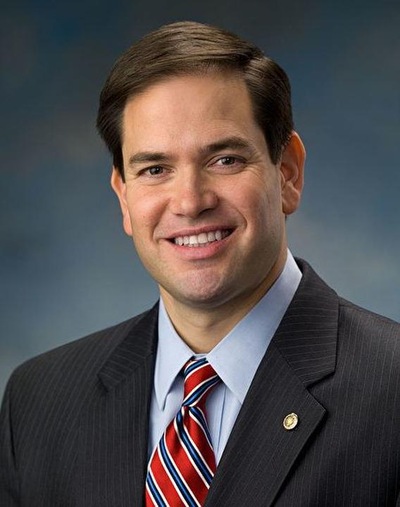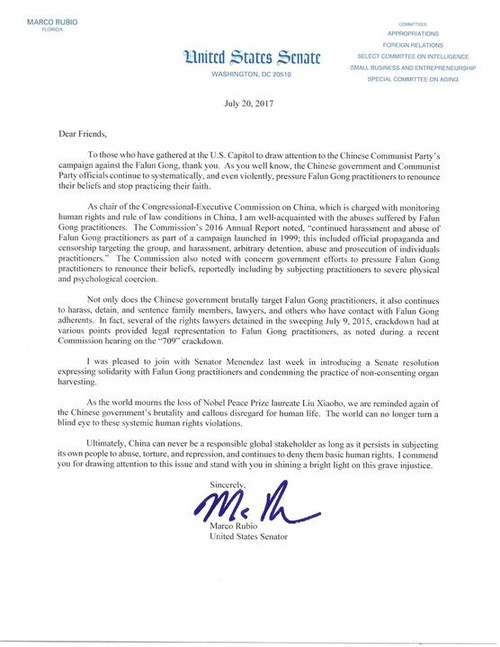 Sen. Marco Rubio (Florida) and his letter
Sen. Marco Rubio stated that as the Chair of the Congressional-Executive Commission on China, he is well aware of the persecution.
He mentioned that he was pleased to join with Sen. Menendez last week in introducing a Senate resolution "expressing solidarity with Falun Gong practitioners and condemning the practice of non-consenting organ harvesting."
He wrote, "Ultimately, China can never be a responsible global stakeholder as long as it persists in subjecting its own people to abuse, torture, and repression, and continues to deny them basic human rights. I commend you for drawing attention to this issue and stand with you in shining a bright light on this grave injustice."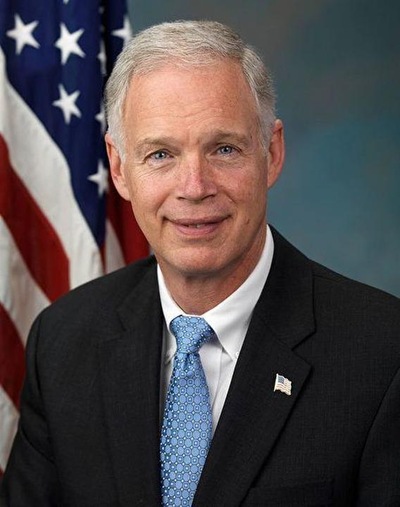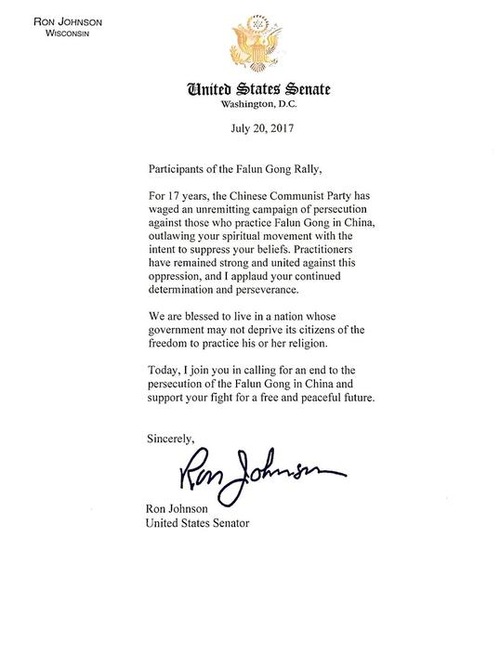 Sen. Ron Johnson (Wisconsin) wrote in his letter: "I join you in calling for an end to the persecution of the Falun Gong in China and support your fight for a free and peaceful future."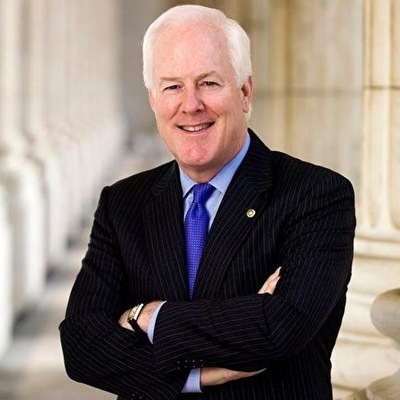 Sen. John Cornyn (Texas) commends practitioners for organizing the rally, and sent his best wishes for a successful event.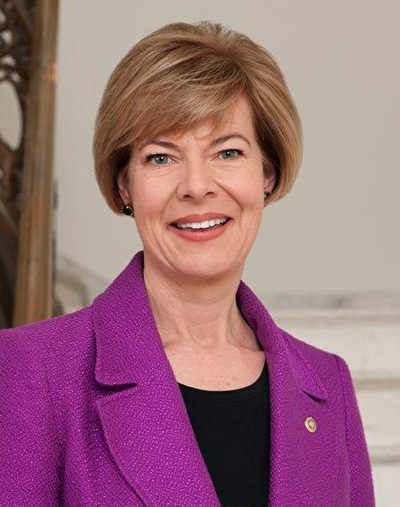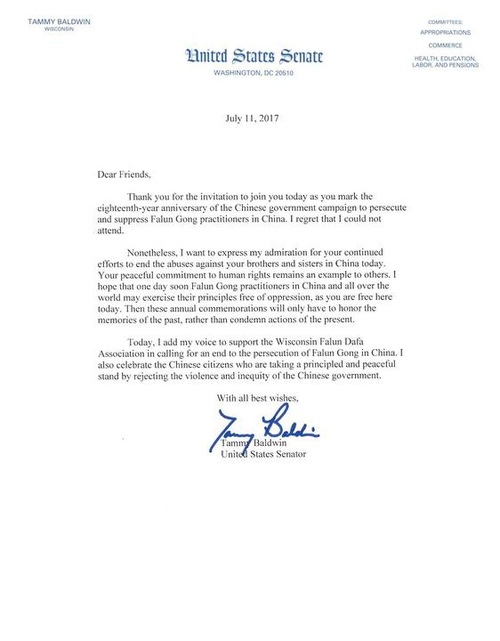 Sen. Tammy Baldwin (Wisconsin) expressed her admiration for practitioners' continued efforts to end the persecution. She wrote: "Your peaceful commitment to human rights remains an example to others."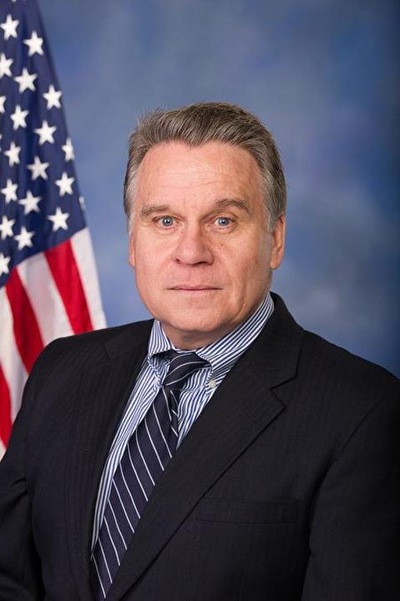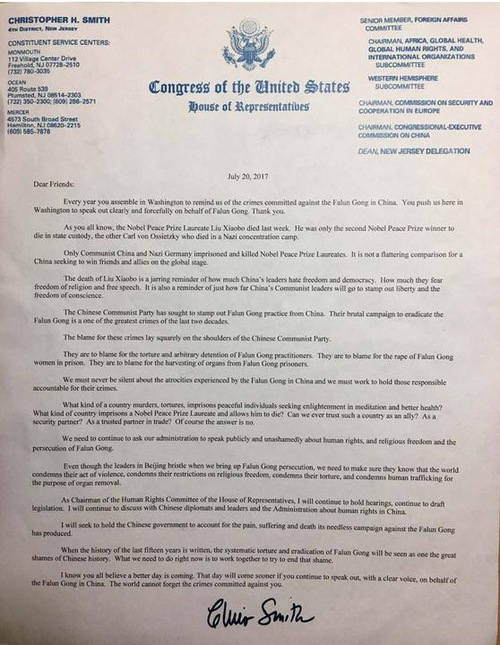 Rep. Chris Smith (New Jersey) wrote: "We must never be silent about the atrocities experienced by the Falun Gong in China and we must work to hold those responsible accountable for their crimes."
Rep. Smith added, "As chairman of the Human Rights Committee of the House of Representatives, I will continue to hold hearings, continue to draft legislation. I will continue to discuss with Chinese diplomats and leaders and the Administration about human rights in China."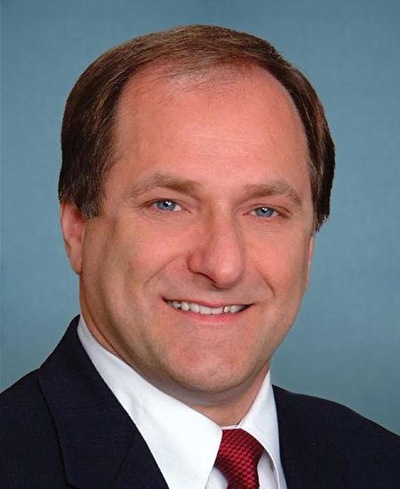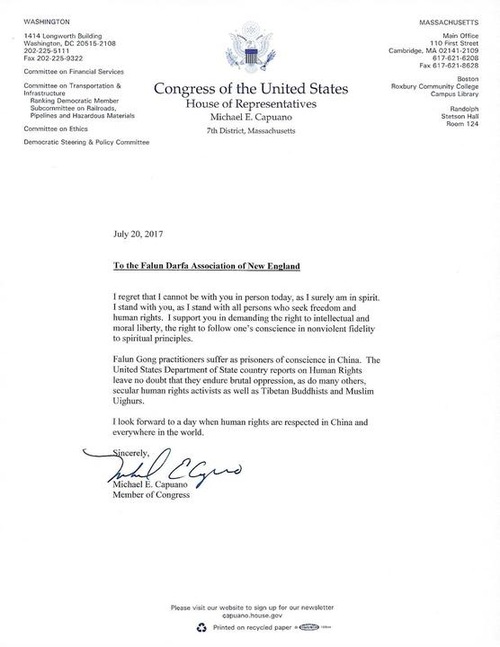 Rep. Michael Capuano (Massachusetts) wrote to the Falun Gong group: "I support you in demanding the right to intellectual and moral liberty, the right to follow one's conscience in nonviolent fidelity to spiritual principles."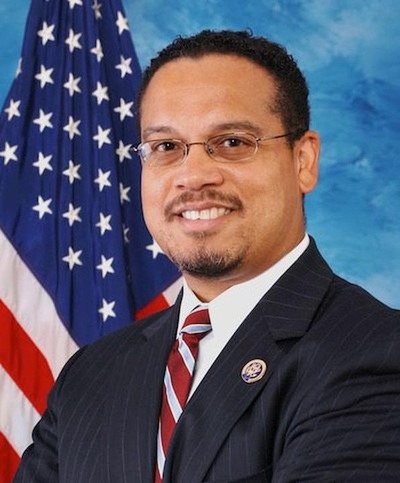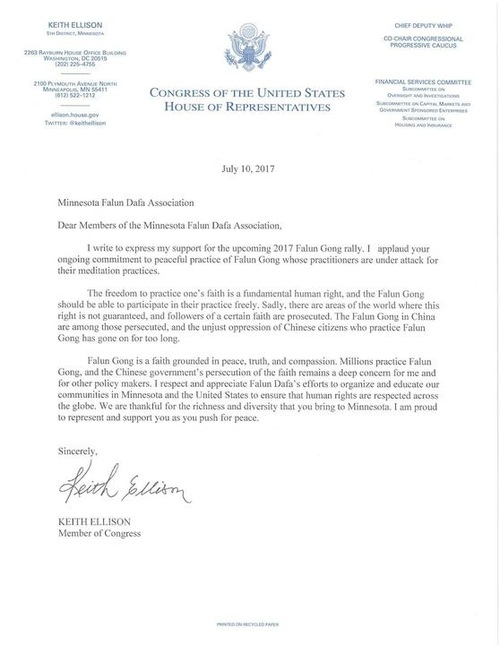 Rep. Keith Ellison (Minnesota) wrote, "Falun Gong is a faith grounded in peace, truth, and compassion...I respect and appreciate Falun Dafa's efforts to organize and educate our communities in Minnesota and the United States. To ensure that human rights are respected across the globe."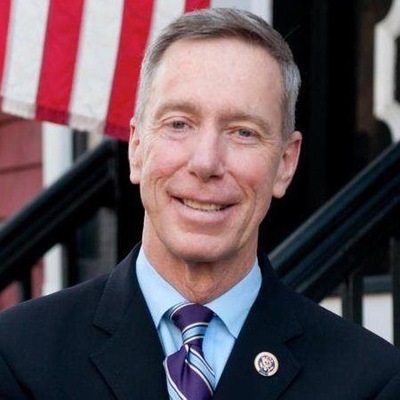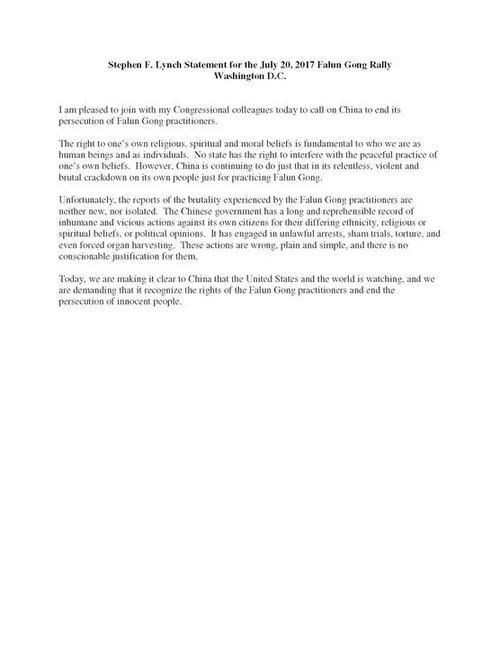 Rep. Stephen Lynch (Massachusetts) wrote, "Today, we are making it clear to China that the United States and the world is watching, and we are demanding that it recognize the rights of the Falun Gong practitioners and end the persecution of innocent people."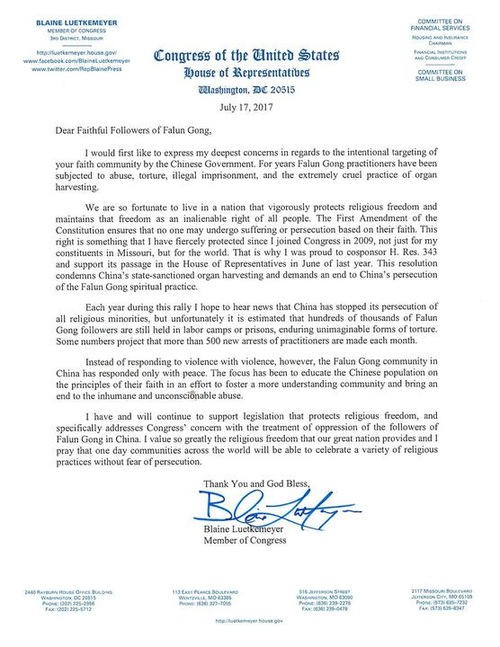 Rep. Blaine Luetkemeyer (Missouri) stated that he was proud to have cosponsored H. Res. 343 and support its passage in the House of Representatives in June 2016. The resolution condemns China's state-sanctioned organ harvesting and demands an end to China's persecution of the Falun Gong spiritual practice.
Rep. Luetkemeyer wrote, "Instead of responding to violence with violence, however, the Falun Gong community in China has responded only with peace."
He continued, "I have and will continue to support legislation that protects religious freedom, and specifically addresses Congress' concern with the treatment of oppression of the followers of Falun Gong in China."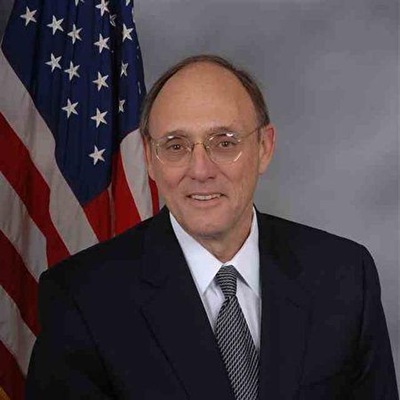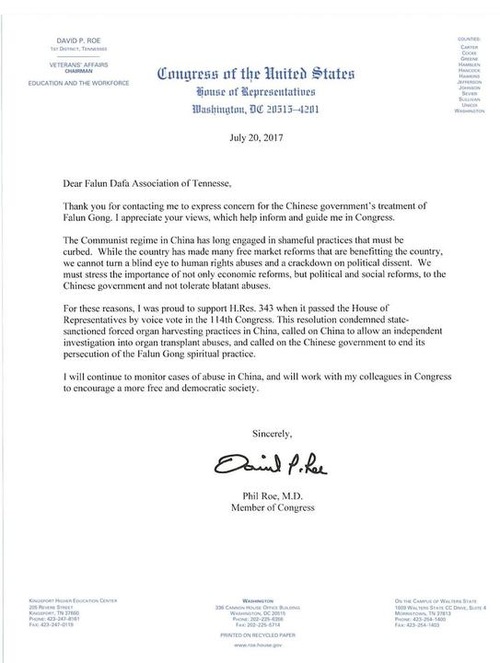 Rep. Phil Roe (Tennessee), who cosponsored H.R. 343, declared that he will "continue to monitor cases of abuse in China, and will work with my colleagues in Congress to encourage a more free and democratic society."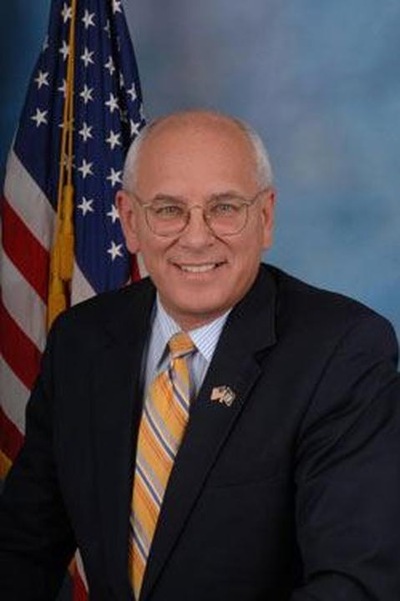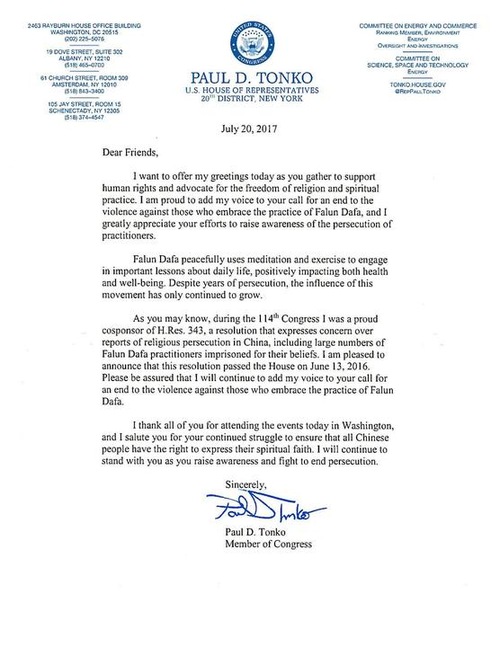 Rep. Paul Tonko (New York), who also cosponsored H.R. 343, said he salutes practitioners for their "continued struggle to ensure that all Chinese people have the right to express their spiritual faith." He wrote, "I will continue to stand with you as you raise awareness and fight to end persecution."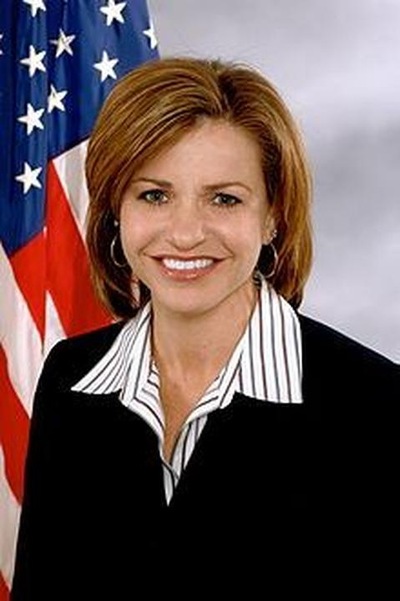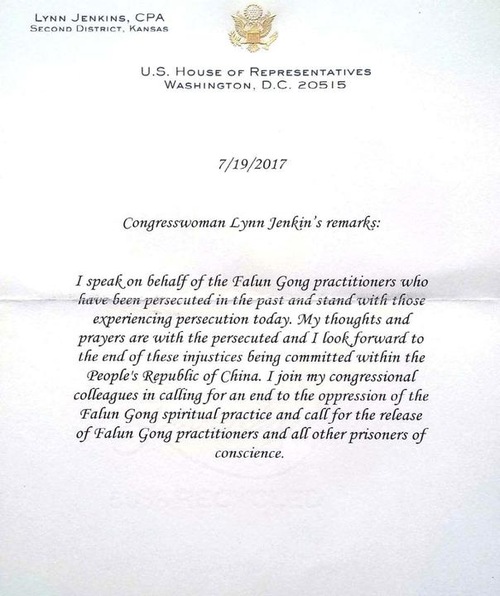 Rep. Lynn Jenkins (Kansas) wrote, "I join my congressional colleagues in calling for an end to the oppression of the Falun Gong spiritual practice and call for the release of Falun Gong practitioners and all other prisoners of conscience."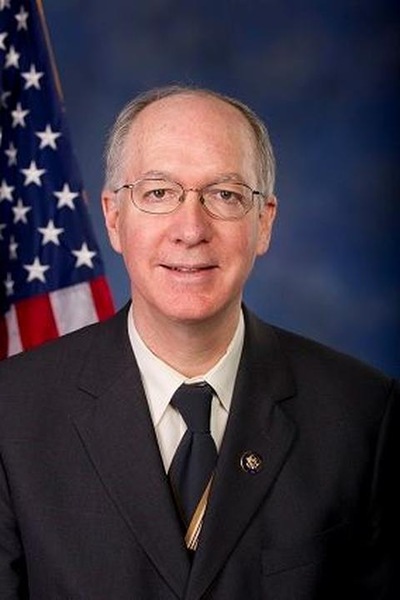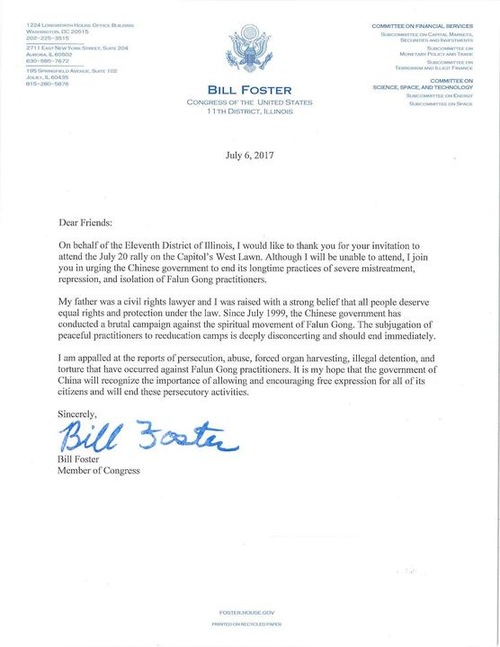 Rep. Bill Foster (Illinois) wrote, "I am appalled at the reports of persecution, abuse, forced organ harvesting, illegal detention, and torture that have occurred against Falun Gong practitioners. It is my hope that the government of China will recognize the importance of allowing and encouraging free expression for all of its citizens and will end these persecutory activities."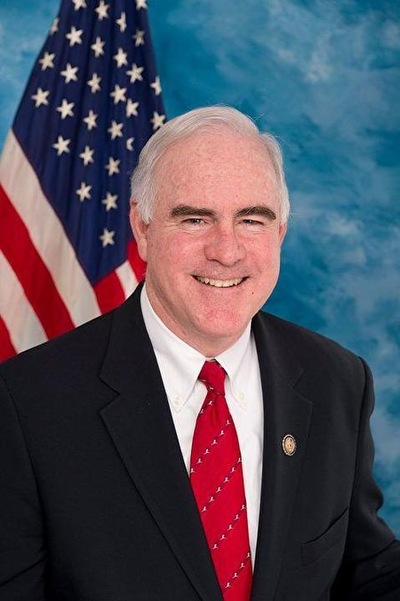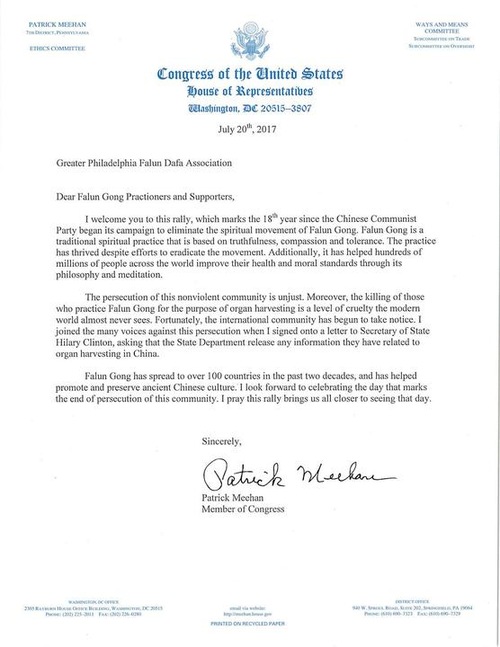 Rep. Patrick Meehan (Massachusetts) wrote, "The killing of those who practice Falun Gong for the purpose of organ harvesting is a level of cruelty the modern world almost never sees...I look forward to celebrating the day that marks the end of persecution of this community."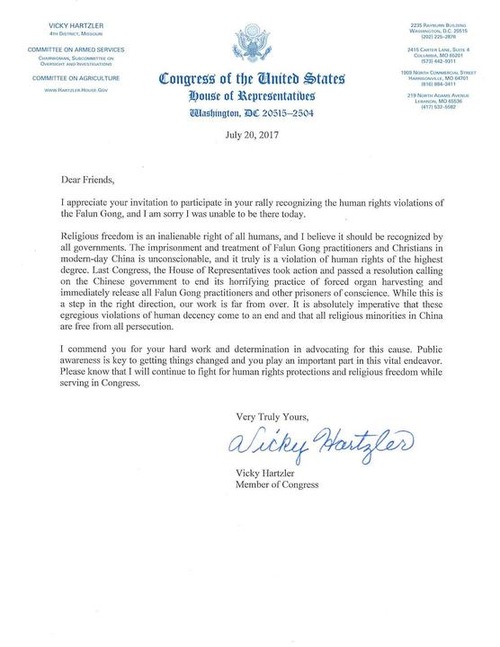 Rep. Vicky Hartzler (Missouri) wrote, "Religious freedom is an inalienable right of all humans." She commended practitioners for their hard work and determination in advocating for this cause. "Public awareness is key to getting things changed and you play an important part in this vital endeavor," she wrote.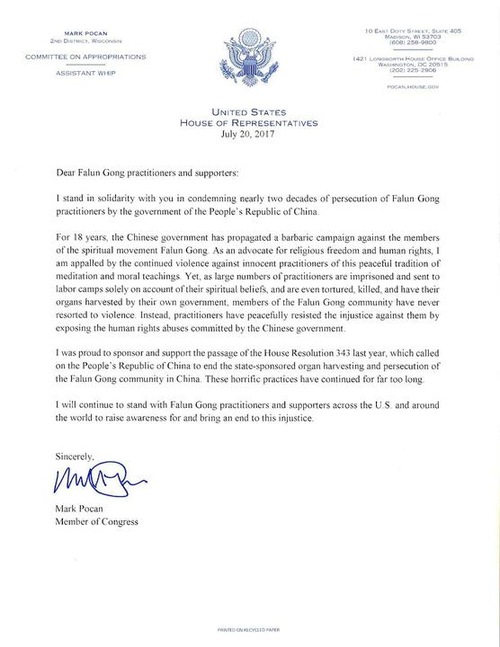 Rep. Mark Pocan (Wisconsin) cosponsored H.R. 343. He wrote, "...practitioners have peacefully resisted the injustice against them by exposing the human rights abuse committed by the Chinese government...I will continue to stand with Falun Gong practitioners and supporters across the U.S. and around the world to raise awareness for and bring an end to this injustice."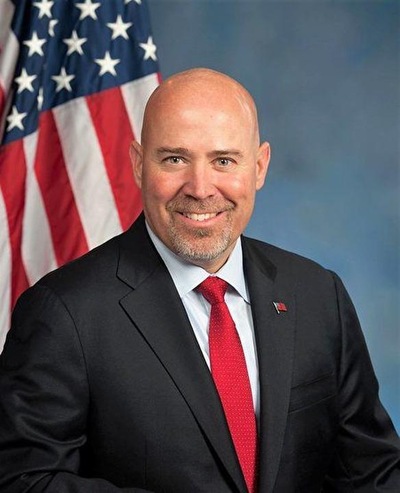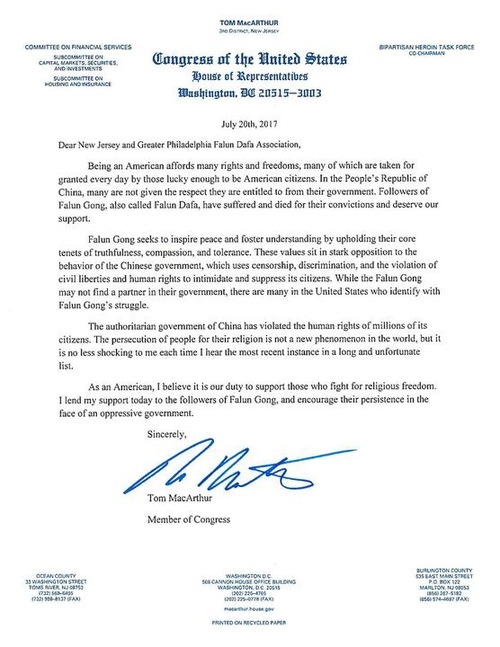 Rep. Tom MacArthur (New Jersey) wrote, "Falun Gong seeks to inspire peace and foster understanding by upholding their core tenets of truthfulness, compassion, and tolerance. These values sit in stark opposition to the behavior of the Chinese government, which uses censorship, discrimination, and the violation of civil liberties and human rights to intimidate and suppress its citizens."
He added, "As an American, I believe it is our duty to support those who fight for religious freedom."