Mexico City: Event Protesting Persecution in China Held in Front of the Chinese Embassy Despite Its Attempts to Stop It
July 23, 2017 | By a Falun Gong practitioner in Mexico
(Minghui.org) Mexican Falun Gong practitioners marked the 18th anniversary of the persecution by gathering in front of the Chinese Embassy in Mexico City on July 20, 2017. The embassy hired private security guards in an attempt to drive the practitioners away.
The practitioners explained to the security guards what Falun Gong is and why the Chinese Communist Party (CCP) persecutes it. The police in attendance recognized the goodness of Falun Gong and showed solidarity with the practitioners.
The practitioners demonstrated the Falun Gong exercises, distributed informative materials to passersby, and collected signatures on a petition initiated by Doctors Against Forced Organs Harvesting (DAFOH) to denounce organ harvesting atrocities in China.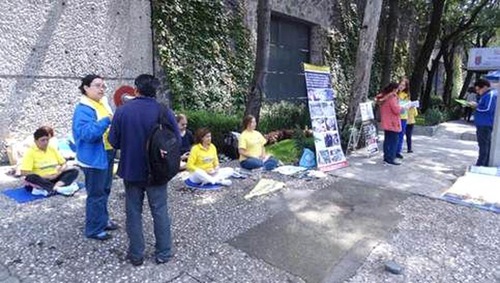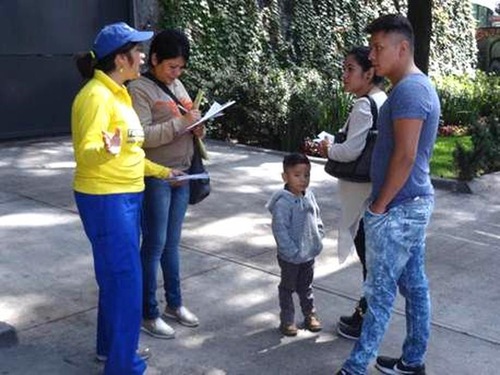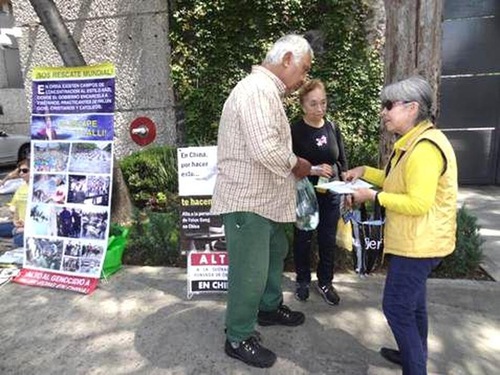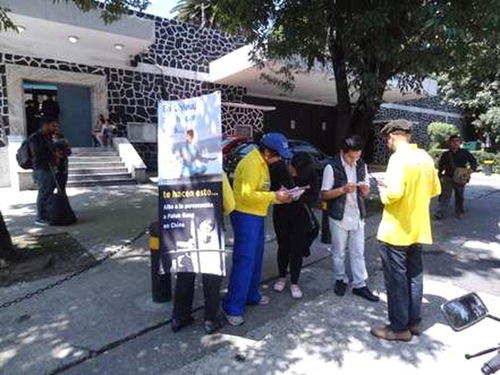 At the Chinese Embassy in Mexico City, raising awareness about the persecution of Falun Gong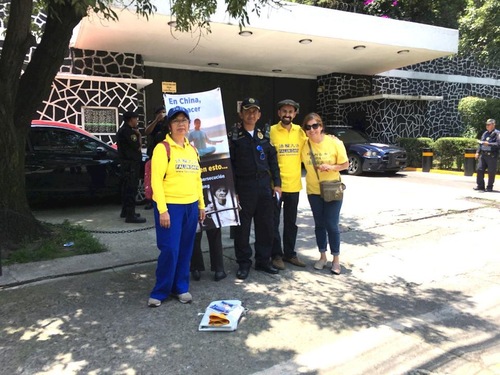 A police officer stands with Falun Gong practitioners
The Embassy hired additional guards from a private security company specifically for this day. Initially, the guards asked the practitioners to leave the area. However, the practitioners explained that they were not invading the territory of the Embassy but only wanted to demonstrate peacefully and ask for an end to the persecution of Falun Gong in China.
The guards listened and changed their attitude. A female guard approached them and said, "Tell me quietly. Why are you doing this?"
It seemed that she did not want to be seen by Embassy officials. She asked for a leaflet and put it away quickly. Another guard came closer, and after listening to the explanation picked up a Falun Dafa leaflet and asked, "Is there any practice site close to where I live? I'll go with my wife."
However, after a while, practitioners noted disturbances among the guards. They were coming and going out the Embassy, taking photos, and going back. Later, all the guards came out and one said, "You must leave because the Ambassador doesn't want you to be here."
The situation became increasingly tense, and the guards were becoming more aggressive. They threatened the practitioners that they were going to call the police.
Given the circumstances, a practitioner contacted a lawyer with the Commission on Human Rights and reported what was happening. The lawyer said, "Those people do not have any reason to make you leave there. Please call 911."
Police arrived soon. Some practitioners explained what they were doing was to raise awareness about the persecution of Falun Gong in China. The police officer said, "We won't make you leave. You are very kind and you aren't violating any rules."
Another police officer added, "What you are exposing is a genocide! And you offer a benefit to the society by teaching this practice that looks so good!"
Some police officers signed the DAFOH petition.
Finally, a police officer said, "We want to take a photo with you!"