Heilongjiang Woman Arrested 9 Times and Imprisoned for 3 Years
July 20, 2017 | By a Minghui correspondent in Heilongjiang Province, China
(Minghui.org) A Qiqihar resident regained health and hope after she began to practice Falun Gong in 1993, but her happiness was shattered when the Chinese communist regime launched a campaign against this spiritual practice six years later.
Ms. Tian Guiqing, from Jianhua District Qiqihar City, Heilongjiang Province, a volunteer coordinator of a local Falun Gong exercise site, became a target at the onset of the persecution. She was arrested seven times between July 1999 and the end of 2000. To avoid another arrest, she went into hiding, only to be found and arrested in January 2001.
She was sentenced to three years in prison after her eighth arrest, and she suffered torture throughout her incarceration.
Her release from prison did not bring much respite, as she was arrested a ninth time shortly before the 2008 Summer Olympic Games. Police released her on the day of her arrest after she developed heart trouble and high blood pressure. They, however, still kept harassing her at home. Thus, she again went into hiding.
Seven Arrests Within Less than Two Years
Given that Ms. Tian was a volunteer coordinator for her local Falun Gong exercise site, her phone was monitored, and she was followed and watched closely after the onset of the persecution in July of 1999.
July 22, 1999: First Arrest During Group Appeal
Falun Gong practitioners, including Ms. Tian, were surrounded by armed soldiers during a group appeal for the right to practice Falun Gong on July 22, 1999. They were arrested and taken to the Tiefeng Police Station, where they were held for 24 hours. They were not provided any blankets and had to sleep on the ground.
November 1999: Second Arrest When Writing an Appeal Letter
Ms. Tian and other practitioners were arrested in November 1999, when writing an appeal letter for the right to practice Falun Gong. She was held for two days and fined 3,000 yuan. After that, she was harassed by staff from the residential committee, local police, and the Chinese Communist Party (CCP) secretary.
June 2,000: Five Days of Detention After the Third Arrest
She went to Beijing to appeal for justice for Falun Gong in June of 2000. She and other practitioners were arrested and taken to the Shijingshan Stadium. They were forced to sit on the ground under the baking sun for two days. She suffered heat stroke and passed out.
She was taken to a detention center on the second night, where she went on a hunger strike and was force fed with a large feeding tube. She was released on the fifth day.
July 2,000: Fifteen Days of Detention After Fourth Arrest
Twelve practitioners, including Ms. Tian, wrote an appeal letter in July 2000 and sent it to the Beijing Appeals Office. The letter was returned to the local authorities, and all of the practitioners were arrested and held for 15 days in a detention center.
October 2,000: Detained for a Night After Fifth Arrest
Ms. Tian was arrested at the railroad station in October 2000, while she was on her way to Beijing to appeal for the right to practice Falun Gong. She was held for most of that night.
2000: Trying to Reach Beijing Resulted in Sixth Arrest
When trying to travel to Beijing to appeal for justice for Falun Gong, she was arrested by police officers from the Damengzhuang Police Station in Tianjin.
2000: Held for One Night in Beijing After Seventh Arrest
When she finally made it to Beijing, she was arrested upon arrival and taken to the Tiananmeng Police Station.
She experienced breathing problems, after being struck in the chest by a policeman. Then, she was transferred to the Chaoyang Detention Center, where guards ordered inmates to beat her. She went on a hunger strike and was released that night.
January 11, 2001: Three Years Imprisoned After Eighth Arrest
She was arrested on January 11, 2001 in Qinhuangdao City, Shandong Province. She was transferred to a detention center in Heilongjiang, where she was held until she was sentenced to a three year prison term in the Heilongjiang Women's Prison.
The detention center guards tortured her. She suffered the death bed torture, where both hands and legs were tied to each corner of the bed. There was a hole under her body for her to relieve herself. She was not released from this torture instrument until she was in a coma.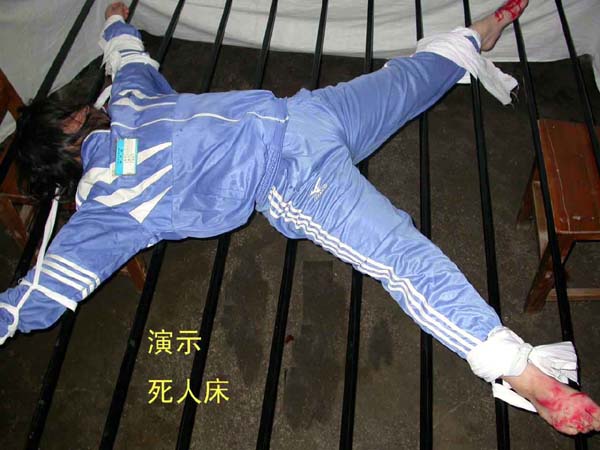 Torture demonstration: Death Bed
When she woke up, her hands were shackled. She could not stand or move, and was held like this for more than a week.
During force feeding, inmates jumped on her and pinned her down. Guards tied her arms behind her back, and tied her legs together and forced her to sit on the floor, while inmates were ordered to strike her feet.
During the winter, she had to sit on the cold concrete floor around the clock for a total of 49 days.
Before 2008 Olympics: Ninth Arrest
She was again arrested and taken to the Zhonghua Police Station before the 2008 Olympics. The police handcuffed her to a steel chair and tortured her during her interrogation until she lost consciousness.
She was taken to the emergency room at the 203rd Military Hospital. A doctor gave her an infusion and oxygen and told the policemen that she was on the verge of death, adding that they needed to inform her family as soon as possible. She was released and taken home that day. However, they continued to harass her. Thus, she left her home and went from place to place.
Obtaining Falun Gong at Lowest Point of Her Life
Before Ms. Tian began to practice Falun Gong, she suffered from many illnesses, such as heart disease, hepatitis, and rheumatoid arthritis.
She spent a fortune looking for a cure, but the results were not very good. She lost hope in life and even developed suicidal thoughts.
She said that she was fortunate to have been introduced to Falun Gong on July 16, 1993, during the 10 day lectures given by Master Li Hongzhi, the founder of Falun Gong. This was the turning point in her life, as she decided to become a cultivator.
After a short time, she recovered from her illnesses and felt like a new person. She followed the Falun Gong principles of Truthfulness-Compassion-Forbearance, changed her bad habits, and quit fighting with her husband. Her family, friends and neighbors witnessed not only her recovery from her illnesses, but also saw how she had turned into a kind and good person.