British Parliament Member Proposes Motion Against Forced Organ Harvesting
July 18, 2017 | By Minghui correspondent Tang Xiuming
(Minghui.org) British Parliament Member Patrick Grady proposed the "Early Day Motion 173" on July 12, urging the British government to condemn the state-sanctioned organ harvesting from living prisoners of conscience in China, specifically Falun Gong practitioners, and to exert pressure on the Chinese government to release imprisoned practitioners.
The motion, titled "Practice of Falun Gong and the Campaign against Organ Harvesting," has been co-signed by multiple parliament members.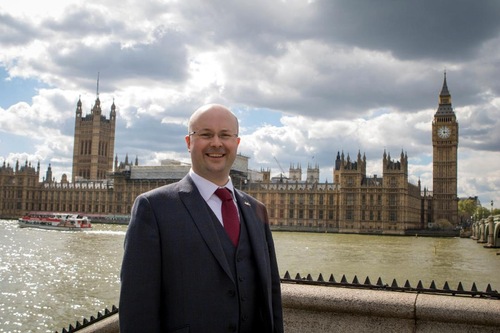 British Parliament Member Patrick Grady (Scottish National Party)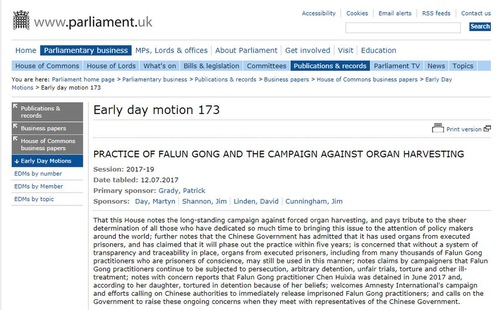 Snapshot of the motion on the British Parliament webpage
The motion spotlights the forced organ harvesting and an imprisoned Falun Gong practitioner in China. The main content reads:
"That this House notes the long-standing campaign against forced organ harvesting, and pays tribute to the sheer determination of all those who have dedicated so much time to bringing this issue to the attention of policy makers around the world;
further notes that the Chinese Government has admitted that it has used organs from executed prisoners, and has claimed that it will phase out the practice within five years;
is concerned that without a system of transparency and traceability in place, organs from executed prisoners, including from many thousands of Falun Gong practitioners who are prisoners of conscience, may still be used in this manner;
notes claims by campaigners that Falun Gong practitioners continue to be subjected to persecution, arbitrary detention, unfair trials, torture and other ill-treatment;
notes with concern reports that Falun Gong practitioner Chen Huixia was detained in June 2017 and, according to her daughter, tortured in detention because of her beliefs;
welcomes Amnesty International's campaign and efforts calling on Chinese authorities to immediately release imprisoned Falun Gong practitioners;
and calls on the Government to raise these ongoing concerns when they meet with representatives of the Chinese Government."
On October 11, 2016, MP Grady also called for investigation on the illegal organ harvesting in China at a forum in the parliament hosted by Jim Shannon MP, the chair of the All-Party Parliamentary Group on Freedom of Religion and Belief.
At the same forum, MP Fiona Bruce read a similar motion she proposed, "Early Day Motion 502, "Forced organ harvesting in China."