Houston: Calling for the Release of Imprisoned Falun Gong Practitioners in China
July 15, 2017 | By Minghui correspondent Shu Jing
(Minghui.org) Houston practitioners gathered in front of the Chinese Consulate on July 9, requesting the release of Falun Gong practitioners detained in China for their belief.
It was close to 100 F at noon. Holding up banners reading "Falun Dafa is good" and "Stop the persecution of Falun Gong," practitioners urged the Chinese regime to stop the brutality being perpetrated against practitioners, including forced organ harvesting.
Mr. Liu highlighted the case of Ms. Li Chunmei in Dalian City, Liaoning Province. Having been detained for nearly three years, 42-year-old Ms. Li is in critical condition. Her husband requested temporary release based on her medical condition, but it was rejected by the local officials.
"We will not release her until she dies," said one officer.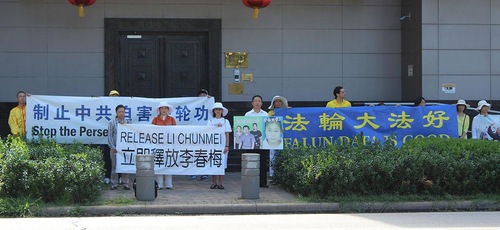 Outside the Chinese Consulate
A Broken Family
Ms. Li, 42, is a practitioner living in the Dalian high tech district. Seven officers from Zhongshan Police Department went to her residence at about 6 a.m. on July 21, 2014. Pretending to be residents living one floor below and complaining about a water leak, they deceived Ms. Li into opening the door and took her to Guilin Street Police Station. The next day, she was transferred to Dalian Detention Center. Police also confiscated her personal property, including cell phones and laptop computers.
In April 2015, Ganjingzi Court sentenced Ms. Li to three years and two months of imprisonment. Her appeal was turned down by the Dalian Intermediate Court.
Physical and mental abuse in prison took a toll on Ms. Li's health. Her right lower jaw enlarged and her face was deformed. Examination indicated late-stage oral cancer. Her husband requested her release on medical grounds but it was denied.
The illegal detention of Ms. Li has caused her family tremendous sorrow. Her mother was bedridden due to paralysis, while her father is paralyzed on one side of the body. Earlier this year, her mother passed away and her daughter was unable to see Ms. Li before she passed away. Ms. Li's two young daughters have not seen her for almost three years.
Universal Values
"Although Ms. Li's ordeal took place in China, the persecution is relevant to those of us in the United States," explained Ms. Tang, "We recently celebrated July 4th across the country. If freedom of belief makes us a great nation, we are obliged to help those who are detained, beaten, and tortured for their righteous belief."
According to the Minghui website, at least 4,114 Falun Gong practitioners have lost their lives in China as a result of torture during police custody. It has also confirmed systematic organ harvesting from living practitioners in China.
"We hope that President Trump will pay attention to this issue, because it is one of the biggest human rights violations in the world today," Ms. Tang continued, adding that many friends and family members of Houston practitioners were victims of the persecution in China, "It is not just about China or the United States, it is about the underlying principles of humanity."
The event attracted attention from passersby. One pedestrian said he had heard about the suppression in China. "I also read about the forced organ harvesting in China—it is indeed horrible, much worse than what I could have imagined," he said.