Canada Day - Falun Gong Calls for Help in Stopping the Persecution
July 10, 2017 | By a Falun Gong practitioner in Calgary, Canada
(Minghui.org) On Canada Day 2017, Falun Gong practitioners from Edmonton and Calgary participated in two events, a parade in Banff and a signature collection in downtown Calgary, the latter of which aimed at rescuing a Canadian citizen jailed in China.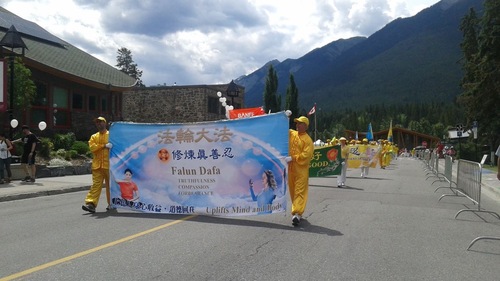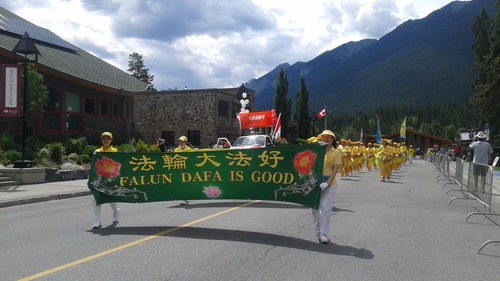 The Canada Day parade in Banff.
Signature collection in downtown Calgary.
Both events were successful, especially the one in Calgary. Practitioners told the public about Sun Qian, a Canadian citizen and successful businesswoman, who has been jailed in Beijing since February due to her belief in Falun Gong. They called for help in rescuing her.
Many people signed the petition asking for Sun Qian's release. Several signers were quite familiar with Falun Gong issues, and praised practitioners for their tireless efforts of peaceful resistance during the past 18 years.
John, a retired human rights activist, told practitioners that he had read the book Nine Commentaries on the Communist Party, and clearly knows the evil nature of the Party. He said he believes that Western society has some unrealistic and naive hopes in the Party. He thanked practitioners for bringing the information to Calgary, and wished them a big success.
Another westerner, who speaks fluent Chinese, said to the practitioners he knows the local Chinese community well, and is aware that the Communist Party has been trying to control Chinese people overseas.
He often sees practitioners protest in front of the Chinese consulate. He said, "It's great. It shows the power to the Party." He praised practitioners for their efforts, and encouraged them to keep up the good work.