Toronto, Canada: Spectators Look Forward to Seeing Falun Gong Entry in Welland Rose Festival Parade Every Year
June 29, 2017 | By Minghui correspondent Zhang Yun in Toronto, Canada
(Minghui.org) The Falun Gong Tian Guo Marching Band and Lotus Float were warmly received at the 56th annual Welland Rose Festival Parade on June 25, 2017. It was the first time some spectators had seen the large-scale Falun Gong entry. Most said they were very impressed and hoped to see the Falun Gong entry in Welland every year.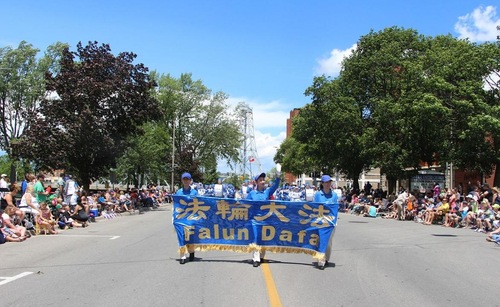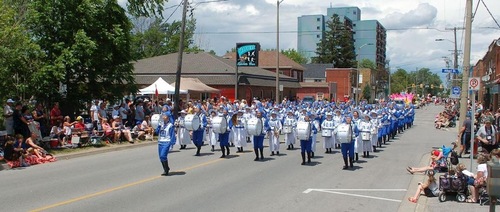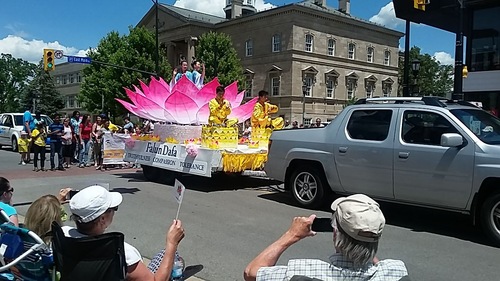 Falun Gong entry in the annual Welland Rose Festival parade on June 25, 2017.
"We Welcome Them!"
Larry, Gisele, and their entire family, were excited to see the Falun Gong entry.
Gisele, who watched the parade with her family, asked about the Tian Guo Marching Band, "This band is marvelous, where are they from?" When she learned that they were from Toronto, 200 km away from Welland, she expressed her appreciation and said, "They are really special, very exciting. We welcome them to Welland!"
Her husband Larry agreed, and added, "They are indeed spectacular. They add to the multi-cultural elements of the parade."
He took a flyer and read about the persecution of the practice in China. Larry said that he would pass the flyer on to a former Chinese official in charge of China's financial sector on the street where he lives, and tell him about the grand Falun Gong procession in the parade.
Gisele and her entire family exclaimed, "Welcome to Welland!"
"We Always Support Them!"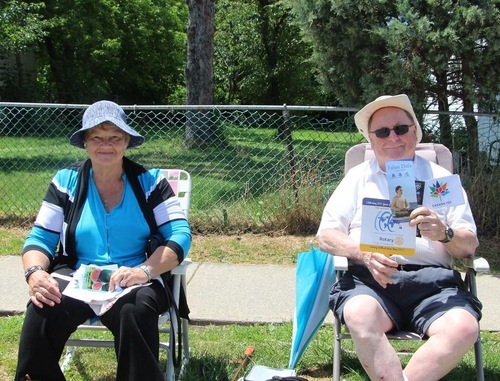 Hennessy James and his wife express their support for Falun Gong.
Welland residents Hennessy James and his wife waved to the practitioners as they passed by. James pointed to the Tian Guo Marching Band and said, "They are fabulous! Their steps are in unison, the procession is majestic, and the costumes are novel and traditional. Very appealing!" They said that they had watched many parades that Falun Gong practitioners participated in, and were very excited to see the band come to Welland.
James said, "We know the facts about Falun Gong, and we always support them!"
Artist: "I Want to Portray Their Beauty"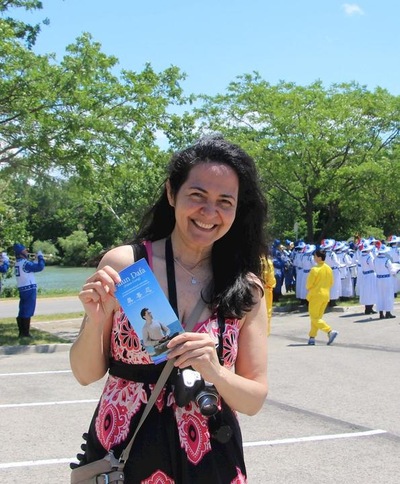 Artist Cristelara said she felt peaceful energy while watching the Falun Gong entry.
Cristelara took many photos of the Tian Guo Marching Band and the float.
She said it was the first time she had seen such a unique entry in the Welland Rose Festival, and that the celestial maidens on the float were very beautiful and appealing.
"Their peace and tranquility give people a kind of soothing feeling," said the artist. "I want to paint them and display their goodness in my paintings."
Upon learning that practitioners conduct themselves according to the tenets of truthfulness, compassion, and forbearance, she said she understood why she was attracted to them. She said she would go online and learn more about them.
She said she felt very fortunate and happy to come across something so beautiful.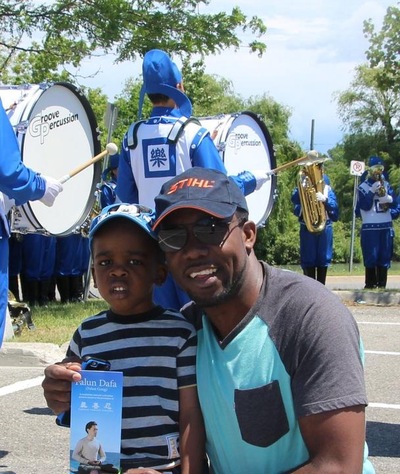 Gemky, from Haiti, brought his son to watch the parade and said they were lucky to encounter Falun Gong.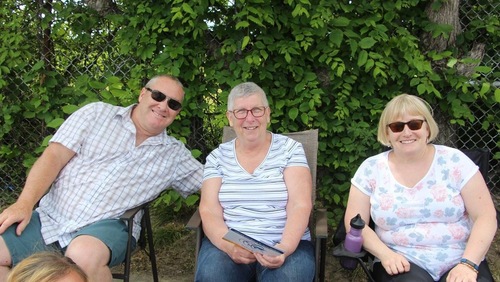 Margaret Cook (middle) and her family watched the parade. She said she knew the situation of Falun Gong in China, and said that the Chinese government should stop persecuting the practice.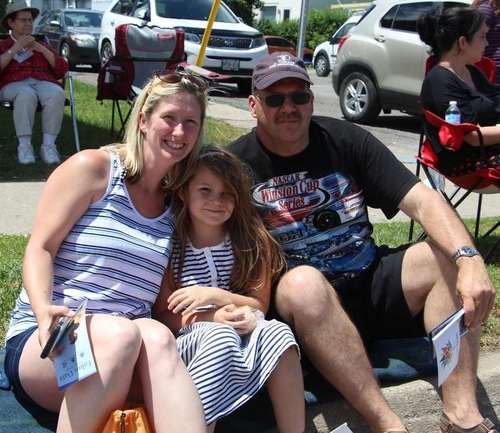 Anne (1st on the left) said the Falun Gong entry was warmly received everywhere, and that she hopes to see them again next year.