Ottawa, Canada: "I Always Look for Positive and Wonderful Things in Life, and Falun Gong is an Answer"
June 27, 2017 | By Minghui correspondent Ying Zi
(Minghui.org) Falun Gong practitioners had a booth at the Ottawa Dragon Boat Festival on June 24-25, 2017, where they introduced the practice, taught the exercises, and informed people about the ongoing persecution of the practice in China.
Held on the first weekend of summer, the Ottawa Dragon Boat Festival is the largest of its kind in North America, attracting about 75,000 spectators.
Learning the Exercises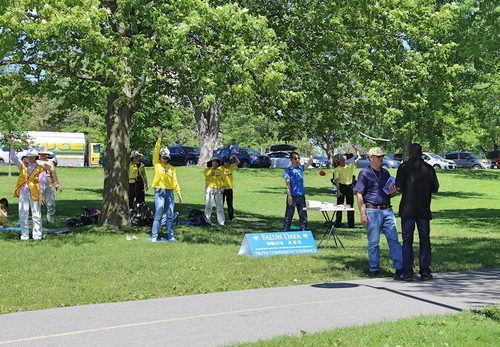 Falun Gong practitioners do the meditation and third exercise during the Ottawa Dragon Boat Festival on June 24 and 25, 2017.
Ms. Shi, one of the volunteer practitioners at the event, said, "Many people came to our booth during the two-day festival. They were curious about the meditation, so they asked about it and how to get started."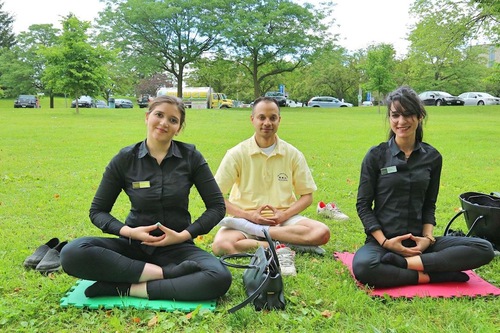 Dalia and Zahra, two students from the University of Ottawa interested in learning the exercises
Among them were Dalia and Zahra, two students from the University of Ottawa. Zahra said she had seen practitioners doing the exercises on campus before and was looking forward to trying it.
She said she always looked for things that were positive and wonderful and that Falun Gong seemed to fit the bill.
After doing the meditation for more than ten minutes, Zahra and Dalia both said they felt serene and peaceful. They said they would read some of the Falun Gong teachings and follow up.
Rescuing Canadian Detained in China
Despite the health and spiritual benefits of Falun Gong, it has been severely suppressed in China since 1999.
Ms. Sun Qian, a successful businesswoman and Canadian citizen, was arrested in China on February 19 of this year and held at the First Beijing Detention Center. Various activities have been held recently to urge the Canadian government to help obtain her release.
Signatures were collected during the dragon boat event, for a petition addressed to the Canadian Parliament. Jay Brauneisen, another practitioner at the event, said he was glad to see many passersby signing petitions to help.
Brauneisen said that although the persecution happened in China, it has close ties with Canadians. "My mother-in-law Chen Huixia was arrested in Shijiazhuang City, Hebei Province, on June 3rd of last year. She was sent to the Second Shijiazhuang Detention Center on July 15 last year."
Chinese officials have prohibited Ms. Chen's family from visiting her or talking with her. According to other practitioners, guards tied her to a chair for one month last year, attempting to coerce her into giving up her belief.
"The Chinese communist regime has been persecuting people for decades," explained Ms. Shi, "In the past over ten years, Falun Gong practitioners have suffered the most."
That is why many Chinese have chosen to renounce their memberships in the Chinese Communist Party as well as its junior organizations, namely the Youth League and the Young Pioneers. Ms. Shi added, "More than ten Chinese people have done so in the past two days during this event."