Frank's Fathers Day
June 25, 2017 | By a Falun Dafa practitioner in Philadelphia
(Minghui.org) After discussing with his children, Frank, a Falun Gong practitioner in Philadelphia, set out to do something special on the Father's Day last Sunday.
He and many local Falun Gong (also called Falun Dafa) practitioners went to the Liberty Bell and Chinatown to promote the benefits of Falun Gong, and to raise awareness of the brutal persecution the peaceful practice has faced in China since 1999.
At the Liberty Bell
The Liberty Bell is an iconic symbol of American independence and one of the most important landmark and tourists site in Philadelphia.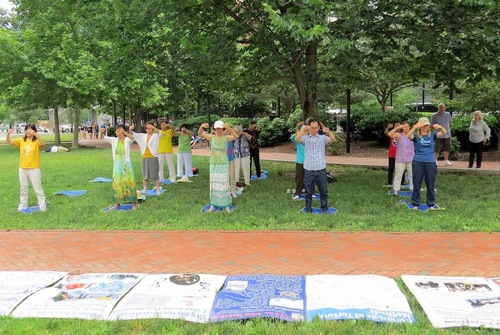 Falun Gong exercise demonstration and tourists stopped to read the display boards.
An English couple were among the many who stopped by to see what was going on. The man said that he had not heard of Falun Gong before, but was curious and watched the exercise demonstration. Back pain had troubled him for a long time and he was interested in an exercise to improve health.
A woman named Diane from Pittsburgh said that she couldn't understand why a peaceful exercise like Falun Gong was banned and persecuted by the Chinese Communist Party (CCP).
After talking to a practitioner and reading through the display boards, she was upset that the CCP had persecuted millions of Falun Gong practitioners and other Chinese people in many political campaigns. She signed a petition form requesting the United Nations to help stop the persecution.
Mr. Li from Shanghai is now a resident and has a business in the United States. He was moved by what he learned about Falun Gong, and talked about his own story. His grandfather was persecuted by the CCP too. He was sad that many Chinese were brainwashed by Party propaganda and refused to learn the truth. In the end, he said he would talk to friends in China and let them know the truth of the persecution.
In Chinatown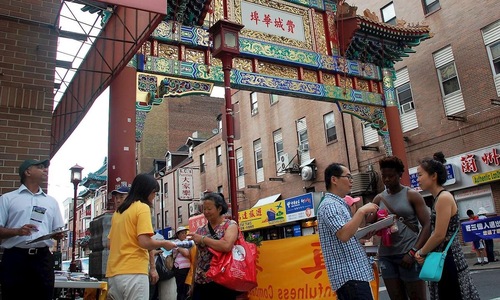 Introducing Falun Gong in Philadelphia's Chinatown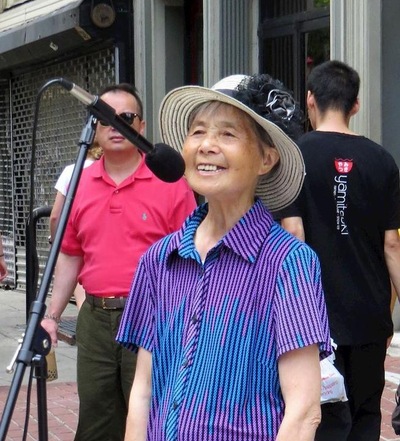 Practitioner Zhang Guoqing, an 84 year-old resident of Philadelphia, said practicing Falun Gong exercise helped her become healthy and more tolerant.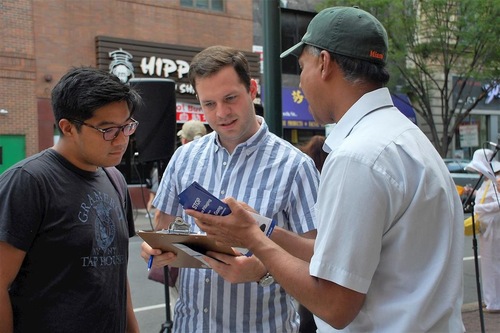 Passersby sign petition demanding an immediate end of the persecution.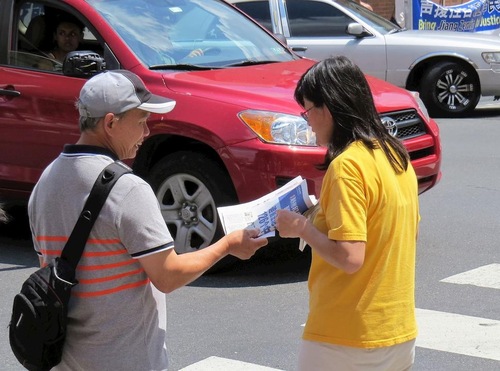 A Chinese lady accepts a pamphlet clarifying the truth of the persecution.
A passerby Chinese lady didn't want to hear anything about Falun Gong at the beginning. But she stopped to listen when an old practitioner said her daughter was jailed in a prison in Beijing because of practicing Falun Gong.
"If your own daughter is jailed because she simply wants to be a better person, what would you feel?" the practitioner asked.
She appeared to be thinking about the question and then started a conversation with the practitioner. Upon leaving, she offered sympathy for the unfair treatments Falun Gong practitioners received, and expressed her respect for their courage.
Frank, who sacrificed his Father's Day celebration to take part in the event, said his children understood and supported his efforts. "Countless children become homeless or have lost the love from their parents due to this persecution in China," he said. "It is very meaningful if our effort today can make their lives less painful and more happy."