Germany: Visitors at "Hessentag" Festival Learn about Falun Gong
June 24, 2017 | By Minghui correspondent Wu Jingsi
(Minghui.org) "Your message and what you are doing is so powerful," said a young man named Benjamin to a group of Falun Gong practitioners.
Among numerous groups at the 57th "Hessentag" (Hessian Day) Festival in the German state of Hesse, this 20-year-old was especially moved by what he learned at the Falun Gong booth.
As one of the largest and oldest festivals in Germany, this year's Hessentag attracted 1.4 million visitors from June 9 to 18.
Falun Gong practitioners in Germany thought this was a good chance to introduce this ancient Chinese self-improvement practice to the public, and also call for help to stop the persecution of this peaceful group in China.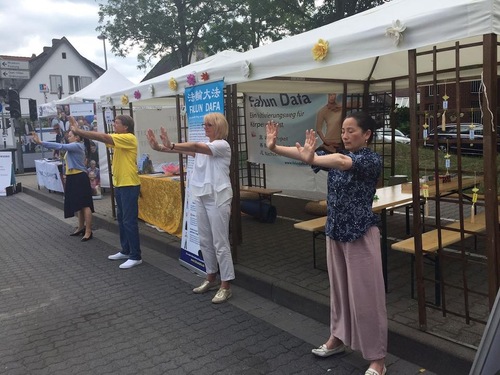 Demonstrating the exercises
During the 10-day event, more than 40 people signed up for the free exercise class.
Benjamin and his friend Alex didn't pay serious attention to the Falun Gong booth at first. They made jokes when practitioners tried to talk to them. But they stopped kidding when they heard that the Chinese government harvests the vital organs of imprisoned Falun Gong practitioners to sell to transplant patients.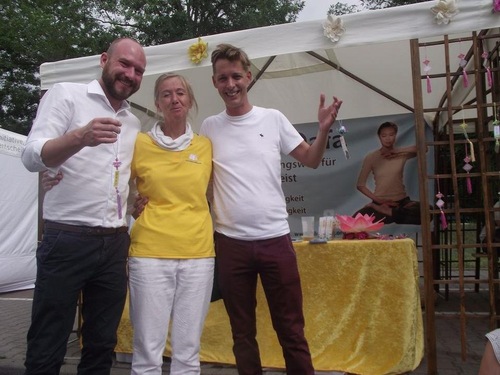 Benjamin (right) and Alex (left) wished to help raise awareness about Falun Gong.
The young men became serious. They signed the petition that condemns the forced organ harvesting atrocities in China.
Benjamin also helped practitioners to talk to other people. "Please take a look. This group of peaceful people are being persecuted in China. Please sign the petition to help them." Several people stopped and talked to the young supporter and practitioners.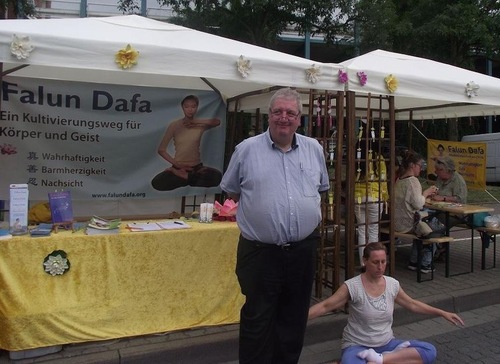 Kai-Soeren Kehrmann was struck by the peacefulness at their booth. "It is amazing that you can meditate in such a noisy environment," he said.
A young college student majoring in education was impressed by Falun Gong's guiding principles of truthfulness-compassion-forbearance. He said he would share this message with his future students.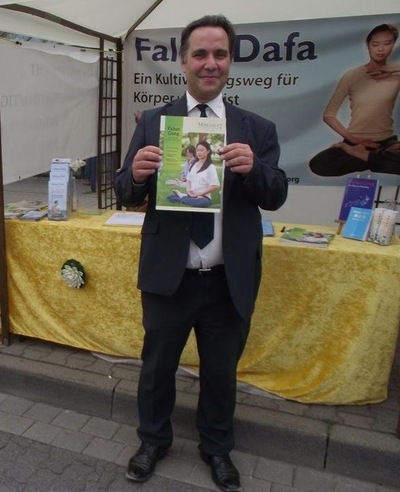 Marko Hanko talked to practitioners for a long time. He sensed the positive energy of the practice and invited practitioners to teach the exercises at his workplace.
Practitioners also gave out hand-folded paper lotus flowers, a symbol of purity and resilience in Chinese culture.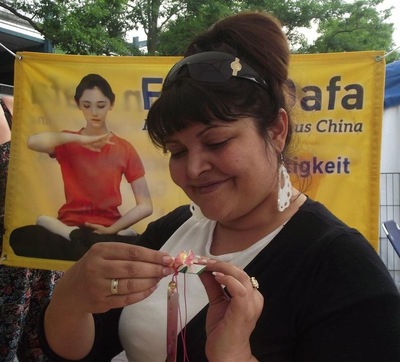 Anna from Greece learned how to fold a paper lotus flower. She also learned about Falun Gong and the persecution in China.