Family Sues Judge for Ignoring Legal Procedures in Sentencing Dafa Practitioner
June 14, 2017 | By a Minghui Correspondent in Heilongjiang Province, China
(Minghui.org) Mr. Li Baohua, 43, is a Falun Gong practitioner in Qitaihe City, Heilongjiang Province. He was arrested for his faith on May 8, 2016 at his own computer store by officers from the Taoshan Police Station, including Wang Yang and Li Wanjin. He has been detained in the Qitaihe Detention Center since then.
Mr. Li was sentenced in April 2017 to three-and-a-half years in prison in Taoshan District Court and fined 3,000 yuan. He immediately appealed his case and started a hunger strike to protest the illegal sentence. His family is suing the judge for an illegal court hearing.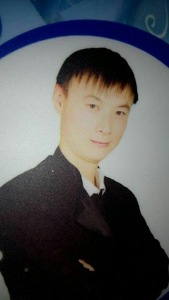 Mr. Li Baohua
Mr. Li Baohua has been arrested and detained seven times because he refuses to give up his practice of Falun Gong.
Family Pressured to Dismiss Li's Attorney
Mr. Li's family hired attorney Wang Zhenjiang to defend him in this recent case. However, the family was threatened by Liu Xiaoyan, judge in the Taoshan District Court, several times to dismiss the lawyer.
Liu said to Mr. Li's family, "If you discharge the lawyer, I will give a lighter sentence. If it is three years, I will give a two-year term. If it's two years, I will sentence him to one year. If it's one year, I will give him a one year probation. He can just go home. If you don't, I will give him a heavy sentence."
The family refused to dismiss the lawyer.
Tried Without His Lawyer Present
The lawyer was not informed of Mr. Li's court hearing three days ahead of time. The court hearing was arranged for March 27, 2017, when the defense lawyer had to attend another hearing in Inner Mongolia and was unable to come back in time. The hearing was conducted in the detention center with no audience.
Mr. Li refused to attend the hearing because his lawyer was absent. However, the judge Liu Xiaoyan ordered four guards to carry Mr. Li to the hearing room. Mr. Li was held by four guards forcefully during his trial.
The whole process lasted only 20 minutes.
Appealing the Illegal Sentence
After such an unusual trial, the verdict for Mr. Li was issued on April 20, 2017 in Taoshan District Court. Mr. Li was sentenced to three-and-a-half years in prison and fined 3,000 yuan.
After receiving the verdict on April 26, 2017, Mr. Li immediately filed an appeal to the intermediate court. He also started a hunger strike in the detentions center to protest the sentence.
A few days later, seeming afraid to take responsibility for what occurred, the head of the detention center promised Mr. Li he could meet with the judge of the intermediate court. The judge Li Huan from Qitaihe Intermediate Court and a court clerk came to the detention center. During their meeting, Mr. Li described what had occurred in the first hearing.
Lawyer Tells Intermediate Court Judge About Violations in the First Hearing
Mr. Li's defense attorney visited judge Li Huan on the morning of May 23, 2017 at Qitaihe Intermediate Court. He pointed out several violations in the first hearing and hoped the judge from the intermediate court would correct the situation and send the case back for re-trial.
The lawyer stated that the initial hearing didn't follow legal procedures in three ways. First, the hearing date was not disclosed to the appropriate parties three days in advance. Second, judge Liu Xiaoyan purposefully selected the hearing date, knowing the defense lawyer was unable to attend on that date. Third, there were so many profiles/case files/dossiers for Mr. Li's case, how could the hearing be completed in only 20 minutes?
The lawyer also said to the judge, "Mr. Li's family is suing judge Liu Xiaoyan for illegal conduct. I have read their letter of complaint, and it is very reasonable. You may need to consider that."
Finally, Judge Li Huan said that he eventually had to follow the authority of the higher court; however, he would go to the district court to investigate/verify the case in two weeks.
Qitaihe Intermediate Court:Address: No. 93, Xuefu Rd, Taoshan District, Qitaohe City, Helongjiang Province, 154600Zhu Xiaotian (朱晓天), head of the court: +86-464-8684001Li Huan (李欢), judge: +86-464-8684128
http://www.minghui.org/mh/articles/2017/5/30/遭法院诬判-李葆华上诉-家属上告(图)-348922.html