Traditional Chinese Medicine Doctor Remains Detained for His Faith
June 10, 2017 | By a Minghui correspondent in Guangdong Province, China
(Minghui.org) A practitioner of traditional Chinese medicine was arrested on April 19, 2017, for refusing to renounce Falun Gong, a spiritual discipline being persecuted by the Chinese communist regime. Dr. Li Changxing remains detained in Nanzhou Detention Center in Guangzhou City, Guangdong Province.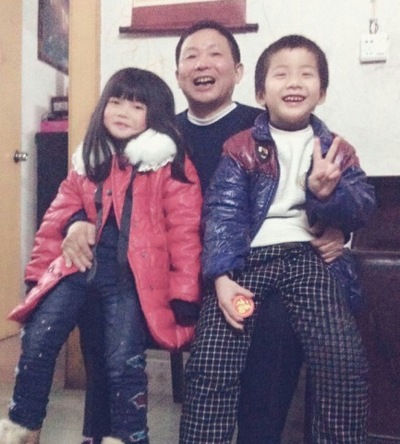 Dr. Li and his children
Dr. Li credits Falun Gong for returning him to health and giving him the confidence to change his career late in life. The 58-year-old man became a welder at age 15 and had lead and manganese poisoning two years later. It took four years of traditional Chinese medicine treatments for the more than 100 tumors in his body to disappear, but other complications, including arthritis and neuritis, persisted.
It wasn't until 1996 that his luck changed. Dr. Li began to practice Falun Gong that year and soon experienced significant improvement to his health. Before he knew it, he was illness-free.
Dr. Li decided to pursue a new career. He enrolled in a medical school and became a licensed traditional Chinese medicine doctor a few years later.
Having had his own life transformed by Falun Gong, Dr. Li never shied away from sharing his story. He was forced, however, to pay dearly. His graduation from the medical school was postponed for a year after he was arrested and detained.
Dr. Li initially had his own clinic in his native Jiangxi Province, but he later moved to Guangdong Province to become a physician for a chain pharmacy there. His latest arrest left his wife struggling to support their daughter, 13, and their son, 11.