Canada: Strong Support in Capital City for Release of Canadian Citizen Ms. Sun Qian, Imprisoned in China
May 31, 2017 | By Minghui correspondent Ying Zi in Ottawa
(Minghui.org) Informational display boards and banners in front of Byward Market in bustling downtown Ottawa attracted the attention of many passersby on May 28. The display was part of Falun Gong practitioners' ongoing activities to raise awareness of the persecution in China and to call upon the Canadian Prime Minister and government to demand that the Chinese Communist regime release Canadian citizen Ms. Sun Qian, who is imprisoned in China for her belief in Falun Gong.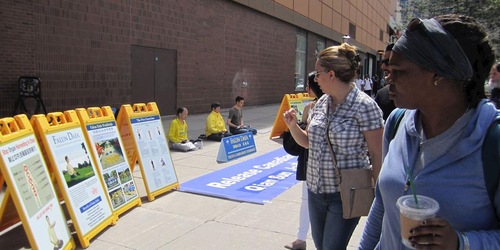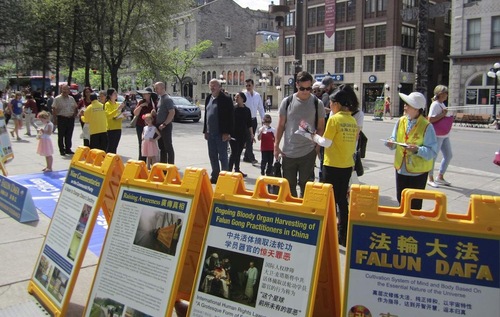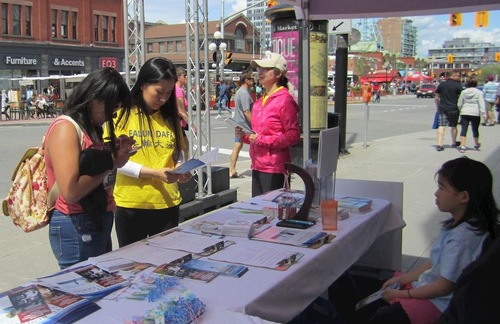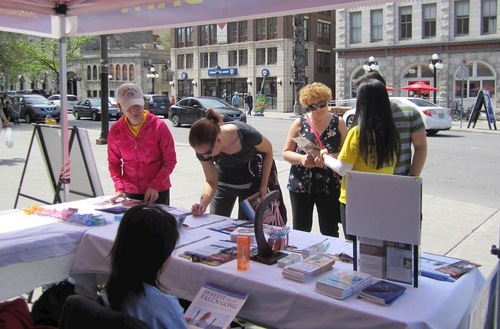 Passersby pause to learn about Falun Gong at an awareness raising activity at Byward Market on May 28, 2017. Many signed a petition calling for the release of Canadian businesswoman Ms. Sun Qian, imprisoned in China for her belief.
Canadian citizen Ms. Sun Qian was arrested in Beijing and has been detained by the Chinese Communist Party (CCP) since February for her belief in Falun Gong. Not long ago she called upon the Canadian government and international community via an international media outlet to help her regain freedom as soon as possible.
Canadian Foreign Minister and MPs have shown great concern for Ms. Sun's situation. Many concerned Canadians who have learned about her ordeal have also extended their support.
On May 28, passersby paused to watch Falun Gong practitioners demonstrate the exercises on George Street in the southwest corner of the very popular Byward Market. They also read the information on display boards about the persecution of Falun Gong in China.
People were shocked to learn that even a Canadian citizen is among the victims of the brutal suppression. They signed a petition calling for her release and also hoped that the genocidal persecution of Falun Gong practitioners in China will be stopped.
One woman signed the petition and said that doing so is the most basic for morality and justice, so she, as an Ottawa citizen, feels she must stand up to support the effort to free Ms. Sun.
Another woman, who works at a government agency, told the reporter that the CCP should not arrest those who have beliefs and are peaceful. As a Canadian, she said that she believes in freedom, and she believes that people have the right to practice their beliefs.
Latest Update
Canadian consul in Beijing visited Ms. Sun Qian in the detention center for a second time on May 18, and learned that Ms. Sun has been handcuffed and shackled since May 5. The guards have sprayed pepper water in her face.
Related Reports:
Canadian Top Officials Concerned about Citizen Detained and Tortured in Beijing for Her BeliefCanadian Business Woman Mistreated in Beijing Detention Center, Lawyer Denied Visits