"Practicing Falun Dafa Helps Me Return to the Origin"
May 03, 2017 | By Minghui correspondents Sun Bai and Su Rong
(Minghui.org) More than 1,000 Falun Dafa practitioners from southern Taiwan gathered at the Wandan Middle School in Pingtung on April 16 for an experience sharing conference. Eleven practitioners read papers sharing how they have applied Dafa's principles of Truthfulness-Compassion-Forbearance in their daily lives.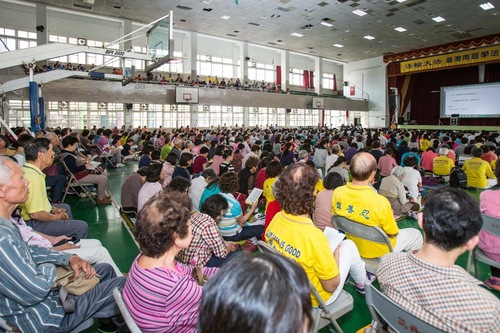 Falun Dafa experience sharing conference in Pingtung, April 16, 2017.
Becoming a Better Person
Maoming from Chiayi began to practice Falun Dafa in July 2001. Before that, "Other than working, I often went out drinking and gambling, and spent every penny I had," he recalled. When on a tour in mainland China in 1992, he met a person who claimed to be a qigong master. Following this person's phony advice on gambling, Maoming not only lost all his money, her also wound up with a debt of about $1,000,000.
One day when walking in Tainan City, Maoming saw a group of people doing a sitting meditation in a park. "I walked up to see what it was. Then one of them came over to me and told me it was Falun Dafa and gave me a pamphlet," he said.
Through reading Falun Dafa books, Maoming gained many new understandings and decided to be a better person. "I found a job to support the family and tried to follow the principles of Truthfulness-Compassion-Forbearance as much as I could." Seeing the positive changes in her husband, Maoming's wife and two daughters also joined the practice.
"Right now, we have paid off all the debts and both my daughters have finished school," Maoming said. "I am so grateful to Master Li and Falun Dafa for all of this."
Resuming Practice
Chaohong from Kaohsiung had poor health when he was very young. "One time I had a fever and my sister read me Hong Yin, a collection of poems by Master Li, founder of Falun Dafa." This helped him get to know the practice. He decided to practice Dafa with his parents and sister.
In middle school, however, Chaohong was addicted to video games, which not only cost lots of money but also affected his schoolwork. "My grades went down and I did not practice Falun Dafa anymore," he recalled. Although he realized that things were not right, he lacked the determination and energy to come back to the practice. As a result, he was often despondent and depressed.
Once in college, Chaohong signed up for a workshop hosted by young Falun Dafa practitioners. Every day he studied the teachings of Falun Dafa with other young men and then discussed what they have learned. "After the workshop was over, I returned home and cried—I knew I had fallen behind for a long time. It is Master who gave me another chance to come back," he said.
Right now, Chaohong has resumed practicing and tries to cultivate diligently. "I still have an attachment to showing off and contending with others, but I will keep working on these and continue to make progress," he said.
A Pure Heart
Luanru, a teacher in Pingtung, first heard about Falun Dafa in 2001. "At that time, I was in the United States hoping for find a cure for my friend who had blood cancer. Interestingly, I came across Falun Dafa and I liked it very much," she said.
At that time, she often spent lots of time reading Zhuan Falun and other Falun Dafa books. "I was able to calm down for Fa-study and the exercises. I also check if my thoughts align with the principles of Truthfulness-Compassion-Forbearance," she said.
After she started a new job, Luanru had less time for Fa-study and Dafa activities. Many things went awry including her work, her relationship with her husband, as well as relationships with other family members. "Fortunately, other practitioners around me often reminded me to remain diligent and I learned a lot from them, too."
Upon thinking about it further, Luanru realized that she slacked off due to the attachment to comfort. Whenever an opportunity arose, she and her husband would participate in activities with other practitioners. Once, in Hong Kong, seeing the streets packed with local residents and tourists from mainland China, she was very moved because she knew that these people could learn about Falun Dafa from them.
"I want to thank Master Li because he tells us what life truly is," Luanru said. "And practicing Falun Dafa helps me return to the origin."
"Cultivation Practice Is a Rewarding Experience"
Deyao from Kaohsiung heard about Falun Dafa in middle school, but he did not read Zhuan Falun until high school. "I also learned the exercises from the website," he said, "but somehow I was still not clear about what solid cultivation means." Soon afterward, he was in a traffic accident and was not injured at all. "Now I know that Master takes care of me, too," he said.
Whenever he noticed that he had bad thoughts, Dengyao said he would remember Master Li's words and he would stop them immediately. "That includes things like seeing money on the ground and thinking about whether to take it, or wondering if I should buy lottery tickets in a store." Although he has been trading in stocks since he was young, Dengyao decided to stop it and he feels much better.
Because his father and grandmother are hard of hearing, Dengyao had to speak very loudly to them at home, almost yelling. And that annoyed him. However, now that he regards himself as a practitioner who needs to be considerate of others, Dengyao changed. Interestingly, he now finds that he does not need to be very loud, and his family can hear him with no problem.
Similar positive things also happened at work. "One manager I worked with often changed plans, making things difficult and confusing for the team members." Following the principles of Truthfulness-Compassion-Forbearance, Dengyao decided to let go of concern for himself and simply tried to benefit the company while conforming to Dafa's principles. By behaving this way, he earned the respect of his coworkers and the manager.
Living in everyday society, Dengyao said that there are lots of temptations, including lust and other kinds of degenerated thoughts. "Besides studying the Fa, I often ask Master for help. The situation is now much better than before," he added.
Besides his work and family, Dengyao said he really enjoys going to group Fa-study and other Dafa activities. "Now I know that cultivation practice is a rewarding experience," he said.