Wife of Taiwanese Citizen Taken Straight to Brainwashing Center After 11-Year Prison Term for Her Faith
May 24, 2017 | By a Minghui correspondent in Jilin Province
(Minghui.org) The wife of a Taiwanese citizen was taken straight to a brainwashing center as soon as she finished serving 11 years for refusing to renounce Falun Gong, a spiritual discipline being persecuted by the Chinese communist regime.
Ms. Xiang Lijie, 52, is a native of Liaoyuan City, Jilin Province. She married Taiwanese Yang Jinyi in 1994 but hasn't been allowed to leave mainland China since the persecution of Falun Gong began in 1999.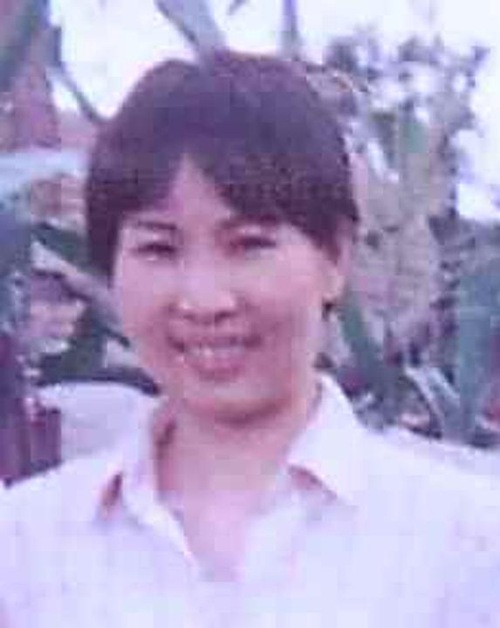 Ms. Xiang
Ms. Xiang was twice given forced labor, in 2001 and 2003, respectively. Her application for a travel permit to Taiwan was repeatedly rejected. When she told her ordeal to the public, the local police arrested her around April 2006 and sentenced her to 11 years that December.
She was transferred to Jilin Province Women's Prison in February 2007. The guards subjected her to two rounds of stretching torture, each lasting two to three months. Just six months into her prison term, her right arm became disabled.
The prison officials finally sought medical care for Ms. Xiang after five years. Without her or her family's consent, the doctors at Jilin University Third Hospital removed a good bone from her right arm and put in a metal plate, worsening her disability. Her family was forced to pay 2,000 yuan of the total medical expenses.
Ms. Xiang was recently released from prison, but the local authorities took her straight to a brainwashing center. Her family is calling for assistance from the public to help secure her release.
Arm Disabled from Stretching Torture
An insider who once witnessed Ms. Xiang's torture drew some illustrations to show how the guards applied various forms of stretching torture on her.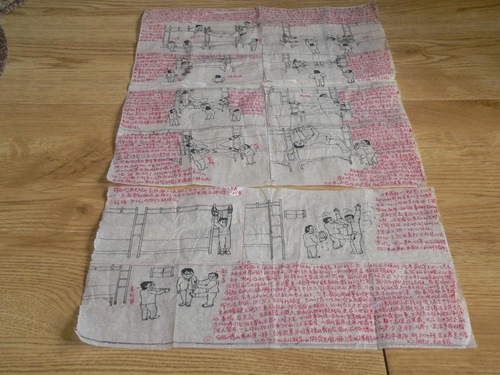 Drawings by a witness
The witness revealed that Ms. Xiang was made to endure the stretching torture soon after her prison admission. The first round of torture lasted more than two months. The guards began a second round of stretching torture in September 2007 and kept her restrained to a bed with her limbs stretched for more than three months, during which time she was not untied or removed from bed even once.
As can be seen from the illustrations below, the stretching torture usually involved the use of bunk beds. Ms. Xiang was made to either lie down or stand up with her limbs tied up and stretched in different directions. Sometimes, her back was elevated by wood boards or bricks to increase her pain.
While Ms. Xiang was in various positions of stretching torture, the guards or inmates often deliberately pulled on her limbs. When she screamed from pain, they stuffed her mouth with dirty rags and beat her savagely.
Ms. Xiang's right shoulder became dislocated in just two weeks of the torture session, but the guards continued the daily stretching. Two inmates even stomped on her right shoulder.
Torture Continued after Arm Disabled
The guards turned to other forms of torture after the first six months of stretching torture. Knowing that Ms. Xiang's right arm had been disabled, they still forced her to lift her arms up high for extended periods of time.
They also made her stand still for 19 hours a day for weeks on end. Another time, guard Liu Minghua forced her to do hard labor for more than 20 days with her disabled arm.
Medical Care Repeatedly Delayed
Team leader Ni brought Ms. Xiang to a local hospital to have an X-ray taken on November 9, 2009, but no medical care was given even though the doctors there recommended immediate surgery.
It wasn't until May 2012 that Ms. Xiang was taken to another hospital for surgery. The doctors removed a good bone from her arm without her or her family's consent. The prison guards ordered her family to pay 2,000 yuan of the medical expenses.
Ms. Xiang's conditions worsened after the surgery; she felt more pain and numbness. She cannot use her right arm at all.
Related Reports:
Ms. Xiang Lijie Sentenced to 11 Years and Brutally Tortured in Prison
Xiang Lijie Disabled from Torture at Jilin Province Women's Prison – Current Whereabouts Unknown
Nine Practitioners in Liaoyuan City, Jilin Province, Were Illegally Sentenced
Communist Party Members in Jilin Province Try to Frame Nine Practitioners, Including Ms. Xiang Lijie, in Court
Urgent Appeal to Rescue Falun Dafa Practitioner Ms. Xiang Lijie, Wife of a Taiwanese Resident
Washington D.C.: Falun Gong Practitioners from Taiwan Call for Release of Ms. Xiang Lijie in front of the Chinese Embassy
Taiwanese Citizen Strongly Urges the Liaoyuan City Police Department to Immediately Release his Wife, Practitioner Ms. Xiang Lijie
Urgent Call for the Rescue of the Wife of a Taiwan Citizen Who Is Being Illegally Imprisoned In China
Call on Taiwan's Straits Exchange Foundation, the Taiwan Government and World Human Rights Organizations to Pay Attention to My Misfortune