Canadian MPs Send Greetings to Recognize the 25th Anniversary of Falun Dafa
May 24, 2017 | By Minghui correspondent Ying Xin in Ottawa
(Minghui.org) The Falun Dafa Association of Canada received greeting letters from Members of Parliament (MP) recognizing the 25th anniversary of Falun Dafa's public introduction. MP Borys Wrzesnewskyj and MP Scott Reid are featured in this report.
MP Borys Wrzesnewskyj: "I Wish You Continued Spiritual Growth, Harmony and Health"
MP Borys Wrzesnewskyj spoke at a rally on May 9 in front of Parliament Hill in Ottawa. He said it was an honor for him to support the practitioners, who were doing an important thing in letting people know of the crimes being committed by the Chinese communist regime.
He added that politicians cannot forget to raise human right issues when engaging in commerce and trade talks with China.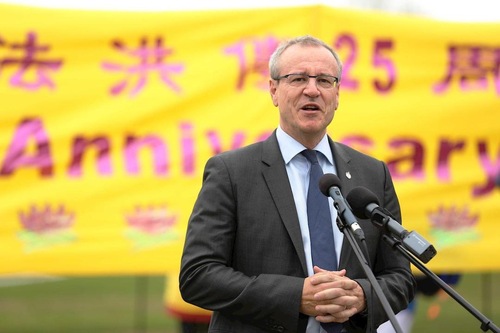 MP Borys Wrzesnewskyj speaks at a rally celebrating World Falun Dafa Day on May 9, 2017.
MP Wrzesnewskyj stated in his letter, "As the Member of Parliament for Etobicoke Centre, I am very pleased to extend my sincere best wishes to all practitioners of Falun Dafa on the 25th anniversary of the introduction of your self-improvement system to the public."
"Over the past twenty-five years the members and friends of Falun Dafa have promoted their firmly held beliefs in harmony and health in society through traditional practices that originated in China. These beliefs and practices have emphasized the improvement of the spiritual, mental, moral and physical wellbeing of individuals through the guiding principles of Truthfulness, Benevolence, and Forbearance."
He also mentioned the persecution in China: "During this time, many practitioners in China have often faced harsh treatment, discrimination, imprisonment, torture, and worse. Through various proactive rallies and information campaigns, Falun Dafa has successfully raised awareness of the dreadful illegal organ harvesting scheme perpetrated against its prisoners of conscience in China."
He encouraged the practitioners: "I wish you continued spiritual growth, harmony and health, and may your guiding principles continue to guide and inspire you for years to come."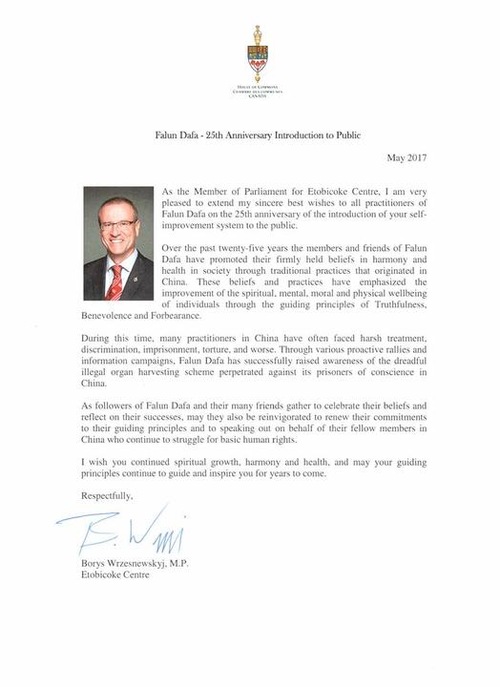 Greeting letter from MP Borys Wrzesnewskyj
MP Scott Reid: "I Stand in Solidarity with Falun Dafa"
MP Scott Reid sent a greeting letter to the Falun Dafa Association of Canada on the 25th anniversary of Falun Dafa's public introduction.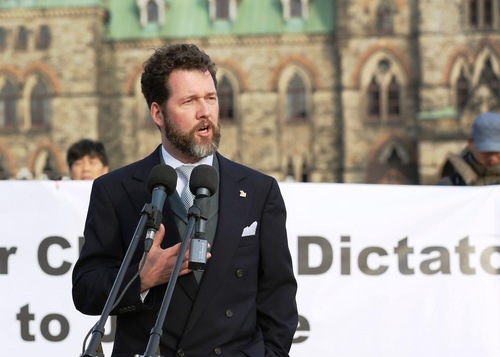 MP Scott Reid
MP Scott Reid wrote, "The practitioners of Falun Dafa continue to suffer unspeakable persecution for their beliefs. This contravenes the values of all peaceful, diverse, and free societies. Falun Dafa's upright principles of truthfulness, compassion and forbearance should be celebrated, not shunned."
"On the 25th anniversary of Falun Dafa, people and nations worldwide will acknowledge those who continue to suffer for their beliefs and honor those who have been killed. I stand in solidarity with Falun Dafa."
Related report in Chinese:加拿大议员:全力支持和声援法轮大法(图)