Falun Gong Group Exercise and Truth Clarification in New York Receive Strong Public Support
May 16, 2017 | By Minghui correspondents in New York
(Minghui.org) May 13, 2017 is the 18th World Falun Dafa Day. Falun Gong (also called Falun Dafa) practitioners from all over the world braved the rain to hold group exercises and truth clarification activities in Central Park, Bowling Green Park, Battery Park, Times Square, and Brooklyn, to introduce Falun Gong and call for an end to the persecution of the practice in China. Many local residents and tourists from around the world learned the truth about the persecution and expressed their support for Falun Gong.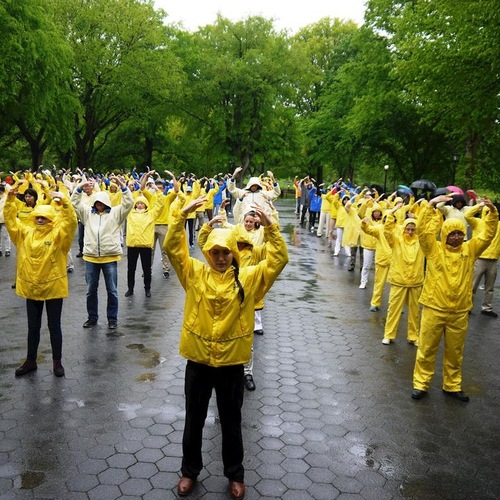 Falun Gong practitioners do exercises in a group in Central Park on May 13, 2017.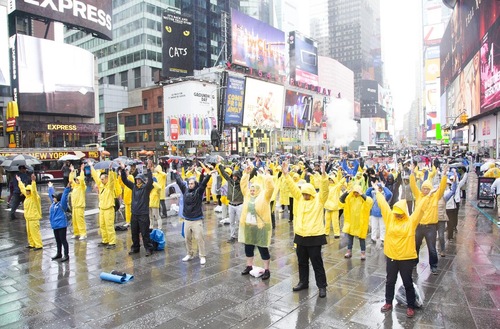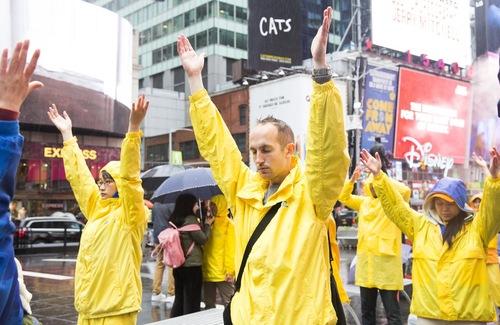 Close to 100 Falun Gong practitioners do exercises in a group on Times Square.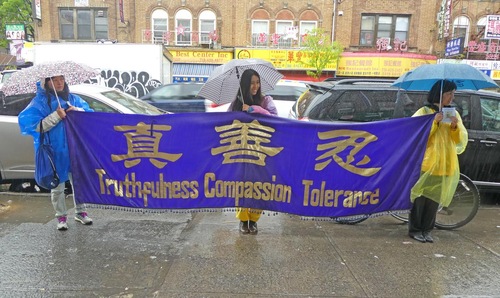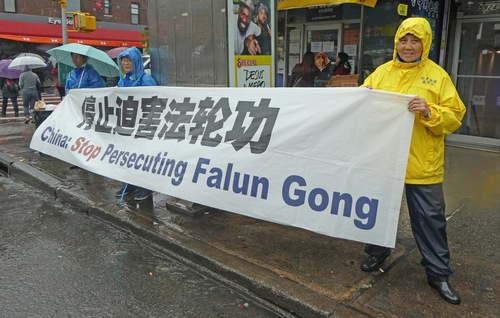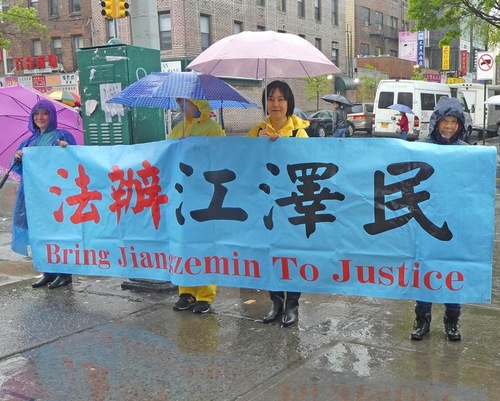 Falun Gong practitioners hold banners at street crossings in Brooklyn.
"Evil is Eating the World. We Should Never Give Up!"
Mr. Nelson Rodriguez stopped to take a photo of the banner that read, "Are You Keeping Silent About the CCP's Organ Harvesting?" He praised Falun Gong practitioners for their great job, saying, "The United Nations knows it. All governments know it. But sadly, they don't stand up against it. I say all of us should step up to help the victims. They are like our brothers and sisters! We must stand together on the issue of organ harvesting. Evil is eating the world, not just in the U.S, China, and France, but the entire world. I respect Falun Gong for all they do. They are being killed. Everyone knows. The whole world knows Falun Gong is persecuted. It's evil. The demon is living in the world. We need to voice it, take actions, and expose the evil. More people need to stand up and say 'No'. I give Falun Gong practitioners my best wishes. I will make copies of the flyers and give them to more people."
Pointing at a cat at his feet, he added, "All of us, including that cat, need hope. We should never give up. Let's keep trying."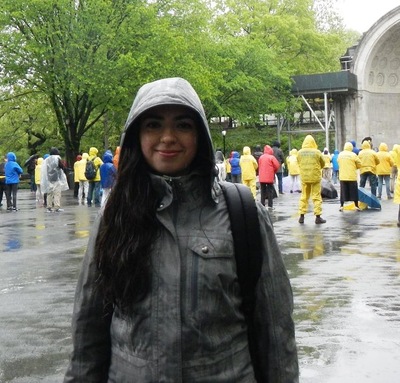 College student Loreto praises Falun Gong practitioners' great deeds.
Loreto, a college student, was fascinated by the beautiful and relaxing Falun Gong exercises. Upon hearing about the persecution, she said it was terrible and unfair to take away people's freedom of belief. She told a practitioner, "What you're doing is great! Everyone should know what's happening in China."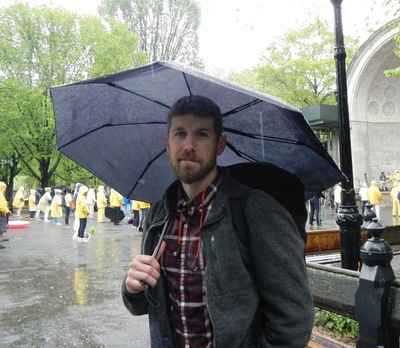 Derek, a veteran who traveled to New York, met Falun Gong practitioners in Central Park. He felt that Falun Gong was very peaceful and filled with spiritual meaning. He said the persecution shouldn't have happened. He supported Falun Gong and wanted to find out more information from the Internet.
Chinese Quit Communist Organizations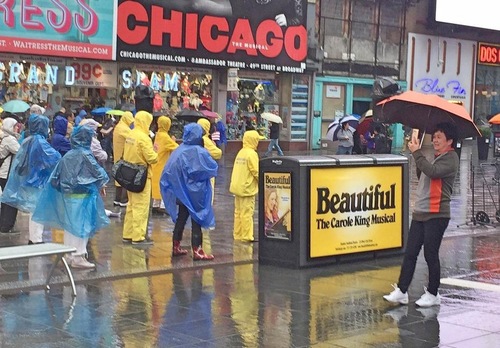 An excited Chinese takes pictures of Falun Gong exercises.
"It's Falun Gong! Hurry, take some pictures!" a Chinese man told three other Chinese people. They carefully watched the Falun Gong exercises. Falun Gong practitioner Marcus talked to them, and found that they repeated the Chinese Communist Party's (CCP) lies about Falun Gong. Marcus clarified the facts about Falun Gong with them. They listened carefully and talked to Marcus for more than ten minutes. When Marcus suggest that the young man quit the three CCP organizations, he agreed.
"Falun Gong Exists for a World Just Born"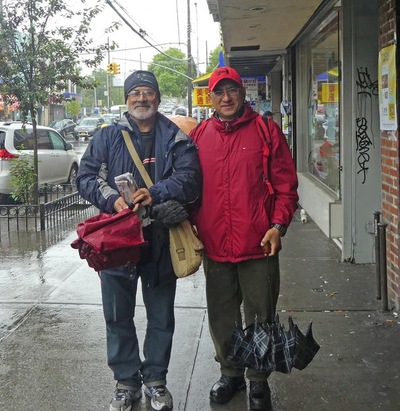 Gerdo Gerry (right) and his brother.
Gerdo Gerry and his brother are both medical doctors from Mexico City. They saw many people on the streets in Brooklyn and wondered what was going on. Upon hearing about Falun Gong, Gerdo said, "I borrowed a book called Falun Gong from a library ten years ago. I read it and learned the exercises. My body has felt different since then. I became very healthy and very calm. I used to smoke, drink alcohol, and had all kinds of bad habits. Ever since I started practicing Falun Gong, I have been studying by myself, though infrequently, because I don't have much time. I can only practice once in a while. But all my bad habits gradually disappeared. Good things continue to happen to me. I feel that Falun Gong exists for a world just born, not the current world."
Gerdo said he only read the book Falun Gong, and taught himself the exercises by reading the illustrations in the book. He didn't know about Zhuan Falun or the persecution in China.
Gerdo was grateful for the Falun Gong activities. He said, "Many people don't know, like me. I have learned Falun Gong but didn't know about the persecution. Yes, you should get your voice heard!" Gerdo wrote down Falun Dafa website, falundafa.org, and looks forward to learning more about the practice. His brother wants to try Falun Gong too.
Related articles in Chinese:http://www.minghui.org/mh/articles/2017/5/14/法轮功学员纽约时代广场炼功-华人留学生三退(图)-348193.htmlhttp://www.minghui.org/mh/articles/2017/5/14/风雨中传真相-呼唤中西方民众(图)-348194.html