A Grand Display at Gantry Plaza State Park
May 15, 2017 | By Minghui correspondents Lan Ling and Tang Xiuming
(Minghui.org) After an impressive parade in Manhattan on May 12, 2017, several activities to celebrate the 25th anniversary of Falun Dafa's public introduction took place on May 13, World Falun Dafa Day.
While many practitioners gathered to do the exercises together on Times Square, in Central Park, and in Battery Park, others assembled at Governor's Island and at Gantry Plaza State Park to form large-scale Chinese characters.
Governor's Island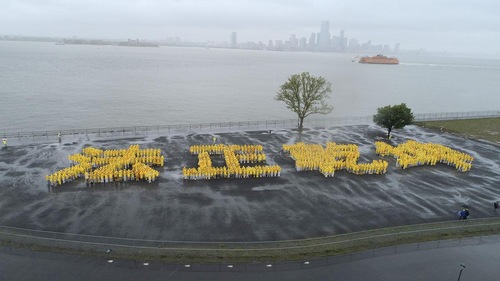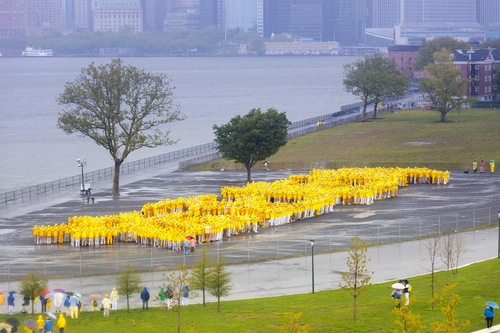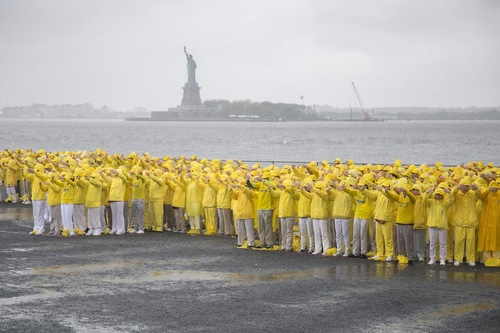 About 2,000 Falun Dafa practitioners participated in the character formation on Governor's Island near the Statue of Liberty on May 13, 2017.
Despite rain, about 2,000 practitioners gathered on Governor's Island on May 13 to form the four Chinese characters that translate as, "The Fa Rectifies Heaven and Earth."
"The principles of Falun Dafa are Truthfulness-Compassion-Forbearance. Both individuals and society benefit when these qualities are valued," explained Joel Chipkar from Toronto, Canada.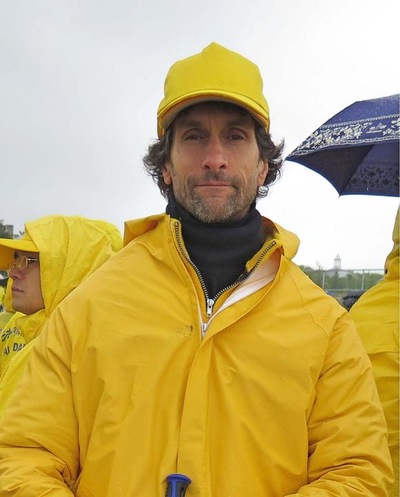 Joel Chipkar from Toronto said Falun Dafa changed him for the better.
When former Chinese Communist Party leader Jiang Zemin banned Falun Dafa in July 1999, he predicted that it would be completely eradicated within three months. "Nearly 18 years have passed and Falun Dafa has reached more than 140 countries. We are glad to see these traditional values flourish and succeed despite the challenges," Chipkar added.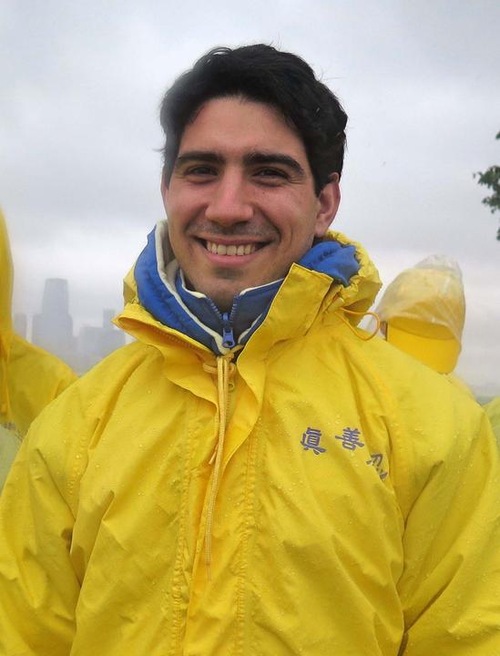 Joseph Gigliotti from Canada said Falun Dafa gave him inner peace and energy.
Joseph Gigliotti, also from Canada, attends a university in New York. A friend told him about the practice three years ago, and he started reading the book Zhuan Falun. He said, "I like it because Falun Dafa teaches me to improve myself and be a better person. I really appreciate the inner peace and happiness it gives me."
Jean Lunsford from Michigan began doing the exercises in 1997. "It was not until 2005 that I read many of the Falun Dafa teachings and understood just how precious it was for us to become practitioners," she said. "Falun Dafa helped me recover from health problems, saved my life, and gave my entire family hope. It has made me very happy."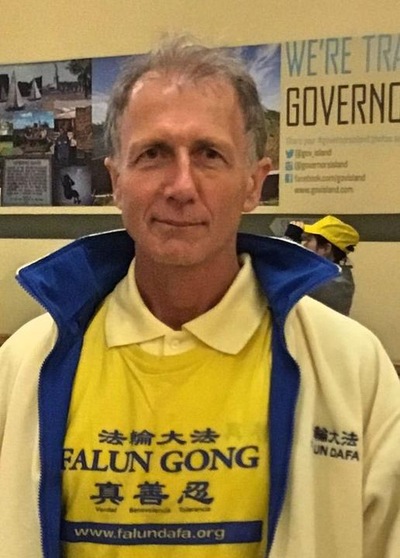 Mr. Norman from Italy said he was glad that Falun Dafa can help people improve themselves and return to their true selves.
Mr. Norman from Italy has a furniture décor business. Interested in understanding the meaning of life, he searched until he found Falun Dafa in 2013. He said he now knows that people can improve themselves and return to their true selves through the practice.
"This is the first time I've been in New York," he said. "I am so happy to be here today, because we will tell more people about Falun Dafa, and they, too, can benefit from it."
Gantry Plaza State Park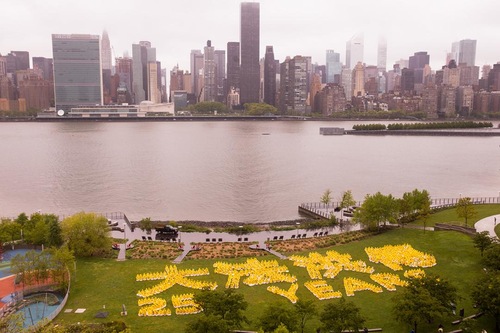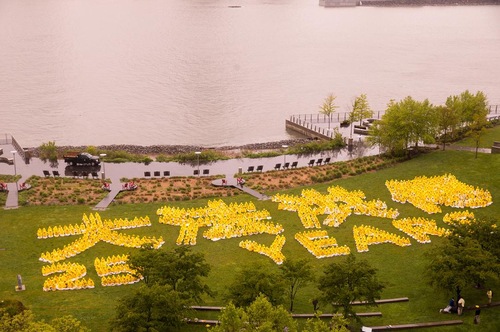 Practitioners assembled into formations depicting Chinese characters at Gantry Plaza State Park on May 13, 2017.
Over 1,500 Falun Dafa practitioners from North America and Asia sat in formation to create the characters that say, "Dafa Around the World, 25 Years." Mr. Yu from New York, the coordinator of the event, said this was done to celebrate World Falun Dafa Day and thank Mr. Li Hongzhi, the founder of Falun Dafa, for his great compassion and sacrifice.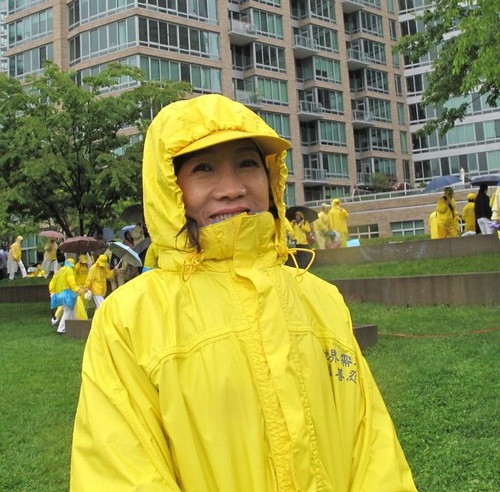 Li Suming from Taipei said she was glad to participate in the event.
Although Li Suming from Taipei, Taiwan, is retired, she still looks young. She started practicing in 2004, and said she was very fortunate to find Falun Dafa, which has improved her health and character. "I am so thankful, because Master Li has done so much for me and other practitioners. I truly believe more people will benefit from Falun Dafa once they know more about it," she said.
Ms. Xiao, 75, also from Taipei, said both her high blood pressure and heart disease disappeared soon after she started to practice. She said, "I appreciate this opportunity and want to thank Master Li for everything." She hopes the persecution in China will end soon.
Yiyia Kim from South Korea speaks fluent Chinese. She picked up the practice after her mother did more than ten years ago, but she later slacked off while in high school. In early 2015 she had some health issues, from which she recovered after becoming more diligent, once again experiencing the supernormal effects of Falun Dafa. She said, "I was glad to resume cultivating, and now people tell me I am more generous than I was before."
"Falun Dafa is important to all of us, so nothing can stop us, not the persecution in China or the rain here today."
Related article in Chinese:http://www.minghui.org/mh/articles/2017/5/14/"大法洪传25周年"让真善忍走向世界(图)-348175.html