Practitioners and Supporters Celebrate World Falun Dafa Day in Hong Kong
(Minghui.org) May 13 marks the 25th anniversary of Falun Dafa's public introduction, the 18th World Falun Dafa Day, and the 66th birthday of the founder of the practice, Master Li Hongzhi.
Along with others all over the world, practitioners in Hong Kong celebrated the occasion. They did the exercises together, put on dance and instrumental performances, created a large-scale character formation, and held a parade.
Several politicians and community leaders sent letters of congratulations to the local Falun Dafa Association, praising their contributions to the community.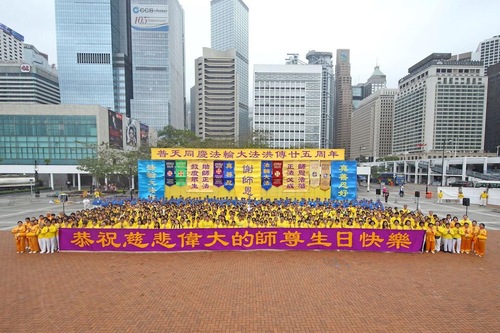 The participants wish Master Li Hongzhi a Happy Birthday.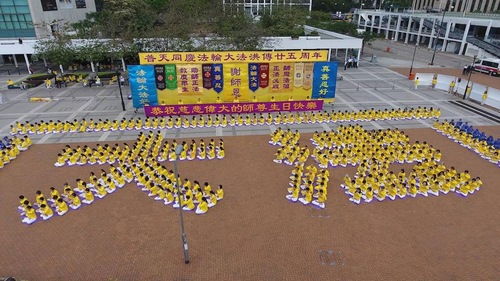 Forming the Chinese character "Dafa," which means "Great Law."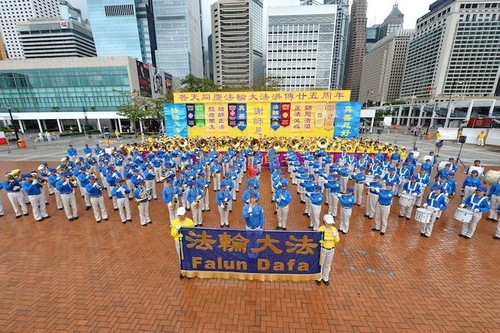 The Tian Guo Marching Band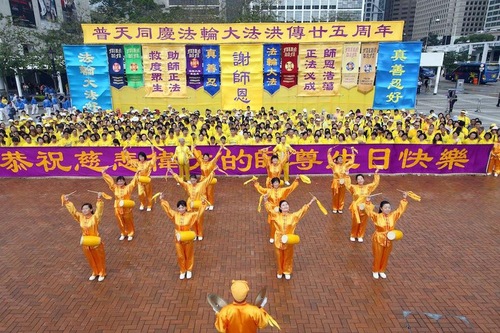 The waist drums
One of the participants was Mr. Kwuan, a government official. He took up Falun Gong just a year ago. He said, "Practicing Falun Gong has improved my temper. I've become less selfish and have started to consider others. I don't fight with my wife that often now.
"I thank Master Li Hongzhi for introducing us to such a good practice. My wife says that I have changed a lot and that our family is happier."
Ms. Fujishima came to the event from Japan. Her inflammatory and spinal ailments disappeared a month after she started to practice Falun Gong.
Ms. Fuishima said her whole family appreciates Master Li's help: "Falun Gong taught me Truthfulness-Compassion-Forbearance, which has has had a positive impact on me and my family, so they all support me in my practice and were in favor of my coming here for this event."
A Parade Highlights the Practice and the Persecution
Beginning at 2:30, the Tian Guo Marching Band led 700 practitioners through the busiest streets in town.
The parade was made up of five distinct sections: "Dafa all over the world," "Peaceful resistance," "Quit the communist party," "Bring the guilty to justice and end the persecution," and "Falun Dafa is great."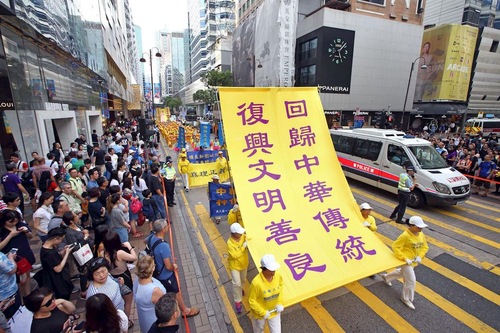 This banner calls for the restoration of traditional Chinese culture.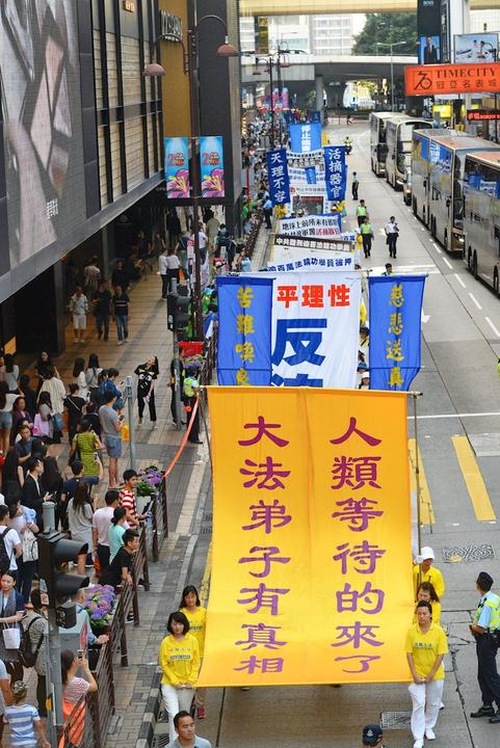 Peaceful resistance against the persecution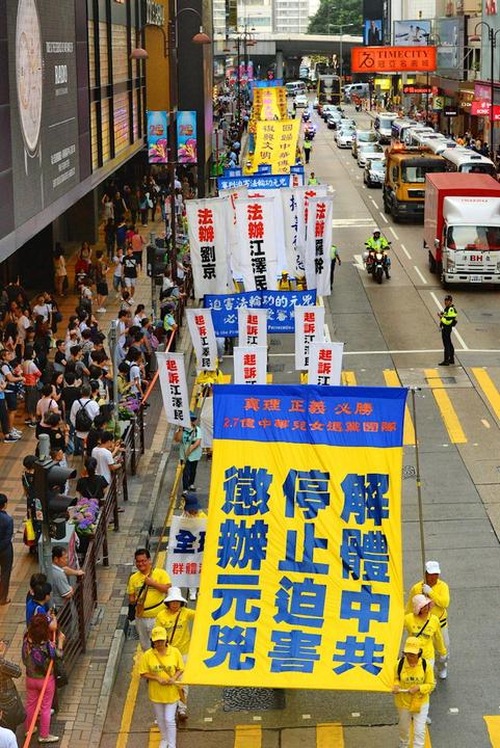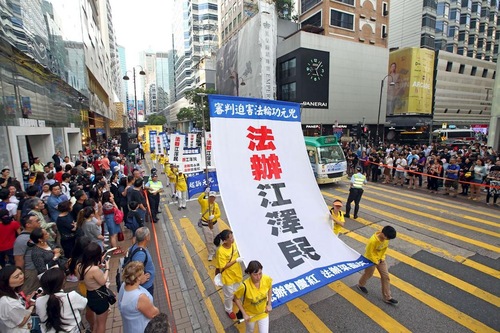 Bring those responsible for the persecution to justice.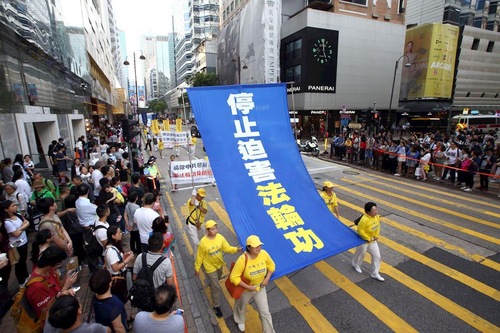 End the persecution.
Quit the communist party.
Ms. Cheng, a spectator and local resident, had only praise for the practitioners: "They are the real good people. They are role models. I've learned about the persecution. It is so wrong. The communist party has killed a lot of people."
She also wished Master Li Hongzhi a happy birthday. "Master Li teaches people to be truthful, compassionate, and tolerant. He's great. I admire him, and many people inside and outside of China do, too. That is why so many people practice Falun Gong."
Crowds of Chinese tourists watched the parade. Many were shocked, but in a good way, to see such a grand display and commented on the freedom in Hong Kong, which people in China do not enjoy. Many of them expressed their support for practitioners in their fight for freedom of belief.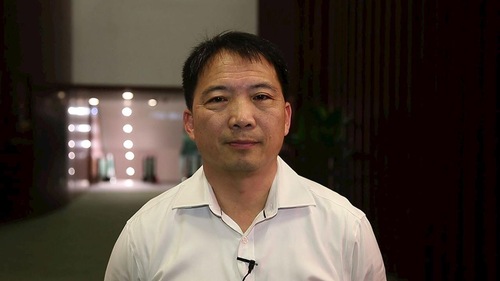 Wu Chi-wai, chair of the Democratic Party and a member of the Legislative Council, wished Master Li Hongzhi a happy birthday and praised practitioners' peaceful resistance.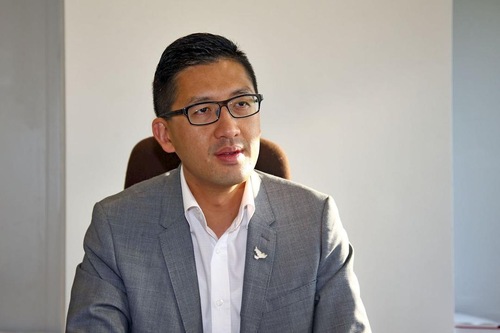 Lam Chuo-ting, a member of the Legislative Council (D), offered his congratulations on World Falun Dafa Day and wished practitioners success in their efforts to secure freedom of belief.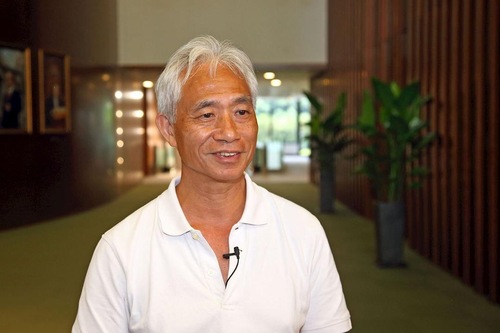 Leung Yiu-chung. a member of the pro-labor Neighborhood and Worker's Service Centre and a member of the Legislative Council, thanked Master Li Hongzhi and practitioners for their contributions to the community.