Family of Wrongfully Convicted Woman Files Suit Against Judges
(Minghui.org) A doctor specializing in skin disease was arrested on April 19, 2016 for possessing literature about Falun Gong, a spiritual discipline that is currently persecuted in China.
After being tortured for eight months, Ms. Wang Liyan was tried on December 20. She was sentenced to four and a half years in prison in Xi'an Court in Mudanjiang on December 26. Her family appealed to the Mudanjiang Intermediate Court on January 4, 2017 and requested a public hearing.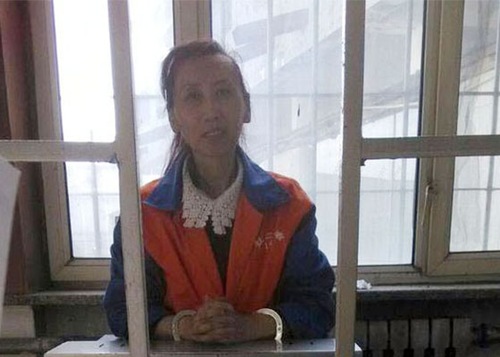 Ms. Wang Liyan in prison
The judge from the intermediate court avoided meeting with Ms. Wang's family and attorney. The intermediate court recently upheld the original sentence in a closed hearing.
Believing that she was unjustly tried, Ms. Wang filed charges with Mudanjiang People's Procuratorate and Intermediate Court this February and March against the two judges leading her past trials.
In her first trial, Judge Liu Hui refused to acknowledge that the evidence was irrelevant to the case and illegally obtained. He only allowed three of Ms. Wang's relatives to attend the trial and frequently interrupted her and her lawyer. The prosecution's witness did not show up in court, and Ms. Wang never received the official verdict after she was found guilty.
The judge in her second trial refused to look into the misconduct of the lower court. Judge Wu Degang did not listen to Ms. Wang's defense, nor did he respond to requests for an open trial and the appearance of the prosecution witness.
There was no open hearing for the second trial before Wu rendered his verdict. The family and lawyers were not allowed to talk to Wu before the verdict, nor were they able to speak with the court officials.