Candlelight Vigils Commemorate 18-Year-Long Persecution in China
April 29, 2017 | By Minghui correspondent Zhang Yun
(Minghui.org) Eighteen years ago, about 10,000 Falun Dafa practitioners went to Beijing, China to peacefully appeal for the release of practitioners who were illegally detained in nearby Tianjin several days earlier. Three months later, communist leader Jiang Zemin started the nationwide, persecution against Falun Dafa.
Many reports have been received recently by the Minghui website about activities held by practitioners around the world to commemorate this special occasion. We include below events that occurred on April 25 in Toronto, Los Angeles, and Detroit.
Toronto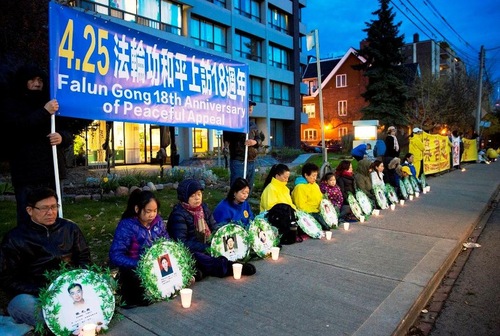 Candlelight vigil by Falun Dafa practitioners in Toronto on April 25, 2017.
Following a rally in front of the Chinese Consulate, Toronto practitioners held a gathering in the downtown area, followed by a candlelight vigil at the Chinese Consulate.
Ms. Shen, a witness of the appeal in 1999, said she remembers the scene clearly after so many years. "All of us were quiet. We did not talk aloud or make noise. Next to me was a professor from the renowned Tsinghua University. We told passersby as well as police officers on duty the physical and spiritual benefits we had received from Falun Dafa. They understood, and agreed with us."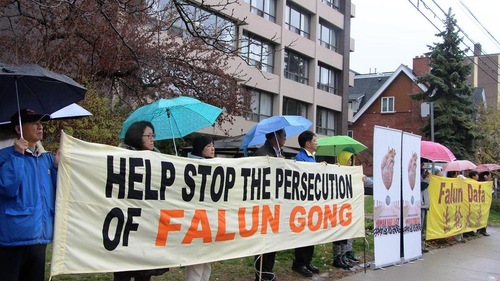 Rally in Toronto on April 25, 2017.
Mr. Fan Wentuo, whose mother is currently imprisoned in China for practicing Falun Dafa, spoke at the event. "My mother Luo Yanjie began the practice in 1994. Her health subsequently improved, and our entire family was happy about it." However, when Ms. Luo went to Beijing to appeal for Falun Dafa in 2000, she was detained by police, and later sentenced to 15 years of imprisonment. She wanted to appeal, but her request was ignored.
Mr. Fan said, "My mother is still being held in the Heilongjiang Prison. I hope more people will help stop this suppression."
Devon Murray, a student from George Brown College, watched the rally and talked with practitioners. She remarked, "I like the principles of Truthfulness-Compassion-Forbearance, because they apply to everyone and are good for the society. It is those who suppress Falun Dafa and mistreat practitioners that should be in prison."
Detroit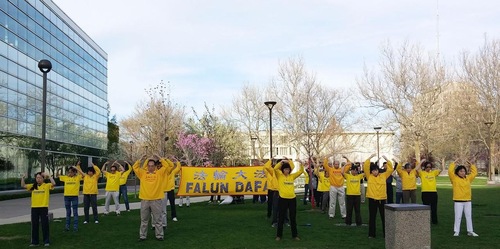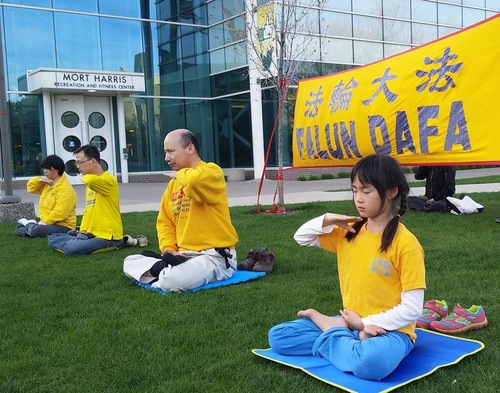 Falun Dafa practitioners do the exercises together at Wayne State University in Detroit, Michigan.
Michigan practitioners have been attended community events at the University of Michigan in Ann Arbor, as well as Wayne State University in Detroit, recently, to inform the public about Falun Dafa and the ongoing persecution in China.
One Chinese student talked with practitioners and asked many questions. In the end, he said, "I know that Jiang is the worst."
After a student heard about how practitioners had been mistreated in China for their beliefs, she thanked the practitioner and said, "This is very important. I will post this information on my Facebook page so that more people can learn about it."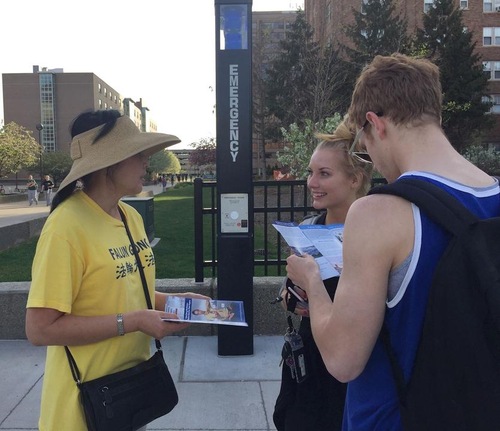 Students learn about Falun Dafa from a practitioner.
Los Angeles
Practitioners in Los Angeles gathered at the Chinese Consulate for a candlelight vigil on April 25.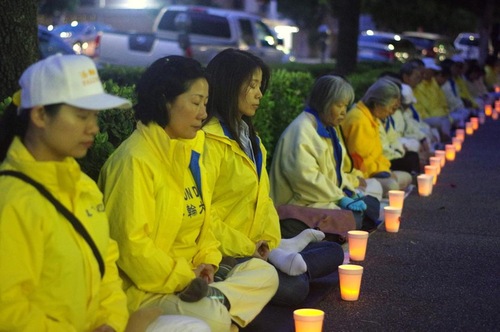 Candlelight vigil in front of Chinese Consulate in Los Angeles on April 25, 2017
Helen Li said that Falun Dafa is now practiced in more than 100 countries. "Inside China, over 270 million people have agreed to quit the Chinese communist organizations after learning how the regime has caused harm for decades."
Ye Ke, an organizer of the event, said that the persecution has continued too long. "Eighteen years is a long time. It has negatively affected tens of millions of practitioners, along with their family members."
He continued, "By persecuting the principles of Truthfulness-Compassion-Forbearance, the Communist Party has undermined traditional values, putting China and Chinese people in danger."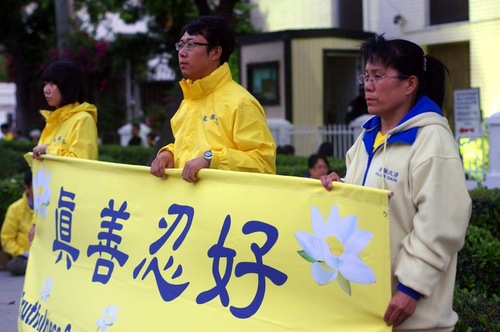 A banner at the event says, "Truthfulness-Compassion-Forbearance Is Good."
Related articles in Chinese:http://www.minghui.org/mh/articles/2017/4/27/密西根州法轮功学员纪念四二五和平上访(图)-346256.htmlhttp://www.minghui.org/mh/articles/2017/4/27/十八年坚守真善忍-洛杉矶法轮功学员纪念四二五-346258.html