Rally in Los Angeles Calls for Release of Falun Gong Practitioner Detained in China for Over a Year
April 23, 2017 | By a Falun Gong practitioner in Los Angeles
(Minghui.org) Falun Gong practitioner Ye Jinyue of Sanmen County, Zhejiang Province, was arrested in March 2016 and has been detained in Sanmen Detention Center since then. She is now partially paralyzed and cannot take care of herself.
Her friends in Los Angeles and several other local practitioners held a rally in front of the Chinese consulate to call for her release. They also handed in a written request to the consulate.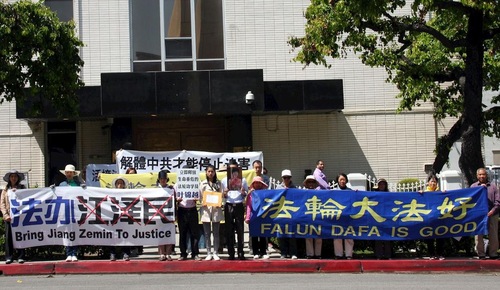 Falun Gong practitioners rally in front of the Chinese consulate in Los Angeles to call for the release of Ye Jinyue.
Ye was arrested on March 15, 2016. Taizhou Police Station officers in Sanmen County regard this as a major case. Ye was held in the county detention center. She has had pain in her legs since last August and is now paralyzed in half her body. Ye's father is so worried about her that he has been hospitalized several times with heart attacks.
The Sanmen County 610 Office tried to intimidate her lawyer into entering a guilty plea for her. The 610 Office threatened her family that Ye's sentence would be increased if they hired a human rights lawyer from another city.
The judicial proceedings in Ye's case have been delayed repeatedly. Her lawyer went to the courthouse several times to see the case documents but was never allowed to. He was told that the head of the criminal division was absent or that her file was not at the courthouse. The court provided a copy of her file only after the lawyer asserted his right to see it to the vice president of the court, who was also in charge of the criminal division.
Falun Gong practitioner Zhong Wenli, a resident of Los Angeles, said she had known Ye since 2013. Ye helped Zhong and others learn Falun Gong when Zhong was in China. She recalled that Ye followed the Falun Gong principles of Truthfulness-Compassion-Forbearance in her daily life.
She gave an example: "Ye had a restaurant that served roasted duck. Restaurants generally add chemical spices and pigments to improve the flavor. These additives can be harmful to human health. Ye thought she should follow Truthfulness-Compassion-Forbearance and not harm her customers in her own self-interest. She did not use those additives in her restaurant. She later closed her restaurant. She once said, 'If I did not practice Falun Dafa, I would not have closed a restaurant that was profitable even if customers were harmed.'"