Husband Arrested While Seeking Wife's Release, Whereabouts Unknown
April 23, 2017 | By a Minghui correspondent in Guangdong, Guangzhou Province, China
(Minghui.org) Three weeks after Mr. Dong Wenzhong was arrested—and despite his 75-year-old father actively seeking his release—his family is still in the dark as to where he is detained.
Mr. Dong Wenzhong, a Falun Gong practitioner in Guangzhou Province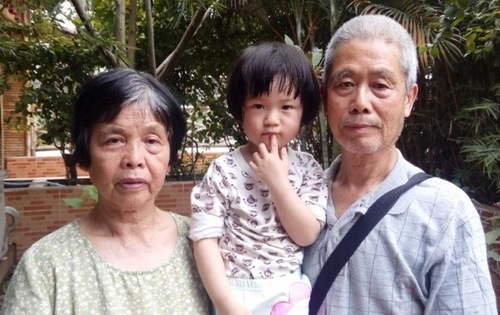 Mr. Dong Wenzhong's parents and his 2-year-old daughter
Mr. Dong, 40, the owner of an auto parts shop, was arrested on March 27, 2017. The arrest came three days before his wife, Ms. Lu Chunxia, was tried for filing a criminal complaint against former Chinese Communist Party leader Jiang Zemin, who initiated the persecution of Falun Gong in 1999. Mr. Dong had been working with lawyers to seek justice for his wife.
Mr. Dong was arrested by agents from the 610 Office of Huangshi Street Residential Committee. They refused to disclose his whereabouts to his family and denied any family visits.
Zhang Guangming, the director of the office, told Mr. Dong's father that only if he writes a statement giving up practicing Falun Gong will they release him.
Mr. Dong's father has filed a complaint against Zhang's unlawful detention of his son.
Father Actively Seeking Son's Release
Mr. Dong's father went to the police station on April 6 to inquire about his son. The police told them that the residential 610 Office was in charge of the case and directed him to talk to them.
Mr. Dong's family then went to the residential committee office and talked to Zhang Guangming. They told Zhang how Mr. Dong's health had benefited after practicing Falun Gong and that his character had improved tremendously. Zhang replied that Mr. Dong was arrested mainly because he had filed a criminal complaint against Jiang Zemin.
Mr. Dong's father tried to tell Zhang that filing a criminal complaint is within his legal rights, but Zhang ignored him and left.
Mr. Dong's father frequently visited the residential committee for information about his son. The committee said Zhang only told them that Mr. Dong was detained "in a brainwashing center" but not the exact location. They also said that no visitors were allowed. When the father went there again, Zhang refused to meet with him and threatened to have the police arrest him.
Persecuted for Suing Former Communist Party Leader
In late 2015 Mr. Dong and his wife Ms. Lu Chunxia filed a criminal complaint against Jiang Zemin for ordering the persecution of Falun Gong.
Nearly a year later, on July 29, 2016, Zhang Guangming and Li Liansheng, both from the 610 Office in Huangshi Street, arrested Ms. Lu and their two-year-old daughter when she went to Fujian Province to visit her parents-in-law. The daughter was detained with her mother for a week before she was handed over to the child's grandfather.
Mr. Dong hired a lawyer to represent his wife. The lawyer filed a complaint against Zhang with the Baiyun District Procuratorate but never received a response.
Ms. Lu was later transferred to the Guangzhou Brainwashing Center for seven months and then taken to Shunde District Detention Center. She was tried in the Shunde District Court on March 30, 2017, charged with "undermining implementation of the law using a cult organization," a standard pretext used by the Communist regime to prosecute Falun Gong practitioners.
Mr. Dong was arrested three days before her trial.
Related Articles:
Young Mother Facing Trial for Her FaithGuangdong Mother Detained at Brainwashing Center, Denied Visits with Family and LawyersMother and Two-Year-Old Daughter Detained in a Brainwashing Center
Perpetrators' Contact Information:
Zhang Guangming (章光明), director, 610 Office, Huangshi Street Residential Committee: +86-13926298380, +86-15989276676, +86-20-36332638Li Liansheng (李连生), staff, 610 Office, Huangshi Street Residential Committee: +86-13600002396Yu Shaoxiong (于少雄), staff, Huangshi Street Residential Committee: +86-20-36300348, +86-20-36505206, +86-20-36505356Zhan Xilai (占细来), staff, Huangshi Street Residential Committee: +86-13802999878