Practitioners Learn From Each Other During the Second Finnish Falun Dafa Experience Sharing Conference
March 14, 2017 | By a Faun Dafa practitioner in Finland
(Minghui.org) The Second Finnish Falun Dafa Experience-Sharing Conference was held on March 5, 2017. With simultaneous translation in both Finnish and Chinese, 14 practitioners shared how they have improved themselves and helped others through the practice.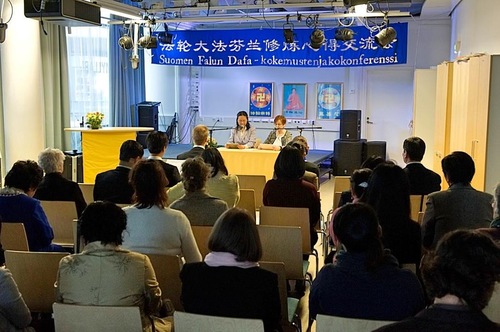 Practitioners learn from each other during the Second Finnish Falun Dafa Experience-Sharing Conference on March 5, 2017
Fourteen practitioners shared their experiences with simultaneous translation in Finnish and Chinese.
Coordination Work
Anja, a news media coordinator, shared how she improved her understandings when working with other practitioners during the past ten years. She said, "As a practitioner, I found the most difficult thing for me is letting go of human notions."
She said that these notions have created issues including pressure for herself and barriers between her and other practitioners. For example, she used to think that no other practitioners was supportive of a certain project. Such pressure was very hard to overcome even after she tried hard to look within. As she continued to study Falun Dafa teachings, she realized it happened for several reasons. One was that others did not recognize importance of the project. Another was that her ego pushed others away. She is glad that Falun Dafa helped her make progress in cultivation practice during the experience.
New Practitioners
Ms. Wang, who began practicing three years ago, said she was initially unsatisfied with the place for group Fa-study. She recalled, "It was very difficult, and different from what I expected. Plus, I sometimes ran into conflicts with other practitioners." As time continued, she found she harbored many attachments, including ego, arguing, showing-off, and being unwilling to admit that anyone else was better than she was. She said it was nonetheless hard to eliminate these attachments even after she recognized them.
An adjustment was once made in the group Fa-study time. Assuming that everyone knew about it already, she did not tell others about the change. But as the coordinator asked her about it in front others, and asked why she did not inform the others about the change, she felt bad and began to defend herself. Ms. Wang said, "The more the coordinator said I needed to improve, the more shortcomings I saw in her."
She later saw an incorrect movement of another practitioner during the exercises, and pointed it out. But that practitioner did not listen. She said, "After going back and watching the exercise video later that day, I was shocked because it was my movements that were not correct." From this experience and thinking back to what had happened previously, Ms. Wang realized that she had been wrong on many occasions. In fact, each of these incidents was an opportunity for her to look inward and improve in her cultivation. She is very thankful for the practitioners who pointed out her issues.
Chinese Tourists
Ilmari started practicing Falun Dafa two years ago. With the help of other Dafa disciples, he learned how to upgrade himself through enduring hardship and improving xinxing.
He often goes to tourist sites to distributes materials and help Chinese tourists learn the facts about Falun Dafa. He said, "One day I arrived there early, and because there were no other practitioners, I was a little nervous since I do not known any Chinese." Nonetheless, he put on T-shirt with the words of "Falun Dafa" and "Truthfulness, Compassion, Tolerance," and began to give out materials to the tourists.
Seeing the Chinese tourists accepting these materials with curiosity, Ilmari said he was moved, "Now I know that Master has been caring for us with compassion. And I also learned the importance of righteous thoughts. I will do better in the future."