Falun Gong Practitioners' Cases Dismissed After Appeals from Lawyers and Family
February 25, 2017 | By a Minghui correspondent in Liaoning Province
(Minghui.org) In the suppression of Falun Gong for the past 18 years, public servants who were meant to carry out the law and protect the people have been breaking the law and harming innocent citizens. However, there have been officials, who when presented with the persecution facts, heeded the call to conscience. A successful appeal in Liaoning Province and similar cases are hopeful signs of a developing movement toward justice in China.
Two Liaoning Practitioners' Cases Dropped
Li Shijin and Lin Youyan, two Falun Gong practitioners from Tieling County, went to Baiqi Town in November 2016 to distribute calendars that contained information about Falun Gong. Police arrested and detained them. The Tieling County Procuratorate brought an indictment to the Tieling Court and a hearing was planned.
Family members of these two practitioners got two lawyers to defend them, one was Sun Dianjun, from Shandong, and the other was Ma Wei, from Tianjin. The two lawyers explained to officials that neither the Chinese Constitution nor existing laws justified the suppression of Falun Gong.
The lawyers also cited several examples in history, in which a totalitarian regime led to the lawless persecution of certain groups. Whether it was the Holocaust or the Cultural Revolution in China, law enforcement officers faced serious consequences at a later time for obeying orders to commit murder instead of acting upon their conscience.
Family members of these two practitioners also contacted court officials, providing testimonies on the benefits of Falun Gong. Court officials accepted the information and agreed to process the case based on the law. They also suggested that the families submit a written appeal on behalf of the detained practitioners.
A decision was then made by the court officials to dismiss the case and return the files to the Tieling County Procuratorate, which also announced that they would not pursue the case any further [File number 2017-4 and 2017-5].
Meanwhile, inside the detention center, these two practitioners talked to other detainees about Falun Gong and the persecution. Many inmates were moved and showed support. When the practitioners were released on February 17, everyone in the cells and guards said farewell and wished them well.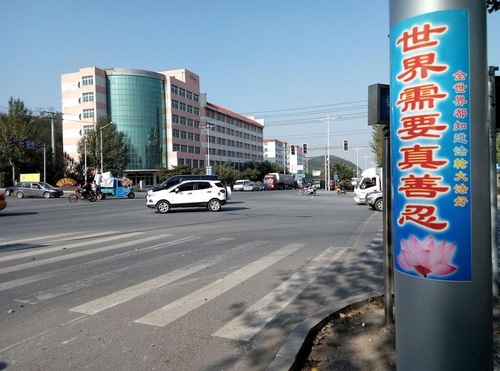 A poster on a street in Tieling City, Liaoning Province, that reads: "The world needs Truthfulness-Compassion-Forbearance." The small characters read, "Falun Gong is well-received throughout the world."
A similar incident occurred to Jiu Changying and Wang Yuansheng in Jizhou City, Hebei Province. After police arrested them in October 2016, they were detained and had a hearing on January 7. The Jizhou Procuratorate withdrew the case of Jiu Changying on February 10.
Related article in Chinese:http://www.minghui.org/mh/articles/2017/2/23/河北冀州市检察院撤诉-酒长迎被无罪释放-343441.html