"Let's Stand Together to Stop the Evil"
(Minghui.org) Falun Gong practitioners from Stockholm have been busy reaching out to residents and tourists to introduce this ancient Chinese spiritual discipline and to expose the almost 18-year persecution of the practice in China. They set up a booth and banners on Mynttorget Square, a popular gathering place in the old town area of central Stockholm, on February 18.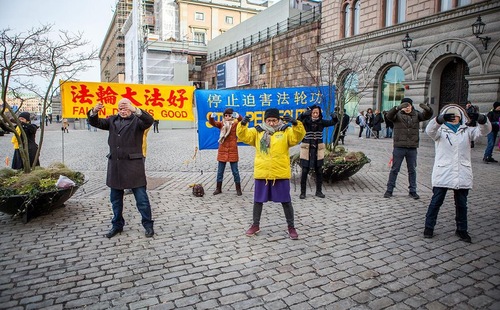 Demonstrating the exercises on Mynttorget Square in Stockholm. The yellow banner reads "Falun Dafa is good," and the blue banner reads "Stop persecuting Falun Gong."

Visitors learn the Falun Gong exercises on Mynttorget.
A group of medical school students from London stopped at the practitioners' booth. They were shocked when they were told about China's state-sanctioned organ harvesting from persecuted Falun Gong practitioners. It was hard for them to imagine that such a crime could happen in today's world.
Two of the students were interested in learning the Falun Gong exercises. "We are looking for a meditation exercise like this," one explained. They did the exercises with the practitioners and were excited to learn that there are many exercise sites in London. They said that they looked forward to starting the practice once they got back home.
A Swedish gentleman watched the practitioners for a long time. He'd never heard about the persecution in China. When told about the forced organ harvesting crimes, he said, incredulously, "This is beyond the bottom line of humanity. I must sign the petition."
Passersby read display boards about Falun Gong and the persecution.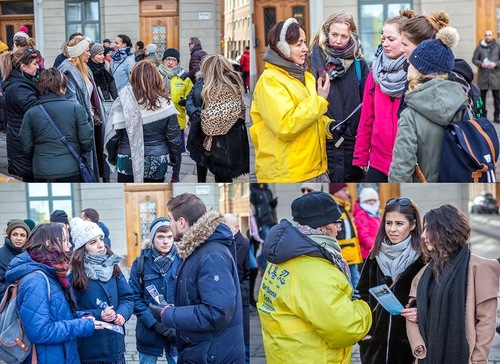 Talking to the tourists about the persecution of Falun Gong in China
People sign the petition to condemn the persecution.
A Swedish woman said to practitioners, after signing the petition, "A signature from me may not be a big deal, but if everybody signs, the power will be significant. Let's stand together to stop the evil."
Many tourists said that they would tell their friends and family about what they'd learned that day. A number of people also took informational materials to share.
Kristina and her husband Werner, both practitioners, were touched by the warm-hearted Swedish people.
"Almost everybody I talked to took flyers from me. Many of them also thanked me for our efforts to stop the human rights violations in China," Kristina said. "Although it was pretty cold today, their words warmed me up. It is my wish to tell more people about the persecution. I will definitely keep this up."