Philadelphia: Falun Dafa Practitioners Perform in Holiday Parade for the 10th Year
December 05, 2017 | By a practitioner in Pennsylvania
(Minghui.org) Falun Dafa practitioners in Philadelphia, Pennsylvania, were invited to the QVC West Chester Christmas Parade on December 1. This is the 10th time practitioners have participated in this tradition, and this year they appeared as both the Tian Guo Marching Band and a waist drum team.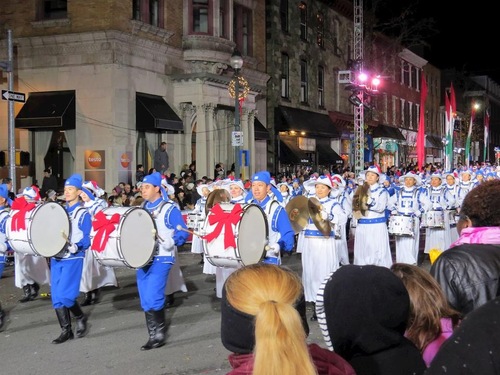 The Tian Guo Marching Band in the QVC West Chester Christmas Parade on December 1, 2017
About 45,000 people attended this annual event, now in its 38th year. It is recognized by USA Today as "one of the top 10 places to experience the arrival of Santa Claus during the holiday season." Channel 6 ABC will broadcast this parade on December 23, following QVC's nationwide replay on Christmas Eve and Christmas Day. "About 100 million people around the states will be able to see our parade," explained Mark Yoder, an organizer of the event.
Mark thanked the practitioners for their participation and said, "Falun Dafa has been with us for years. They are fantastic, and I love seeing them."
The marching band and waist drummers received warm applause throughout the parade route. Local resident John and his friends praised the band for its beautiful layout and great music. "The performers are really in sync!" he exclaimed.
Another resident, Joe, agreed. Having seen the waist drummers in previous years' parades, he was impressed by Tian Guo Marching Band this year. "I like everything about the band," he said, "I hope someone can tell them to be sure to come back next year. It's not just me—many people are thinking this way."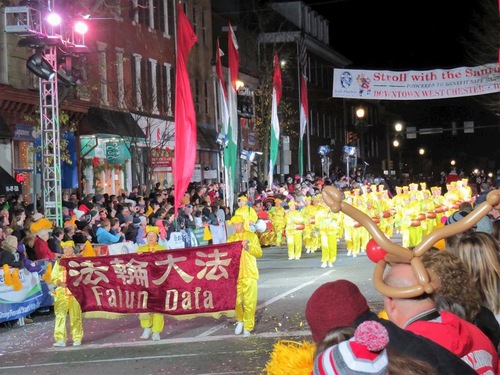 The waist drum performance was well-liked by spectators.
Beverley, who moved to West Chester 13 years ago, said the parade was "something that can't be missed." She invited many friends and relatives to come and watch. She also said the waist drum team was one of her favorites: "They look very neat, and the drum beats are well coordinated. The smiles on their faces are sincere. I don't know why, but I like them just like we're good friends. In fact, I would put them at the very front," she added. Her cousin, Lisa from Maine, nodded and said that the parade was unforgettable.
Betty is a recently retired nurse and came to watch the parade with her five-year-old granddaughter. Watching the waist drummers, she said, "They all look happy, and the joy is from their heart. I like their performance and always feel I can't get enough."
Nuns from a Catholic church also watched the parade. One sister from another town said, "This band is the best I have ever seen. They look very nice and pure. From their costumes to the music, to the overall message, everything looks so righteous and wonderful, and it touches my heart."
She said she agreed with the Falun Dafa principles of Truthfulness-Compassion-Forbearance and said she would pray for practitioners until the persecution of Falun Dafa in China ends.