Ukraine: Teaching Falun Dafa at Kiev Yoga Expo
(Minghui.org) Falun Dafa practitioners were invited to the Yoga Expo in Kiev from November 24 to 26, 2017, to teach the exercises and explain the merits of the practice of Falun Dafa.
A visitor to the Falun Dafa booth during the Yoga Expo in Kiev in November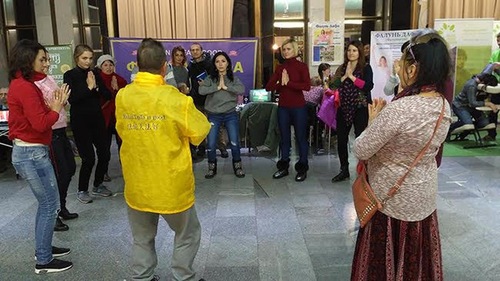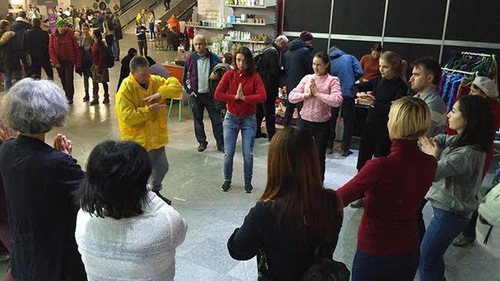 Teaching the Falun Dafa exercises at the Yoga Expo in Kiev
A local media reporter at the expo interviewed a Falun Dafa practitioner who is usually very reticent and doesn't talk much. But he gave a long introduction and shared his moving experiences of practicing Falun Dafa in vivid detail.
Visitors asked about the practice itself but also wanted to know why it is being persecuted by the Chinese Communist Party. About 15 people purchased Falun Dafa books, and quite a few started to learn the exercises at the expo. Many of them said that they felt a strong energy field around the Falun Dafa practitioners.