Germany: Raising Awareness of the Persecution in China
December 17, 2017 | By a Falun Gong practitioner in Germany
(Minghui.org) Falun Gong practitioners in Frankfurt, Germany have held several events in the lead-up to International Human Rights Day (December 10) to raise awareness about the ongoing persecution of this traditional spiritual discipline in China. A candlelight vigil was held on December 9, and a signature campaign calling for the release of a practitioner illegally detained in China took place the day before.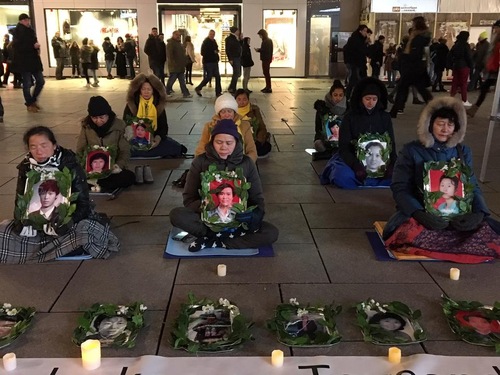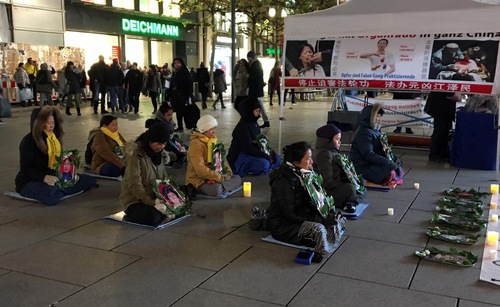 Falun Gong practitioners hold a candlelight vigil on December 9, 2017 to commemorate practitioners who lost their lives in the 18-year persecution in China.
Candlelight Vigil in Downtown Frankfurt
Practitioners held a candlelight vigil in the downtown Christmas market and business center on the evening of December 9, 2017 to commemorate those who have died in China as a direct result of persecution.
It was cold and it had snowed heavily the day before. Accompanied by the solemn music of Pudu and Jishi, practitioners sat on the ground, holding portraits of practitioners who lost their lives at the hands of the Chinese Communist Party (CCP).
Many passersby were moved by the scene. They paused to take photos, read the informational posters, and listen to practitioners talk about Falun Gong. Many people signed a petition calling for an end to the persecution in China.
Calling for an End to the Persecution
Several practitioners went to the Chinese Consulate on the morning of December 8 to stage a peaceful protest against the persecution. They set up large banners worded "Stop the persecution of Falun Gong" and "Stop live organ harvesting from Falun Gong practitioners" across from the consulate.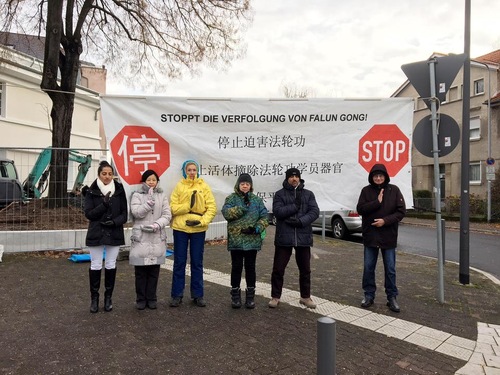 Practitioner Egbert (first from right) and others protest the persecution in front of the Chinese Consulate.
For the past 16 years, practitioners in Frankfurt have maintained a peaceful protest in front of the consulate in wind or rain, summer or winter.
Egbert, a 79-year-old practitioner, comes to the consulate every Friday with banners and a recording of the exercise music to join other practitioners in protest of the CCP's persecution.
Calling for the Release of Practitioner Incarcerated in China
On December 9, practitioners held another event downtown, calling for the release of Ms. Tian Feng, a practitioner incarcerated in Beijing. Ms. Tian, 49, was arrested on May 13 and has been illegally detained since then. The police are holding her ostensibly because she had a Falun Gong DVD with her.
The International Society for Human Rights (IGFM) has initiated a postcard campaign calling for Ms. Tian's release, addressed to the director of the police substation where she is being detained. Supporters can write their name and address on the postcard and mail it to China.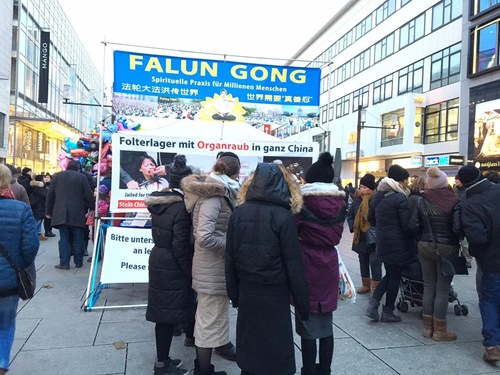 Passers-by pause to read posters about Falun Gong and the persecution in China.
Many people asked for postcards, promising to mail them to China. Many also expressed their wish for Ms. Tian to be released soon.
Reaching Out to Chinese Tourists
Practitioners set up a stand on a busy downtown street on December 9, in an area often visited by Chinese tourists. They displayed banners worded "Falun Dafa is good," "Truthfulness-Compassion-Forbearance is good," and "China is not the CCP." There were several posters in Chinese as well.
Groups of Chinese tourists passed by the Falun Gong display. Some stopped to read the posters, and some took photos. "Look, Falun Gong!" was often heard.
Practitioners frequently offer newspapers with information about Falun Gong or play audio recordings for the benefit of Chinese tourists in the area.
Local People Support Falun Gong
Practitioners Dima Guskovs and Sabine Rebling from another city also participated in the event. Dima talked about the support they've received, and recounted how two teenagers stopped, despite the cold, and learned about Falun Gong. "It was very cold," said Dima. "The two boys listened attentively. Later, they help me distribute Falun Gong flyers to passers-by. They continued distributing flyers for quite a while though it was so cold. They took some flyers before leaving and said they would gave them to their classmates."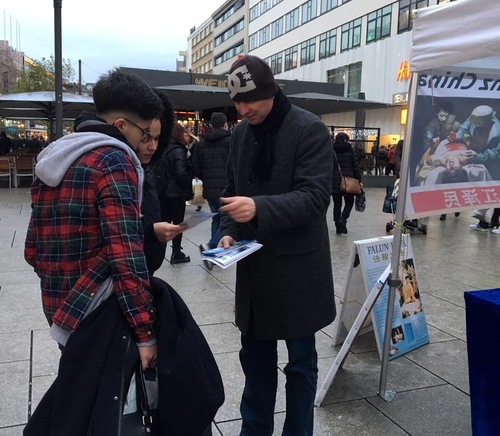 Practitioner Dima Guskovs talks with two youths about Falun Gong.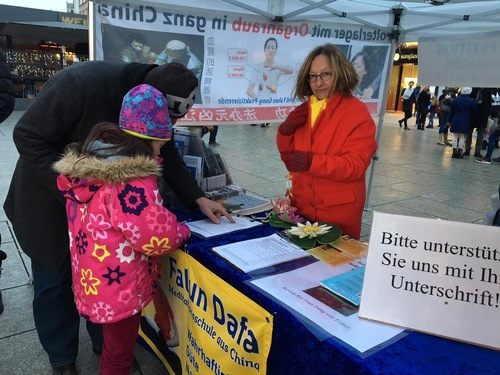 Practitioner Sabine Redling (first from right) participates in the awareness raising event in Frankfurt.
Practitioner Sabina Rebling has been participating in awareness raising events in Frankfurt every Saturday. She said, "Some people stop by to sign the petition right away and tell us that they have already heard about the persecution."
She added that a number of people have thanked her for raising awareness about the situation in China and have told practitioners that they are doing the right thing.
Background
Falun Gong was introduced to the public in 1992 and soon spread across China due to its beneficial effects on health and morality. Nearly 100 million people were practicing it by 1999. Out of jealousy, and fear of losing his control of the people, Jiang Zemin, former head of the Chinese Communist Party, initiated the persecution of Falun Gong on July 20, 1999.
The persecution has led to the deaths of many Falun Gong practitioners over the past 18 years. More have been tortured for their belief. The CCP even conducts state-sanctioned live organ harvesting for profit in the organ transplantation industry.
Jiang Zemin is directly responsible for the inception and continuation of the brutal persecution. Under his personal direction, the Chinese Communist Party established an extralegal security organization, the 610 Office, on June 10, 1999. The organization overrides police forces and the judicial system in carrying out Jiang's directive regarding Falun Gong: ruin their reputations, cut off their financial resources, and destroy them physically.
Due to the CCP's information censorship, the exact number of practitioners killed in the persecution is not yet known.