Taiwan Denies Entry to Chinese Officials Involved in Persecuting Falun Gong
December 14, 2017 | By Tang En, a Minghui correspondent
(Minghui.org) Taiwan recently denied entry to at least three Chinese officials who have been involved in the persecution of Falun Gong, a spiritual discipline unlawfully banned in China. The delegates led by the officials were denied entry at the same time.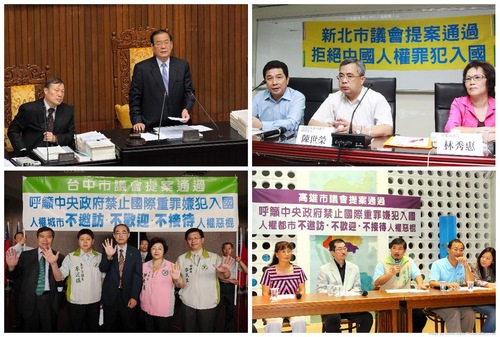 By 2011 the Legislative Yuan and 16 counties and cities have passed the motion of not welcoming, not inviting, and not receiving Chinese officials who are involved in human rights violations. The photos show the Legislative Yuan (top left), the New Taipei City Council (top right), the Taichung City Council (bottom left) and the Kaohsiung City Council after passing the motion.
Human Rights Are Supreme Values
Chiu Chui-Cheng, Deputy Chief of the Mainland Affairs Council, confirmed that the Council is restricting permits for human rights violators from China. Chinese officials are immediately denied entry if they have a record of persecuting Falun Gong practitioners and belong to the 610 Office, an extralegal Party organization that oversees the persecution of Falun Gong. This is to emphasize and carry out Taiwan's policies, which value and protect human rights, according to Chiu.
Chiu stressed that honoring human rights is the highest of all values, and reiterated that Taiwan does not welcome those who trample upon human rights.
An official said that the Taiwan Falun Dafa Association has provided the government with a list of individuals who actively take part in the persecution of Falun Gong. Other NGOs also submitted lists of perpetrators of human rights violations.
International Custom to Boycott Human Rights Violators
Legislator Chen Ting-Fei said that human rights is an important basic value in Taiwan. She believes that the government should conduct more detailed investigations of the human rights violations in China to make sure that anyone with a record of human rights violations is not allowed to enter Taiwan.
Legislator Chang Li-Shan said that a tone must be set to protect human rights. Legislator Hsu Yung-Ming said that it is an international custom to deny entry to those with poor human rights records and in doing so it stresses the importance of human rights in Taiwan.
By 2011 the Taiwan Legislative Yuan and 16 counties and cities had passed the motion of not welcoming, not inviting, and not receiving Chinese officials involved in human rights violations.
Background
Falun Gong was made public in 1992 and soon spread across China due to its beneficial effect on health and morality. Nearly 100 million people were practicing it by 1999. Out of jealousy, and fear of losing his control of the people, Jiang Zemin, former head of the Chinese Communist Party, initiated the persecution of Falun Gong on July 20, 1999.
The persecution has led to the death of many Falun Gong practitioners over the past 18 years. More have been tortured for their belief. The CCP even conducts state-sanctioned live organ harvesting for profit in the organ transplantation industry.
Jiang Zemin is directly responsible for the inception and continuation of the brutal persecution. Under his personal direction, the Chinese Communist Party established an extralegal security organ, the 610 Office, on June 10, 1999. The organization overrides police forces and the judicial system in carrying out Jiang's directive regarding Falun Gong: ruin their reputations, cut off their financial resources, and destroy them physically.
Due to the CCP's information censorship, the exact number of practitioners killed in the persecution is not yet known.