Sweden and New Zealand: Raising Awareness About Falun Dafa During the Holiday Season
December 14, 2017 | By Minghui correspondents He Ping and Yi Qing
(Minghui.org) Last weekend, as many people were out and about in preparation for the holidays, Falun Gong practitioners in both Sweden and New Zealand seized the opportunity to raise awareness of the meditation practice and its persecution by the communist regime in China.
Sweden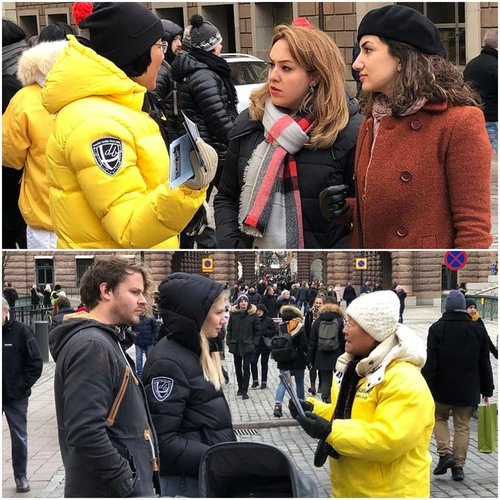 Practitioners tell tourists and residents what is Falun Dafa at Mynttorget on December 9, 2017.
Practitioners gathered at Mynttorget, a public square near the Royal Palace on December 9 to demonstrate the Falun Gong exercises and display posters. Many passersby stopped to watch and said they were impressed by the peacefulness of the practice.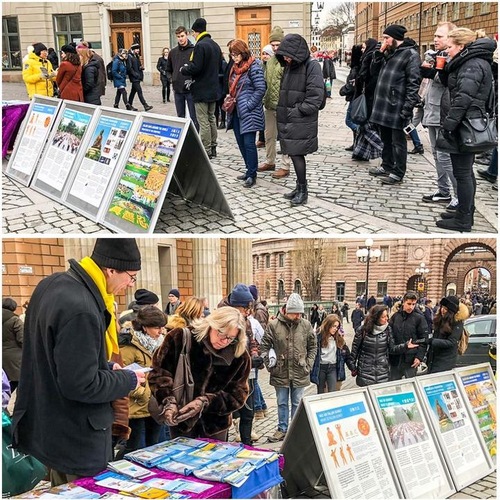 Many people read posters to learn about Falun Dafa.
Anna, a young mother with her baby, stopped at the display with her husband and they read the posters one by one. Shocked by the severe mistreatment practitioners suffered for their belief, especially forced organ harvesting, she said, "We have to do something about it, like contact the United Nations. We must stop this tragedy from continuing." Her husband agreed and hoped the communist party would "disappear from the face of the earth."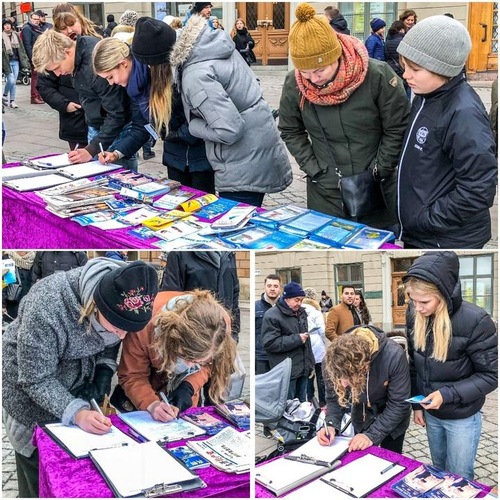 Pedestrians sign petitions calling for an to end the suppression in China.
Tula, a practitioner from Finland, often explained what Falun Dafa is to tourists in both Swedish and Finnish. "Truthfulness-Compassion-Forbearance is beneficial to everyone. I cannot stand by and let the communist party spread lies," she said.
New Zealand
Practitioners in New Zealand participated in a Christmas parade on December 10 in Hamilton, the fourth largest city in the country. Since the Lord of the Rings trilogy was released, the filming site has drawn many tourists from around the world each year.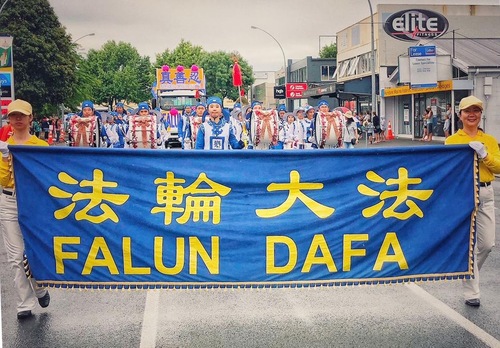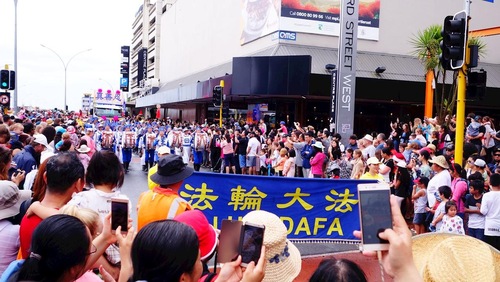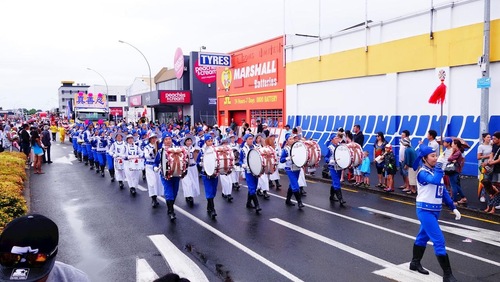 Falun Dafa practitioners participated in the Christmas parade in Hamilton on December 10, 2017.
The Falun Dafa entry was led by their Tian Guo Marching Band.
Lucas, one of the organizers of the parade, is a trumpet player in his own band. He said of the Tian Guo Marching Band, "Their music is excellent because of their energy and synchronization."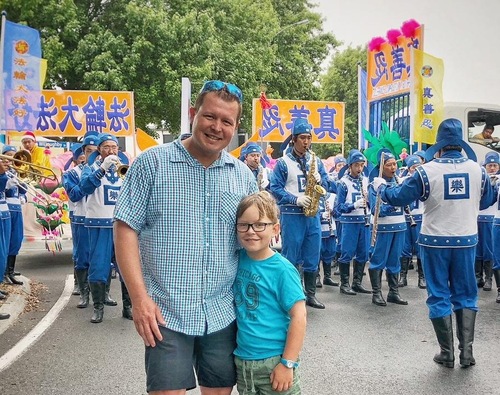 Ronald and his son said they enjoyed the Tian Guo Marching Band
Ronald and his son had come from Africa and just settled down in New Zealand. "This is the first time I've seen this parade, but I already like the band very much," he said.
One Chinese from Hebei Province said he gained a better understanding of Falun Dafa from this event. "It is a very good practice, not like what the communist party claims," he said.
Related article in Chinese:新西兰汉密尔顿圣诞游行-法轮功队伍受欢迎(图)