Shanghai Man Repeatedly Detained, Tortured for Practicing Falun Gong
December 01, 2017 | By a Minghui correspondent in Shanghai, China
(Minghui.org) A man in Minhang District of Shanghai was arrested on October 12, 2017, and is currently being held at the Minhang Detention Center.
This is not the first time that Mr. Liu Shunming, a former staff at Maqiao Hospital, has been detained. Since the communist regime started its persecution of Falun Gong in July 1999, Mr. Liu has been harassed, monitored, and detained numerous times at the police station.
He was detained twice at the brainwashing center, twice at the detention center, and sentenced to four years and two months in prison.
He almost died from torture.
Previous Detainment and Persecution
Mr. Liu was arrested on June 30, 2002. Officers from the Maqiao Police Station, his neighborhood committee, and his workplace detained him at Qingpu brainwashing center for two months. During that period, his blood was forcibly drawn, and he was tied to an "iron bed."
Mr. Liu was again arrested on May 9, 2003, by officers from the 610 Office. At the police station, an officer grabbed his hair and dragged him around while beating him. He was also forced to stay in a squatting position for a long time.
One night at the detention center, two policemen hit and cuffed his hands behind his back after declaring sarcastically that he did not sit properly. They told him that they would stop beating him if he would squat, but he refused.
When he returned to his cell, another detainee said, "We have discussed this and agreed that, if Falun Gong [people] are sent to solitary confinement, we will go on a hunger strike the next day to rescue them." Mr. Liu was very touched when he heard this.
Torture in Prison
Three and a half years after Mr. Liu was sentenced, he was transferred to Tilanqiao Prison. On his first day there, an inmate took him to the guards' duty room and told him to report himself at the door. He refused and said that he was not a prisoner because he did not commit a crime.
Once he entered the room and placed his stool on the ground, a guard kicked it far away before telling him to squat down. When Mr. Liu refused to comply, the guard took out an electric baton. He was later locked in a small room and forced to squat for more than ten hours a day for ten days.
In the prison, Mr. Liu was forced to do hard labor and eat moldy rice. There was a time when he was not allowed to buy any daily necessities. He was sometimes not allowed to drink water. Meanwhile, two inmates watched over him around the clock, often depriving him of sleep.
Mr. Liu was forced to sit on a plastic stool for a long period of time with his back straight, legs together, hands on his knees, and looking straight ahead. He was also deprived of sunlight.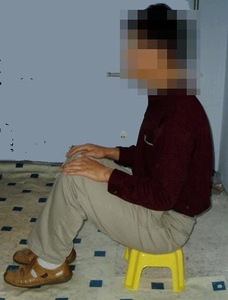 Torture re-enactment: Sitting on a plastic stool
The torture caused his skin to rot; blood mixed with his rotting skin made it very painful for him to sit. The toilet paper he stuffed in his underwear was soon soaked with pus. Nevertheless, he was forced to stand for many days with his forehead, nose, abdomen, and toes against the wall.
When the police were torturing and beating him, they turned the television all the way up to cover up the sounds. After being beaten countless times, Mr. Liu's ribcage was broken. His legs had purple bruises the size of a pail.
Arrested Again During the Olympics
On April 24, 2008, when the Olympics Games were held in China, Mr. Liu was once again arrested at his workplace and held at the detention center.
A policeman once said to him, "Your wife came to deliver money and clothes. She said that you are a good and honest person and hoped that we don't hit you."
At the time, Mr. Liu had been beaten and punched by inmates because he refused to squat down and eat like a dog. However, the police told his wife that they wouldn't hit him.
Mr. Liu was transferred to the Qingpu brainwashing center 20 days later. In total, he was held at the detention center and brainwashing center for six months and five days.
Mr. Liu's Family
In the past, Mr. Liu displayed many selfish behaviors that attracted a great deal of worry from his family. Since he started practicing Falun Gong in 1996, he changed his ways and started being considerate of others.
His father once said, "Among my four children, the second child (Mr. Liu) had always made people worry. Now he is the one people are most assured of."
His mother, who is almost 90 years old, has been paralyzed for the last five years and needs Mr. Liu to care for her. His mother wakes up as many as ten times a night, hoping that her son will return home soon.